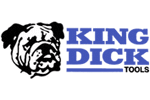 King Dick Tools - 3 Piece T Handle Hex Wrench Set
Customer Reviews
for King Dick Tools - 3 Piece T Handle Hex Wrench Set
July 15, 2016
Good quality, perfect fit
You can buy a set of nine 'T' handle Allen keys elsewhere for three times the price and never use most of them or buy the three you will use at SBS for a sensible price. Only a full time mechanic will need more than these three, the average 'do-it-yourselfer' will find these plenty adequate for most tasks. They are not the very highest quality but certainly more than adequate for casual use and the hex's are very accurately made (I checked with a vernier, perfect) unlike standard 'L' shaped sets and far less likely to round out the screw heads. They have a different colour for each size but the most used one is just black and easily lost on the bench or in a pile of tools so I have spray painted the handle a bright colour to help me see it. Good quality, perfect fit, good price and only the ones I need, they are the first tools I grab when doing any routine maintenance and make working on the bike so much easier, they also give peace of mind that I will not destroy the screw heads like cheap tools.
Read more
Description
King Dick Tools - 3 Piece T Handle Hex Wrench Set
3-Piece contains: 3, 4 & 5mm
Durable and reliable
Without time limit on non-moving parts
Manufacturer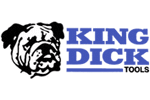 About
King Dick Tools
Proudly made in Birmingham, England since 1856, King Dick Tools are high performance, quality hand tools successfully used by professionals Worldwide. The comprehensive range is produced to meet and exceed the relevant quality standards, and provides a vast selection of tools from electronic precision sizes through to exceptionally heavy duty, hard working tools. King Dick Tools for quality, service and competitive prices!
See all King Dick Tools products…
Questions and Answers
Questions and Answers
No questions or answers have been posted for this product…