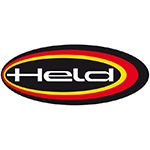 Held Air N Dry Gore-Tex Glove - Black / Grey
Verified Customer Reviews for Held Air N Dry Gore-Tex Glove
Love these
11 July 2023 by Jeremy O
So far I love the design and fit Hasn't been tested in wet weather but I expect they will live up to other reviews
Style: Black / Grey
Simply the best
18 May 2023 by Michael S
These are my spare (replacement) gloves.

I've used Held Air n Dry for years, without question the best gloves I've ever had. So thought I'd purchase these for when my others eventually wear out.

The dual chamber is perfect, summer, rain, winter, they do it all. Lovely feel on the bike, super comfortable and plenty of protection. You get what you pay for.
Why not touch screen
29 April 2023 by Amir
Reading reviews as dry gloves they are actually good. I have been in rain for 1-2 hours they do keep your hands dry. I did change the size to smaller to fit.
Air "Air mode" are good, feels very thin. Wondering if you touch wood come if your bike they won't protect your palms. Maybe should have gone for single chamber Goretex

I'm wondering why expensive gloves like these are not touchscreen. I bought for about £10 touchscreen finger which I have put on them. But would expect for these type of gloves to have the option

Under 8 degrees you do need to turn on heated grips which is fine.

Great Gloves
25 April 2023 by Peter C
After years of excellent service from my original pair I have bought another pair even though the originals are not totally worn out.
40 degrees in Italy, torrential rain in France and everything between elsewhere in Europe these gloves have been perfect.
Add in thousands of miles in the UK and apart from really cold winter days these are my gloves of choice.
Style: Black / Grey
Very comfortable
23 February 2023 by Kevin S
When I ordered these gloves to try on I was surprised how comfortable they were in both parts of the glove , I haven't had any heavy rain to see how they perform in the wet but comfort is excellent , having the choice of finger length made it easier to get the perfect fit, I'm very pleased with my purchase. Thank you sportsbikeshop Bristol
A quality product
11 November 2022 by David M
I've used Held Gore-Tex gloves for many years and they are consistently a quality product that delivers. The Air N Dry gloves are no exception.
Instantly comfortable with good feel in "wet mode" and excellent feel in "dry mode". I have long fingers and the long finger option fits me perfectly.

The service from SBS has been spot on. Good price and fast delivery.

Highly recommended.
Held Air N Dry Gore-Tex Glove
08 November 2022 by Philip
An excellent choice for wet, windy, rides! These gloves really are comfortable, well made and great looking gloves that represent real value.
Style: Black / Grey
Great idea - two gloves in one
12 October 2022 by Danny S
What can I say, a friend of mine recommended these gloves and I have to say, they are awesome, the outer glove. Keeps your hands nice and warm. When your hands get too hot. You put them in the second inner glove and get lots of air ventilation. Perfect pair of gloves for all
Occasions.
Held Air N Dry
06 April 2022 by Steve M
first ride in these gloves last week in showery northern Scotland - so I can honestly confirm both glove compartments work fine. warm enough and definitely waterproof.

only downside for such a premium product is the lack of touchscreen compatibility
Fantastic Gloves & Services from SBS
15 February 2022 by Jason G
Wasn't sure about these gloves initially because the reviews seem to be mixed, some love them, some do not. Having now received them I can tell you that they are absolutely fantastic! Really great fit, especially since I was able to get a short finger option to fit my hands which are slightly wider than normal but with little stumpy fingers.

SBS were fantastic, BIG thanks to the team in the Reading store who worked tirelessly to help me feel welcome and get the right product, at the right price. They went way over and above what i consider typical customer service these days, wonderful buying experience.

Great gloves, amazing sales service from SBS, thank you!
New gloves
27 January 2022 by Colin
First time on
Comfortable and easy to put under my jacket sleeves. No wet weather yet
First gloves that fit well
21 January 2022 by Neil W
I've always struggled with gloves. I'm tall and slim with thin hands and long fingers, and have always ended up with massive gloves that still don't fit like they should. These are the only ones I've seen with an option for longer fingers- they fit like they should
Held Motorcycle Gloves
27 October 2021 by John W
I have not had the opportunity to test these gloves yet, just a couple of short rides in the dry, but they are an excellent fit, well constructed and appealing in appearance.
Style: Black / Grey
Held Air N Dry - worth the wonga
19 October 2021 by Chris R
Got these a couple of weeks ago and I am extremely happy with them so far. Comfortable in both chambers. Great choice of sizes including finger length, so a perfect fit has been found. Not been in sustained rain yet but hands have stayed dry during the few showers that I have been through in the last 1000 miles. Excellent service from Sportsbikeshop again.
Trusted Brand Gloves
11 October 2021 by JohnyP
My Held summer gloves have given many years service but were not really suitable for use in heavy showers. These Air N Dry gloves mean that I shouldn't suffer wet hands again. Comfortable and great quality. Would have preferred slightly longer cuffs but I guess they are designed for use inside your jacket sleeve in the rain.
Why didn't I find these before?
10 October 2021 by Matthew P
These are just brilliant gloves. I have hot hands so the cool section is brilliant, no more sweaty plans and the back of my hands don't get hot either.
Good in the rain too, no issues at all.
You won't be disappointed if you buy these.
So, good updated my old pair.
08 September 2021 by Susan D
They are a good little glove and with the different compartments for seasonal riding make them that much better.
This is my second pair as the others have given up after 3 years of all weather riding.
Great Quality
26 July 2021 by @BomberCountyBikerIG
Lovely product… I tried on over 20 pairs of gloves in store before settling with these as a waterproof glove I can take touring to negate the two pairs I used to take.

Comfy enough to wear in the warm weather, with a gore tex liner to keep the rain and chill out.

Fastner is also of a great quality.
Press Reviews for Held Air N Dry Gore-Tex Glove - Black / Grey
There is no such thing as an ideal all-year-round glove, but this Held glove comes closer than anything else I've fou...
Description
Held Air N Dry Gore-Tex Glove - Black / Grey
DuPont Cordura with leather detailed back with kangaroo leather palm
Waterproof compartment with Pique Push Pull lining
Also has unlined compartment
Gore-Tex waterproof, windproof and breathable membrane
Gore 2-in-1 technology (1 side waterproof, 1 side unlined)
Hook and loop adjustment at wrists & cuffs
Visor wipe on index finger
Elasticated leather panels on back, thumb and fingers
Perforated leather back
Perforated hand for maximum ventilation
Hard plastic knuckle protection
Superfabric reinforcement on edge of hand
3M Scotchlite reflectors
5 year warranty (registration required)
Gloves measured by palm circumference (excluding thumb)

Size Guide

| | S | M | L | XL | 2XL | 3XL |
| --- | --- | --- | --- | --- | --- | --- |
| PALM | 19cm | 21.5cm | 24cm | 27cm | 29.5cm | 32cm |
| HELD SIZE | 7 | 8 | 9 | 10 | 11 | 12 |
Product Videos

Held Air N Dry features video
Product Specification
Variants
Manufacturer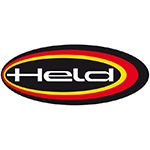 About
Held
Despite being one of the most respected manufacturers in the motorcycle clothing and accessories sector, Held remains a family business made up of passionate bikers, still with its headquarters in the same picturesque Alpine town of Burgberg. Famed for their gloves, the Held collection is one of the most comprehensive on the market with a full range of leather and textile jackets, jeans, gloves, boots and armour. As a brand, Held continue to work with the various technology partners such as Gore Tex and D3O to enable them to produce some of the safest and most technically advanced product on the market. We're constantly updating the site to incorporate the latest models from the ever expanding Held motorbike range and if you find it cheaper, all of our Held clothing is covered by our price match promise!
Questions and Answers
Questions and Answers
Are these gloves available in different finger lengths?

March 3, 2017

Unfortunately,only the Black Held Air N Dry gloves come with the different finger length options.