Held Rano Waterproof Jacket - Black / Fluorescent Yellow
Customer Product Reviews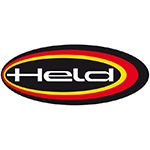 Price From
$60.74
$105.69
View Product Details
January 25, 2018
Great value hi-performance overjacket
This is my 2nd one, these last well, pack down small and are fully waterproof. The first lasted 4yrs of heavy use commuting and bike training. Highly recommended. The jacket is a soft finish and feels nice unlike the stiff PVC like material of some. There's a waterproof inside pocket but no others. The collar is high cut and Velcro-sealed so tucks under your helmet for a good heavy rain seal, can also be worn open when warm. A Velcro adjuster under the arms each side, plus a slightly elasticated waist, should get you a good fit over your normal jacket. The sleeves have the so-called storm cuffs, so you can get your gloves underneath and tighten round with the Velcro wrist adjustment; heavy winter gloves are a slightly tight fit under but it works and there's plenty of room with summer or intermediate gloves. The jacket's hi-viz is useful without looking like you've been sheep-dipped in it. Size wise, I am a 42inch chest and a Large is a good snug fit over my textile jacket or leathers. The jacket design means no flapping around, so is a close fit. No negatives I can think of. If I was being picky a couple of front external pockets would be nice but this would only compromise the waterproofing I guess. It works, is well designed and made and it'll last well - highly recommended.
September 3, 2017
Soft and waterproof
Bought to replace cheaper jackets that had proved less durable than desired this jacket has a lovely soft feel, folds up small and (so far) has repelled all the water thrown at it. I have not tried it through a wet winter yet but I have high hopes.
PLEASE NOTE: The views and opinions expressed in the above reviews are solely those of the author and are not necessarily representative of the views of SPORTSBIKESHOP LTD.