Richa Rain Vent Jacket - Black
Customer Product Reviews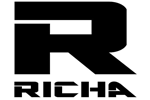 View Product Details
January 13, 2018
Great fit and adjustment, small pack size
I'm 6'2 inch and 12 st. The large jacket and trousers fit me well. (Oxford rain seal came up short on the sleeves). Some jackets have elastic only cuffs which I found very difficult to put on over a jacket and gloves (including the Richa rain warrior). The addition of an adjustable cuff closure makes putting this jacket on over my riding gear much easier. Tried an all in one RST suit but found it clumsy to put on. The item packs down smaller than many others and doesn't feel too bulky to wear. Quick and easy to put on in a downpour while at the edge of the road (which is the whole point of an over suit for many riders).
July 7, 2016
Perfect for travelling light.
I like to travel lightly on a motorcycle using only a rucksack, so I try and choose things that are both light and fold down small. They also have to do the job they were intended for. This jacket fits all those criteria, keeping me perfectly dry in torrential rain on a German motorway.
June 19, 2016
Folds down incredibly small
I am a pretty big guy - 6'1" and near on 20 Stone, and I wanted something that packed away small. I chose this Jacket and matching Trousers. I am normally 3XL but went for 5XL. The advice of going for your normal size is probably right, but I tried 4XL which fitted fine and slightly loose, but I wanted to be able to put these on easy when caught out in the rain so went up yet another size. They do flap in the wind a bit but they are very easy to slip on and off and fold down incredibly small, back into their own little bags. I have just got back from a very wet week touring Germany and Austria and they were 100% waterproof. Highly recommended over clothes.
PLEASE NOTE: The views and opinions expressed in the above reviews are solely those of the author and are not necessarily representative of the views of SPORTSBIKESHOP LTD.