Rev'it Spokane H2O Over Gloves - Black
Customer Product Reviews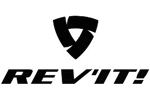 View Product Details
October 8, 2018
OK
I have XL gloves and ordered 3XL overgloves, they do fit OK, maybe a bit tight. They are warm and waterproof but I like to ride with two fingers on both the clutch and front brake for a faster response time, hence why I bought the 'penguin' style overglove. When wearing these I cant do this as there is not enough material to move your fingers much apart so I wont wear these again. If this isn't an issue for you then no problem.
August 16, 2016
Sizing is insane
Not had a chance to use these in the rain yet, but in theory they should be OK. The problem for me is the sizing. I am a Medium according to Rev'it tables but need a Large in gloves and an XL in these Spokane gloves. The gloves have a fleece liner that is not removable and I bought to wear over Summer gloves - Rev'it Striker 2's. Trying to get the over gloves on is a challenge, especially with the fleece liner. I may end up taking the liner out but they will fit with a bit of wiggling.
PLEASE NOTE: The views and opinions expressed in the above reviews are solely those of the author and are not necessarily representative of the views of SPORTSBIKESHOP LTD.