Richa Cyclone Gore-Tex Textile Jacket - Black / Fluo Yellow
Customer Product Reviews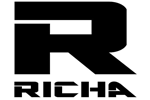 View Product Details
August 8, 2022
Top of the range.
Well made and comfortable jacket. Kept me bone dry and warm in very heavy rain and road spray, pockets stayed dry as well. In warmer weather the vents work well at keeping temp down. All in all a top quality jacket.
June 20, 2022
Not the most exciting but read on
Jacket has a really nice luxury feel to it, I am in-between sizes, I usually take a medium, but a Richa medium is snug, not uncomfortable but will limit future layers unless it gives with time. The over all quality seems very good (but should be for £500 unless you live in a land of limitless cash), Good quality material with nice straight stitching, tailored fit and nice detailed removable liner. Down sides; I wonder if the Velcro will last on the storm flap, especially at the bottom as there is no securing snap fastener. The collar has a snap fastener and Velcro which makes little sense as it only gives one position to be able to use the fastener. My biggest gripe with the titanium coloured version which is a good colour and a step away from the traditional black "heat soaking" norm, is the front panel and detailing, Due to its colour the hi vis parts and writing blend which makes it a little boring. If the jacket is undone the black that is exposed gives it a very different look, my conclusion is that it should of had a couple of small black panels at the front to lift the look and maybe hi light the hi vis strips. These are only cosmetic issues and personal opinion. I know I may have to wash it more often to avoid looking grubby but I am hoping it is a more visible colour without looking like a traffic cone. I am looking forward to giving it a good try, if it last as long as my last coat twenty plus years which until a recent mishap was still serviceable and water tight, I will then be equally impressed. If I am able to give a review after a year of wearing it, then I may well be able to say something useful to help you decide, but by then this model will probably have changed and be of little use.
May 22, 2022
Richa cyclone gore tex jacket.
This is a outstanding jacket for the money and I can vouch that it is waterproof, 3 hours of continuous rain and I was bone dry, as good as my rukka and nicer to were, its that comfy you don't even know you have got it on waterproof pockets at the front, 3 pockets inside. Just a brilliant jacket for the money, and you get 5years warranty.
May 15, 2022
Richa Cyclone Gore-Tex Textile Jacket
First ride out and it rained, no problem I was nice and dry, a bit hot because it was not a cold day. Going up one size could be a good move if you like more fitment room. Fits very well and is comfortable, all the armour is the most comfortable I have used, I don't really notice it. SportsBikeShop great service as normal.
April 1, 2022
New Jacket Required
Was in need of a new textile jacket. One that preferably didn't leak at the first sign of rain. The staff in the MK shop pointed me in the right direction and we're very helpful. I settled on the Richa Cyclone jacket and trousers. Both boasting gortex. Only had chance for 1 dry ride so far but that will change when I'm back at work. So far very comfy , light and warm. Quite snug fitting so would probably say go a size up . Nice quality for price. Recommended by other riders I know . Hopefully they remain water proof . Time will tell. 5 star service 4 star for kit as not fully tested yet as stated.
February 10, 2022
Great
Only been out once with this, very warm, nice jacket, definitely get a size bigger than the chart, I did and it's still snug. It wasn't raining when I was out so that's yet untested. So far very happy, looks good as well.
January 19, 2022
Richa cyclone jacket
Good fitting jacket, zips and fastenings are good and solid. Great service from the guys/girls and other preferences at Sports bike shop. Keep up the good work
December 30, 2021
Great value goretex jacket
Worn this once, a good fit with a bit of spare for extra insulation. Kept me warn on 2 hour run 21/12 Not tried out in the wet yet, but if other reviews are correct, should be no problems.
December 29, 2021
Goretex
Felt quality garment from the off. Good zips and finger grips no fumbling. Arrived when it said it would. Got the size to suit through chart and it was bob on. Was called out boxing day for The Highlands & Islands blood bike so it got first outing. Only thermal under armer on and no wind or chill penetrated. Slight drizzle but nothing to bother jacket or trousers. Got a great deal out of sportsbikeshop for quality Branded kit. Would Highly recommend.
December 19, 2021
Very comfortable and it feels strong
I have not tried under rain yet. It feels comfortable and well made.
November 30, 2021
Great Jacket
Great fitting and warm jacket, order one size larger than normal for a spacious fit.
November 28, 2021
Richa Cyclone Gortex Jacket
very good gortex jacket for the money.the pocket that you can put wallet in and only have to open velcro and a zip to get at it is very good feature shame not one the other side the same for phone.good fit and long. easy removable linning. has very good adjustments to tighten up and make very good fit. first class service yet again from sportsbikeshop
October 27, 2021
Richa Cyclone - worth every penny
Did my research on this jacket as £500 is not cheap. After reading other reviews I decided to take a trip to Sports bike shop and try it on for size. I normally have an XL but with this jacket, a 2XL was a much better fit. Very comfy and easy to move in. Plenty of adjustment can be had to personalise. I did get caught in a shower and can vouch on its waterproofness as well as it being very warm with the insulated jacket attached. Would highly recommend if you are looking at GoreTex but do not want to spend 'silly' money. On a separate note, the team at SBS in Reading were superb in assisting me.
October 9, 2021
Richa Cyclone Gore-Tex Textile Jacket - Black
this is a well built and comfortable bit of kit. Its warm and completely waterproof, I would highly recommend it
August 29, 2021
Richa cyclone jacket
Sub £600 Best value for money in terms of Gore-tex jackets, warm, good fitting good quality and water tight.
August 24, 2021
Best jacket worth the money
As always service from the sportsbikeshop team has been above reproach, ordered the jacket is really comfortable, nice touch having the internal pocket with easy access so you do not need to undo the complete jack for access, thermal lining is really good had to remove in autumn months as was to hot.
August 4, 2021
Richa cyclone
Very good fit Cosy comfortable and waterproof Good non restrictive movement on bike Very happy
June 6, 2021
Richa cyclone jacket
Excellent service again by SBS, jacket arrived ahead of scheduled date. Really good quality- tried it with the thermal lining in as a test & removed it after 10 miles as really too warm. Just done a trip to Devon & back, (600 mile round trip all in), warm sunny ride down, ok with vents open. Heavy rain for about an hour + but I was perfectly dry. Pockets also dry. One days green laning - not too hot inside jacket. Sunny & hot journey back so vents open again, collar open & fastened back on the toggle, which is a useful feature. No venting on arms however, which would have been nice, armour is comfortable from the start & not intrusive. Very light overall compared to previous jacket. Brushed clean & looks as good as new again. Happy & would recommend.
May 27, 2021
Impressive jacket
Ordered a large, fit perfectly I'm a 42 chest ,the quality of the garment is first class , haven't tried in the wet yet ,but I'm sure their won't be an issue great service from sports bike shop , also purchased a helmet, which was a touch to tight but returned and replaced in days , excellent service
May 27, 2021
Very good
I'm satisfied with the jacket, good price for comfortable end quality product
PLEASE NOTE: The views and opinions expressed in the above reviews are solely those of the author and are not necessarily representative of the views of SPORTSBIKESHOP LTD.