Rev'it Eclipse Textile Jacket - Silver
Customer Product Reviews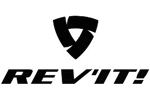 View Product Details
August 16, 2022
Hot weather essential
I bought this for a hot summer trip around Europe and was not disappointed. It breathes well and looks good. The sizing comes up very small and a Large wouldn't fit me, so I chose an XL - (I'm only a 40" chest and 13 stone 5) The chest fits ok, but the sleeves are tight/snug which is just about ok for me. If it had been a slightly more generous fit, it would have got a 5 star rating
August 15, 2022
Rev'it Eclipse jacket
I've been looking for a light weight jacket as my leather jacket is just too heavy and hot for summer riding. My son bought one of these and is really pleased with it so I thought I'd have a look. It's perfect for the hot weather and the mesh panels let pleanty of air in to keep you cool. Can't recommend it enough.
August 11, 2022
Stylish mesh for modern Summers
Looks good, feels good and is ideally suited to the extremely warm/hot conditions. The airflow works well with the modern design - I really like my jacket. You may need at least a size larger than normal to accommodate the optional back protector
August 9, 2022
Revit Eclipse jacket
Eclipse jacket is ideal for the recent hot weather, air flow works well and jacket looks pretty good. I have only had the jacket for a couple of weeks so far all is well, don't know how well Velcro will hold up so far very pleased. Would recommend.
August 9, 2022
Rev'it Eclipse Textile Jacket.
Another great jacket by rev'it. Excellent quality and the air flow through the arms and chest is great.im a 42-44 and needed the XL which is a perfect fit, coupled with the great service from sportsbikeshop.co.uk couldn't go wrong.
August 9, 2022
Great jacket
Good price, good fit, great service, hot UK summer in 2022. What is not to like.
August 8, 2022
Great warm weather jacket
Wanted something that didn't have me melting in the heat and this has exceeded my expectations. Keeps you cool (may want a long sleeve tshirt on colder mornings), one of the few jackets with decent pocket sizes, light but feels sturdy and the armour can easily be upgraded or changed (bought the appropriate back armour). Good price and quality. Good fit as size was correct as ordered, some adjustment can be made around waist if needed.
August 4, 2022
Rev'it Eclipse - perfect summer jacket
Lightweight but sturdy despite the fact it has a lot of mesh panels. Protectors for elbows and shoulders seems to be standard ones, which I'm OK with. Mesh panels are doing their job perfectly in hot weather. Jacket is very comfy, sizing accurate. My chest size is 48" so I went for XXL and fits perfectly. I Bought dark green instead of balck (I've got other summer jacket in black and I'm roasting in it) to stay cooler in the full sun. That was right decision to make. When off the bike in stores or outside this jacket soes not make me sweat thanks to material, mesh panels and colour. Sportsbikeshop service as usual 10/10
August 3, 2022
Great Jacket
Go up a size! Great summer jacket, good fit once you've sized it correctly. Needs a back protector but for the price range can't complain. My go to jacket on hot days.....
August 2, 2022
Revit mesh jacket
Really good jacket for warm/hot days it really does keep you cool would recommend.
August 1, 2022
Cool on a hot day
Great jacket for wearing on a hot day, the mesh panels keep the air flowing around your body nicely. Fit is good, I'm a 40" chest and went for the L option. Overall a great summer jacket
August 1, 2022
Very good Jacket
I am quite happy with the jacket, the mesh lets in a lot of air which helps a lot on a hot day. Any shower will also go through easily. It is a bit on the small size, should have gone for xl but still OK. Good build quality.
August 1, 2022
Super cool Jacket
With Temperatures set to hit 40 degrees in the UK I bought this mesh Jacket based on the cost and positive reviews. As is typical the first time I wore this weather hit just 30 degrees but the ventilation is excellent. I wore just a T shirt under the jacket and it was excellent. Have now had the jacket about a month and worn it at 16 degrees and still very comfortable... In fact so much so I am going to buy another for trail riding. 10/10
July 31, 2022
Classic and Casual
Great in the hot weather, wearing my airbag vest defeated the object a bit so I bought the back protector insert and now comfortable riding if above 22 degrees, can be chilly below 20.
July 26, 2022
Great buy!
Bought this just before the July meltdown heatwave. Absolutely fantastic. Above 23 degrees just wear a tee shirt underneath, keeps really cool. Just don't get caught in the rain!
July 25, 2022
!
France forecast 36 - 38C, bought this for the trip. Absolutely perfect for that sort of temperatures. Delighted with the jacket, would recommend to anyone.
July 25, 2022
Great Jacket
Bought this jacket for the hot weather we had recently, as it was to hot to wear a conventional jacket. I have found it excellent in hot weather, no overheating even in traffic. fit is excellent. Maybe a long sleeve garment to be worn in cooler weather.
July 24, 2022
Lightweight summer jacket
Bought this jacket for the very warm days. I'm usually a Small size. I tried in store and glad I did as I needed a Medium which was a perfect fit. I can comfortably wear a thin jumper underneath if required. Two waist pockets and one internal pocket. The armour sits in the right place on the shoulder and elbow. It is a lightweight jacket and ideal for the very warm days. You can feel the wind on your arms and body as you ride along so bear that in mind if you set off on a cool morning./ late evening. The jacket appears well made and should last a long time.
July 20, 2022
Worth every penny
Currently on a 3 week tour of Europe and its been scorching,Don't know how I would have coped with my richa goretex jacket,The jacket is lightweight and great quality,1 inside pocket and 2 outer, I took the D30 armour out of the richa and fitted it in this jacket,then packed the richa in case of rain,the Jacket is so light and thin that it easily fits under my richa in case of rain. I would definitely recommend this jacket to anyone going somewhere hot.
July 18, 2022
Perfect hot weather jacket
Great Value for money! I wanted a jacket for those super hot summer commutes and this is perfect. Well ventilated. Very happy to recommend. Shoulder and elbow armour is included, I bought a D30 back insert to complete the set which fitted snugly
PLEASE NOTE: The views and opinions expressed in the above reviews are solely those of the author and are not necessarily representative of the views of SPORTSBIKESHOP LTD.