TCX Street Ace Waterproof Boots - Dakar Brown
Customer Product Reviews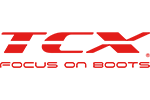 View Product Details
August 26, 2021
Great Boots and Comfy
Really comfortable form the box, and true size fitting. I have even tested the waterproof element in a recent downpour. They kept feet dry.
August 5, 2021
Great Boots!
Bought these for summer riding and so glad I did. They are really comfortable, gives some protection (obviously no shin protection), good level of waterproofing and looks just like normal trainers. Excellent value for money.
June 24, 2021
Comfy and stylish
Comfy and informal styled boots. They don't have the protection of touring/racing boots but I believe they offer a good compromise considering the Converse style look and the fact that are not too bulky to walk around with it. Definitely the right choice for commuting or short trips. Fit true to size. Removable shift protection pad (elasticated band) also included even though I am not sure it would stay on on city commuting.
June 23, 2021
Excellent
TCX boots are always top drawer and these are no different. Sizing is spot on and they were comfortable from the off. The gear change garter is a good idea, preventing damage when on the bike but maintaining the style when off. SBS Leeds were brilliant as usual.
June 19, 2021
New TCX Boots
Great quality comfortable boots straight out the box
June 14, 2021
Awesome boots
This is my 3rd pair, these are the best boots for mixed use, casual and riding. next day delivery on a sunday order as well. Recommend.
June 8, 2021
Excellent Boots
I was optimistic about how good these boots would be but they are the real deal. Light, comfortable and stylish. Would happily buy a second pair of anything happened to my current set.
June 3, 2021
Comfortable and stylish boots
Very comfortable boots, like wearing sturdy trainers. Feel solid but not clunky to walk in. Have worn them on bike and then in office and don't feel like protective boots at all. Can get very warm on your feet but I suppose they are waterproof and leather! Overall very happy with them.
May 22, 2021
Bike boots
These are really comfortable to wear, just like wearing your go to every day shoes. Soles are very grippy. The laces come very tight so had to redo these, now a lot easier to put on and take off, there not too long either that may get in the way. Been using without the removable gear patch that comes with them, no marks on the front shoe, nice tough side ankle protection and can't feel these when wearing.
May 10, 2021
Great boots
Nice boots, comfortable and good price
April 29, 2021
Slippers?
Super comfy from first wear. Light yet sturdy. Look good. SBS are brilliant, buy from them with absolute confidence.
April 14, 2021
Comfortable, Cool and Classy
Love these boots from TCX, they're extremely comfortable and supportive, plus they look great too. I wear mine mainly with RST Jeans and for an old fella look cool! Thoroughly recommend them.
April 5, 2021
Best motorcycle boots to buy
These boots are the best boots in my opinion on the market. They are not only light weight with added protection but are also stylish and feel so comfortable to wear. I am a size 9 but ordered a size up as I had read they are a snug fit and they fit perfectly Once again another great purchase from the Sportsbikeshop
March 28, 2021
Casual boots
Fantastic boots fit uk size 9 although box says 8.5 , very comfortable on and off the bike, look good with jeans, very durable pleased with product.
March 19, 2021
Very comfortable
Bought these boots as the reviews I had seen were pretty good and I was not disappointed when I received them comfy a bit snug but still felt good.good quality all round really.
March 7, 2021
Stylish and comfortable.
These boots look great with biker jeans,feel very sturdy but was able to wear them straight from the box with no need to break them in, very comfortable. Haven't tried them in the rain yet but if they're anything like my previous TCX boots then they'll keep the water out. Would highly recommend. Great service as usual from Sportsbikeshop
February 22, 2021
Quality and style
Seen these on TMF blog and liked the look, and I wasnt disappointed, go 1 size bigger tho, fit like glove now, comphy off the bike as well A+
February 19, 2021
Great product and value
Great quality all round, good leather, well stiched, they feel comfortable and light on the foot. Due to the weather i am still riding with my winter TCX boots, but i have no doubt these will be as comfortable on the bike as they are off it. I also have no doubt they will be fully waterproof as are all TCX products but this is most definitely a pair for casual and/or summer riding due to its lightweight, form and style.
February 16, 2021
Perfect
Received the boots with the full expectation of having to wear them everyday to "break" them in and suffer the blisters. However they fitted like a glove from day 1. Comfy, smart and protective. What more do you want.? Would HIGHLY recommend.
February 13, 2021
Cool boots
Great looking boots - fit straight out of the box. Been wearing them round the house. Very quick delivery. Just waiting for lockdown to end to try them on the bike.
PLEASE NOTE: The views and opinions expressed in the above reviews are solely those of the author and are not necessarily representative of the views of SPORTSBIKESHOP LTD.