Oxford Kickback Aramid Fibre Shirt - Blue / White
Customer Product Reviews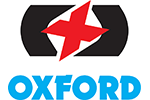 View Product Details
August 7, 2019
Terrific Shirt!
I ordered two sizes of this shirt as I was unsure of the fit, and as usual SBS displayed exemplary service - ordered late in the afternoon, received the very next day at lunch time. This Oxford shirt is lovely quality as I would expect; soft, comfortable fabric with no stiffness or scratchiness from the aramid. Really solid construction that I will be happy to use when riding, and feel safe to do so (once I've added some SeeSmart armour). It even has loops to attach to your belt to stop it riding up. A couple of notable details about the shirt that I didn't see mentioned in the description: The cuffs zip closed like on a typical leather jacket, and then finally do up with poppers. And there are two popper positions so you can choose how snugly. Very nice. The main zip is solid and confidence-inspiring, and the poppers that do up the placket over the zip are solid and do up very firmly. All good. There is a big pocket for a back armour insert, and also, excellently, an inside pocket on the lower left side with a flap closure. This will be perfect for my phone, as there are no handwarmer-type pockets on the outside. I'm genuinely delighted with the shirt. As I mentioned, I ordered two sizes, Small and Medium to see the best fit for my just-about-40" chest. The sizing guide said Medium, but I didn't want something all flappy and oversized. I could fit into the Small and it looked perfect (even my wife said so!), but it felt constrictive and overly snug and I was concerned that with armour in place it might be uncomfortable. The Medium didn't look noticeably any larger, but felt perfectly comfortable on. Roomy enough for armour to go in, but not loose and awful. Excellent. So I needed to take advantage of SBS's excellent policy and return the Small. However, here's a negative that stops this being a five-star review. From the packaging, it was clear this Small was not actually new and was a previous return. It was just stuffed into the packing instead of folded properly. Undamaged, but not presented like the Medium. A pity, and not what I have come to expect from SBS. Nonetheless, I am very pleased with the shirt and look forward to wearing it once I've got some armour organised.
July 6, 2017
Excellent bit of kit
A buddy bought a competitive product and as I couldn't buy the same, I found this online. To be honest it is a mile better, very well made, sturdy, great Kevlar coverage and comfortable, warm under a jacket and fine on its own in the sunshine. Just the job and looks great on its own with my Kevlar jeans on the Harley.... V Cool ... even at 56.
PLEASE NOTE: The views and opinions expressed in the above reviews are solely those of the author and are not necessarily representative of the views of SPORTSBIKESHOP LTD.