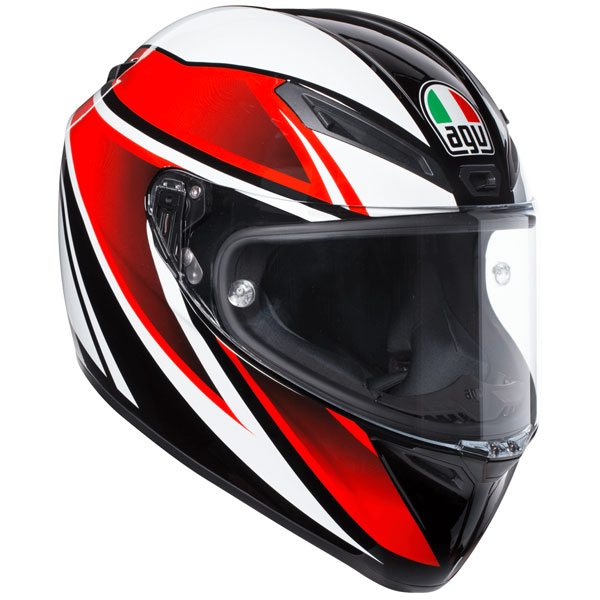 AGV Veloce-S Feroce- Black / White / Red
Customer Product Reviews

Price From
£299.99
£399.99
View Product Details
March 12, 2019
Highly recommended, safe, looks and feels great!
This helmet has a 5-star Sharp rating, so you can be relaxed knowing your head has the best protection available! It feels comfortable and plush inside, and the hole created by the padding at the bottom of the helmet is slightly smaller than other helmets, which gives a more snug fit to your neck, sealing more air/noise/wind out. The adjustable vents at the top and bottom allow for enough ventilation when required. The helmet is light and looks great! The visor is different from other brands, where it only has about 3 fixed positions: One fully closed and locked, second slightly cracked open (for ventilation) and locked in that position, third, slightly cracked open but not locked, and 4th fully open. This may annoy people who ride with their visor between 3rd and 4th positions, however, this isn't a problem for me as I never ride with the visor like that as it obscures the view of the road. Anyway, awesome helmet, I love it and would recommend.
July 6, 2018
Great helmet after 10,000 km
I ride Honda CBR 1100 XX and I rode this helmet in every possible speed that Blackbird can. Overall great helmet. Pros: - Aerodynamics are more than excellent stable at any speed. - Ventilation is more than I need when I open all vents the breeze inside the helmet is awesome. - Field of view is the best I've ever see on helmet so far compared to my previous helmets (Arai Vector,Shoe XR1100, HJC FG-ST, Schuberth S2). This is the first helmet that in full tuck position I do not need to tilt my neck backwards to see the road. - Lightweight - after 4-5 hours ride I do not have any discomfort on neck as when I am wearing heavy lid on my head. Cons: - The helmet is on the loud side of the noise. In slow speed up to 100 km/h it is fine. But in party mode (highway speed 140-180 km/h) it is bad earplugs are the only thing that keeps me from pulling over and trow it in the ditch and it is getting even worse whey you have crosswind. With crosswind and 150 km/h the motorcycle earplugs are not helping very much I got the feeling that the wind is drilling my brain out. I just have sensitive ears I guess. This is the biggest issue with this AGV for me. - The position of contact of the helmet is way up the forehead (not like most helmets on near eyebrows level) in the beginning was odd for me but I guess this is how AGV fits. It is nice and comfortable the only problem for me is I have slim face and when i do speed 200 + km/h my nose is slightly touching the helmet , it is not pressure at all just the feeling is something that I don't like. This is more than fitting issue I guess. Overall : noise in high speed is the only downside for the helmet and for long riding it can be problem.
PLEASE NOTE: The views and opinions expressed in the above reviews are solely those of the author and are not necessarily representative of the views of SPORTSBIKESHOP LTD.