TCX Jupiter 4 Gore-Tex Boots - Black
Customer Product Reviews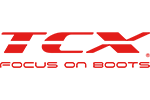 Our price
£170.99
£179.99
View Product Details
June 19, 2022
Worth Every Penny
Fantastic pair of boots, well made, they feel and look like a quality product. Just finished a trip to Germany and France riding in +30 degree hear and the boots performed brilliantly. Then back to the UK and home in heavy rain, again excellent performance with no leaks, I would definitely recommend these boots. I picked these up at the Birmingham store, staff were brilliant and couldn't't have been more helpful.
May 9, 2022
A Bit More Expensive... Because They're Worth It
I ordered to try on in store Richa Street Storm and Richa Slick waterproof boots. Both had good reviews. Decided to try these on for a laugh as it was a bit more than I wanted to part with. The quality difference between these and the cheaper pairs was noticeable. Instantly more comfortable and in my opinion better looking and with a quality feel. Waterproofing tested within a week - rain of biblical proportions on the M1 - they fared well, but water does come down from the top of the boot - but still happy. These are also great off the bike, although I wouldn't recommend a walk too far. No one will know you're wearing biker boots... except your biker mates. Compared to my Oxford boots these do let in a bit more air... not too sure how cold they will go before I'll need to get thicker socks or back to the Oxfords. Go try a pair on if you budget will stretch.
April 24, 2022
Awesome comfortable boots
Really impressed with the look and comfort (you could wear these on a hike) of these boots. I haven't worn them in the wet yet (I didn't buy them for the bad weather), but as I have the full length TCX as my waterproof boots I have no doubt that they will perform well.
April 15, 2022
Classy comfort
I wanted a comfortable summer boot that is quick and easy to put on and kept me dry if I got caught out. These boots have exceeded my expectations. Really well made, and comfortable as soon as I started wearing them. They look good to, very stylish. I was concerned about size as i have had problems with different manufacturers tending to be smaller than the standard in the past. I am an 11 UK and the 46's fit me perfectly. I haven't used them in the rain yet, but I deliberately went for Gore-tex because products using this system are reliable at keeping out the wet.
April 11, 2022
Fantastic
Bought these for the summer and they are really comfortable straight out the box. Also you can feel your gear lever through them which is important. Very well made and lightweight. Half sizes are a bonus too.
April 9, 2022
A Class Product
I recently purchased my second pair after being extremely happy with the first pair that lasted me 8 years. No negatives a very well made product and at a great price.
April 7, 2022
Nice Boots
Excellent fitting boot once I got the correct size, ordered the same size as my TCX high boots (42) but when I tried the short boots they where to big so reordered size 41 which again the staff at SBS where outstanding. As for the boot after the initial wearing in when the right boot rubbed my inside ankle I then decided to tie the laces a bit looser which improved the fit no end, so be aware of the first time wearing them but they will wear in.
March 28, 2022
So comfy boots
I've always had Alpinestars, so I thought I would try something different and I am glad I did these are really comfortable boots and at the right price for Gore-tex, not had them on in the rain yet, but other than that they are a well made boot and pleasing to the eye. Go TCX Jupiter....
February 6, 2022
Really fab boots
Really comfy and service from Sportsbikeshop Birmingham was excellent.
September 9, 2021
Quality and very comfortable boots
This is my second set of these boots, if these ones last as long as my first set I will be very happy. They are a great every day boot and the fit and comfort is hard to beat.
September 4, 2021
Excellent comfy boots
Great boots, very comfy from the off, well made and true to size.
August 25, 2021
Brilliant boot
After requiring some ankle boots for my cruiser I chose these, and have no regret. Very comfortable boot which I would recommend to anyone with a good amount of protection. I am a fair weather rider so it is unlikely the waterproof element will be tested, however they are definately breathable. Look good with motorcycle jeans too. The boot quality and construction also seems very good. I was worried about the velvety quality that they have, but seems tough enough. Nice gear shifter leather patch too, which is replicated on the other side. I haven't tried them out on the sports tourer yet, but imagine they would be just as comfortable as when my feet are out in front. The boots are laced with a velcro cover that goes across, even the laces are of good quality. I am a size 8 (UK) in shoes/trainers, and therefore order a same size boot, which fit perfectly.
July 10, 2021
Top quality boots.
Had a pair of these for quite a few years now and have been brilliant, all day comfort. Tried the cheaper pair first but sent them back and bought these again, they are far superior in all respects. they have more substantial soles and don't feel so plasticky.
June 3, 2021
TCX Jupiter Boots
Great price and really good fit, comfortable wearing them and hopefully protective enough for the Summer weather.
May 28, 2021
Great TCX boots
I have ridden with these in the dry and they fit well and very comfortable. Like the fact there is no names all down the side of them so look fine for wearing when off the bike. Good buy.
April 29, 2021
Very comfortable
Great fit (especially as they do half sizes) and surprisingly comfortable. They have the casual look whilst feeling really sturdy. Recommended!
April 15, 2021
Very Comfy
Only wore these once so far but they were really comfortable and fitted perfectly. Could easily wear these all day.
April 4, 2021
TCX Jupiter 4 Gore-text Boots
Very good product for the price I have paid. They're waterproof, fitment as described and quality product. Another happy customer.
November 9, 2020
An all day everyday summer boot
These boots are amazing light and comfortable and great off the bike too. Already own TCX street boots + these now and would highly recommend as a summer riding boot.
October 24, 2020
Excellent
Very good, I work as a delivery man and even with rainy hours the foot is always dry. Extremely comfortable I recommend.
PLEASE NOTE: The views and opinions expressed in the above reviews are solely those of the author and are not necessarily representative of the views of SPORTSBIKESHOP LTD.