RST Ladies Pro Series Adventure CE Textile Jacket - Black
Customer Product Reviews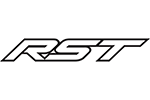 Our price
£184.99
£289.99
View Product Details
July 27, 2021
Incredible value
RST really know how to make excellent gear to a price - the features and quality of this jacket (bought the trousers too) is very impressive. I have far more expensive gear too but I'm not sure its really better. This comes with L2 armour which is a bonus. Lots of pockets (maybe too many :-) If I could, i'd give them 4.5 stars only due to the stiffness of the material but as 4.5 isn't possible its a 5
July 6, 2021
Well done RST
Unlike trousiers, I've had better luck finding jackets that fit me at a my size, 20 to 22 in shop clothes. I ordered the size 20 jacket (and matching trousers) and to my surprise and relief, both fitted me very well. The jacket with all the liners does become a little snug, but I'll probably use my heated jacket instead so that's not an issue. I like that the waterproof liner is detachable as that means on a hot dry day you can take full advantage of the great venting this jacket has. It feels like it will give you good protection too. It's not perfect though, there is only one inside pocket and the outside pockets, whilst large and (hopefully) waterproof get to feel bulky if you put a phone and keys in them. Also I've managed to put a very nasty gouge in the paint on my tank from the press stud buttons on the pockets - they're super effective, but have a little piece of the metal 'snap' standing proud and hey presto deep gouge in the paint a small rubberised cover would have sorted that. There is a detachable bum bag on the back of the jacket - you can leave it on as a map pocket, but the strap and clasp can dig in a little and it's bulky, so I've removed it. Also it does fit me well, but an extra inch on my hips and even with the zips on the side undone, it wouldn't have. Good adjustment in the arms and also adjustment around the waist. It fits well around the bust, they could have done with adding a way to adjust the neck flap as I have a short neck and find with most jackets that the little flap that often velcros across your neck just jams up under my chin so I usually try and find a way to fold it out of the way - this is no different and a press stud to allow you to get it out of the way properly would have been better so those of you lucky ladies with swan like necks could use the flap, and those of us with duck necks could get it out of the way. It comes with it's own really good back protector which can be removed but that's the only armour that can, all the other armour is behind the liner and there are no options for removing it, other than to pick apart the lining and then sew it back up. But all in all I'm very pleased with my jacket and trousers and happy to have found a suit that fits, is comfortable and didn't cost a fortune.
June 9, 2021
Hapoy Wife
Great jacket, stripped out all th linings as my wife is a fair weather pillion. Armour is where it needs to be and vents work well. Can't complain about the jacket at all. It will never see rain!!
April 14, 2021
Really does have it all
Absolutely brilliant jacket! I did think it was heavy when getting it out of the box but once it's on you can't feel it. So many pockets and love how it has all the liners for any weather. A jacket that really does have it all and ticks all boxes. The neck warmer bit is great and I must admit it does keep you nice and toasty on the colder days, then just pop it off when the sun comes out! This item is superb quality, especially at this price. You can't go wrong with RST, plus fast delivery as always from Sportsbikeshop.
November 24, 2020
Great all-rounder
I'm normally a 14/16 top so ordered both. I sent the 14 back as it is too snug...especially when you have all the layers added. The 16 is also snug but at least I can move OK! The vents were a godsend in the summer, especially the arm and chest ones. The chest ones aren't the easiest to open and I had to watch a YT video review of the jacket before I could work out how they opened as it felt like I was going to break something if I carried on struggling. I wasn't massively impressed with the water bladder pocket. First off, I struggled to find the RST bladder for the jacket (doesn't appear to be available anywhere!), so I bought an alternative (Camelbak won't fit as the 'lid' is too wide. Osprey just about does). However, the hole for the bladder is tiny and, due to the zip, has zero give so getting it in is difficult to say the least (even when empty). One ride out with water in situ and one of the attachment clips in the jacket fell off (with the same volume of water that the RST bladder would've held). Don't think I'll bother with this in the future! As winter approached I added the rain liner for wind protection. This does a good job and kept me dry in a downpour. Adding the quilted liner makes for a snug but warm jacket. I have found that you have to open the arm vents when all the liners are in as it is very tight around the wrists and can be a struggle getting it on if the liners aren't all lined up properly! However, the tight wrists allow winter glove cuffs to fit easily over the jacket. All in all, it is a very good all-season jacket with a good amount of protection added. It does weigh a ton though!
September 6, 2020
lots of features
well made lots of adjustment different layers for warmth lots of air vents great value piece of kit also bought matching jeans
August 20, 2020
Perfect fit
This is a quality jacket. Fit is true to size. Plenty of ventilation and not to bulky with liners in. Lots of adjustment. Nice touch is the detachable collar. I purchased the matching trousers which zip together easily with the jacket.
August 4, 2020
Adventure CE Jacket
Fantastic quality and looks great, my wife can't wait to get out on the bike now!!
July 27, 2020
I got one, my pillion has one too
There is nothing this jacket is missing - true adventure touring jacket. Between ventilation and 2 inner liners, it really is one that does it all! Priced like entry level gear (heavily discounted with new model pushing the prices down) quality second only to goretex gear you would pay 3-4 times more for! Matching trousers one can zip together with the jacket, waterproof pockets even bladder pocket that is separated from your back by back protector - this jacket has it all! My pillion likes it, I own unisex/male equivalent for 2 years now - 3000 miles covered in all weathers. Only issue in heavy downpour was water getting in my sleeves because of my short gloves tucked inside the cuffs - long gloves going over and thats sorted. As always, service from SBS second to none!
February 13, 2020
Great fit and function
The jacket feels really comfortable, and fitted as I expected. It's super functional and not too heavy, and I have a very narrow back, but the back protector fits me well. I haven't taken out for a proper touring test yet, but confidence is high that this will work as well as I hope
January 27, 2020
Exactly as described
Superb Jacket, my wife is delighted with it. I am so impressed I will be ordering one for myself. brilliant service, as always.
January 21, 2020
Very good quality
Very good quality for the price. Fitted my wife perfect, different layers that can be removed depending on the weather. Nice layout of pockets without there being too many. Have not tried the jacket in very bad weather yet but don't expect any problems.
September 8, 2019
Superior piece of kit
Currently on tour in the south of France. Daily temperatures of mid twenties. The jacket allows very good airflow, feels quite comfortable, not too heavy, not restrictive. Pockets are secure and easy to use. Zips appear to be good quality and are easy to use. Bright reflective panels are always a good thing. We used a waterproof spray on the jacket before leaving as I don't particularly like the idea of a waterproof 'liner', prefer to keep the water on the outside! Only had a few showers so far but that's working ok. CE2 armour feels comfortable and is nice and flexible. Shame we couldn't get the matching trousers in time.
PLEASE NOTE: The views and opinions expressed in the above reviews are solely those of the author and are not necessarily representative of the views of SPORTSBIKESHOP LTD.