MT Thunder 3 SV - Pitlane Matt Black / Grey
Customer Product Reviews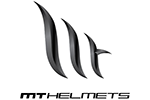 View Product Details
April 28, 2022
MT Thunder 3 SV - One Black / White
Great looking helmet. Bought for my son. Only down side visor is extremely difficult to change. No doubt after a few goes it will be fine. But its sounds like your about to brake it
December 23, 2021
Perfect fit, very comfortable.
Striking hi-vis design, integral sun visor and Pinlock-ready. Safe snug fit but very comfortable to wear. There was a nice gap just over the ears, which makes using a earpiece or wearing spectacles possible without discomfort. Unfortunately, I came off my scooter shortly after starting to use this helmet while performing one of the prescribed manoeuvres on my CBT. The side of my head hit the road but, while the helmet showed some superficial damage, I didn't feel a thing and was unhurt. I did not hesitate to buy another one of these (better safe than sorry!) and, as much as it grieved me to have to junk a brand new helmet, I now have a spare visor and internal padding for the replacement!
October 10, 2021
Great value for money
This is the second helmet by MT that I have bought for my husband. The fit is brilliant for him. It may not be as quiet as some but performs well with ear plugs.
July 30, 2021
Amazing price for amazing product
Caught my eye with the design because I'm a responsible adult. did my home work and for the price and the sharp safety rating it amazing for the price, snug fit and good visibility and surprisingly quiet, and the drop down sun visors is easy to use with gloves on unlike some iv used in the past. never had a MT before and really impressed side note communication with the company is really good to
July 25, 2021
Excellent Helmet!
Fits perfect, looks great, strap easy to use, flip down sun blocker works a treat and tbh I don't think I even need a pinlock insert because the visor takes good care of fogging for me! Was also a breeze attaching my headset to the inside of the helmet, removing the cushions as straight forward as expected, Good value for money.
June 15, 2021
Thunder, thunder, thunder...
If u know you've got a big head, maybe worth going for the next size up - I was able to send mine back no quibbles, swift delivery on the swap even over a bank holiday
May 22, 2021
Great helmet
Great fitting, great looking helmet, was delivered very promptly ,very pleased
May 13, 2021
MT Thunder 3 SV Vlinder, matt grey
I loved the look of this helmet and the design and colour. The fit is comfortable and has plenty of vents. The strap is easy to use and release.The built in sun visor is a bonus and what I wanted. Good quality and a great value helmet, for the specifications. Definately recommend.
April 15, 2021
Better Than Expected
I ordered this helmet for my wife for when she rides pillion on my bike. 4 star sharp rating, built in drop down visor, pinlock ready and designed for ease of use with glasses all for under £60! Amazing price and next day delivery by sportsbikeshop with excellent customer service to back it up. 100% recommended.
April 14, 2021
Great product - amazing service
Needed a new crash helmet for my 10-year-old son who chose the MT Thunder 3 SV One. Order placed on a Saturday, delivered the next day on a Sunday which was outstanding customer service and one very happy young man. Helmet itself is great quality, superb design and has many features (quick-release buckle system, under-chin wind deflector, built-in sun visor) which make this outstanding value for less than £100. Highly recommended!
April 12, 2021
Comfortable with slight whistle
Fits well, nice and comfy, feels sturdy. However whenever I check my right mirror and slight tilt my head, there is a whistle sound. The visor also does spring down when placed below the middle so is hard to leave a gap to de-fog your visor. However, the helmet is comfortable and is a great fit
April 11, 2021
Really good a comfortable fits amazing
I bought this helmet recently as I needed a new full face a had a shoei ones before this and I think this is just as good would highly recommend
February 20, 2021
Nice helmet
Nice looking helmet looks quality. I've got a 60cm fairly round head had to send L back and get XL which is a good fit. Not used it yet as haven't been out on bike
February 16, 2021
Good bang for buck!
I am very surprised by this helmet features and price point. - Deep speaker pockets for intercom - Internal Sun Visor - Slots for Glasses - Good Airflow - Chin Curtain Negatives No Pinlock - However for the price it makes sense. Good buy for people on budget who dont want a boring livery.
January 4, 2021
Amazing Value
I wanted a cheap and cheerful hi vis winter lid that had a sun visor. That could also fit my Sena unit. This ticked all the boxes.I had to purchase the Pinlock separately but other than that it's a good solid helmet that doesn't feel as cheap as it is. It isn't the quietest lid, but it is t the loudest either. Bit it's comfortable and has a 4* sharp rating. Great option for a spare or winter lid.
December 21, 2020
Best Helmet for glasses
Brilliant helmet, really comfy. Initially slightly tight around the cheeks but almost bedded in now after around a week. Little more whistling noisie than my AGV K5 when you move your head around. Super comfy for glasses, best I've had in that sense. Even my fat wooden framed glasses slide in without pressure on my head. Bad notes, the chin vent seems to do absolutely nothing opening to nowhere. Does not come with a Pinlock visor included.
October 16, 2020
Comfy and quiet helmet
As the weather has turned colder and wetter I needed to invest in a full face helmet. Especially as I would be doing a lot of riding on A roads during the winter months. My current helmet is also by MT, so I was already aware of how well they are made, their comfort levels and how quiet they are. This helmet continues that trend. The padding did squeeze may face a tad upon first putting it one, but that has loosened up.tonbe perfectly comparable after only a few rides. Pin lock is obviously a godsend as are the air vents. My only minor gripe is I wish they had made it possibly to lift up the visor using either hand. When I'm at traffic lights it's a pain having to put the bike in neutral before lifting it up, rather than being able to take my hand off the throttle. Also, the Pacman design is AMAZING! Everyone loves it.
September 25, 2020
Excellent quality for the price point
Helmet was for my partner, she loves the matt finish. Has all the features of a more expensive helmet only thing missing is a pin lock visor out of the box. But it does come pin lock ready.
August 10, 2020
Quality item
I was persuaded to buy an MT helmet by their excellent SHARP ratings. 4* for less than £100! The fit & feel of the helmet is very good and certainly comparable to my previous £400 Schuberth S1. The materials used seem to be of a good quality. The noise levels are okay and what was expected from the reviews. Not as quiet as the Schuberth but I do wear earplugs anyway so not such an important factor for me. The visor operates smoothly & easily and stays in midway positions even at speed. There is a pinlock option not that I'll be using it. The sun visor is fairly easy to operate but does come down far enough to rest on my nose. That requires a slightly fiddly operation to get it exactly where I want it but once done stays there. The air vents don't seem particularly effective and tbh I can't tell the difference between open & shut. The buckle is of the quick release type which requires you to pull a small strap to release the mechanism. The first time I've had one of these and they are not as easy to use as the push button type. Also, not convinced the pull strap will last but we shall see. In my opinion, a double D is still the best but I'm old. The colour scheme I chose was a Union Jack affair and the quality of the finish is excellent. It comes with it's own cloth bag which is useful for storage and a nice touch at this price point. I don't work for MT Helmets nor The Sportsbike Shop (TSS) and my comments are just my honest opinion of this product. The service from TSS was excellent. Ordered it Sunday and got it Tuesday. Very good.
August 8, 2020
Old and the bold.
I'm a Wrinkly, passed my test in 1964 on a BSA C15, 250cc single. Not an expert on crash helmets, but I have had a few over the years as I've always owned and ridden a Bike, I ride a RE Himalayan now as at nearly 77 the big Guzzi got too heavy for me. Recently bought an MT Thunder helmet and honestly quite amazed at the quality and comfort..for the price. It's slightly noisier than my old HJC but the internal padding has yet to conform fully to the shape of my bonce and when I've worn it a few more times I think the wind noise will lessen, not that it's bad now...You should try a 1970's EverOak......Eh? What? The Mt is an absolute bargain at the price, it's well made, the internal sun visor is easy to operate, certainly in Summer gloves anyway and I really like the strap fastening, dead simple with gloves on too. Size/fitting was correct as measured by me. I recommend the MT Thunder to all but the fashionistas.. Ace service from Sportsbikeshop as always.
PLEASE NOTE: The views and opinions expressed in the above reviews are solely those of the author and are not necessarily representative of the views of SPORTSBIKESHOP LTD.