Arai Rapide - Speedblock Black / Red
Customer Product Reviews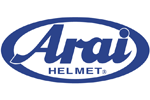 View Product Details
July 7, 2022
An absolute must if you ride the Z900RS Cafe
To be frank I bought this helmet for its looks. My ride is a Z900RS Cafe in green with white stripes. This helmet was intended to match this bike and for that reason I just had to have it. Having never had let alone worn a top teir lid, this is definitely the most comfortable and quality helmet I have ever worn. Yes it's expensive, yes it doesn't have an internal sun visor but boy is it worth it! It's quiet compared to my previous lids and the airflow is amazing good. I installed the Sena 10U intercom to this helmet and it fits flawlessly. SportsbikeShop were excellent, price matched the helmet without question and provided next day delivery after obtaining stock from Arai.
June 2, 2022
Arai Rapide = Arai Quality
Having recently purchased a retro looking Spitfire I needed a change of helmet to go with it (as you do). I've worn Arai helmets since I was 16 and they have got progressively better and better as time has progressed. Fits like a glove, is comfortable and very little wind noise. Quality and finish are first class and you have the Pinlock option if it's required. Top marks from me but you get what you pay for. Happy shopping
April 27, 2022
Great product and service
Great fit, quality and service.
March 27, 2022
Arai Rapide - Speedblock Black / White
Ordered on the Sunday arrived Monday, great Helmet fits perfectly as you would expect a quality helmet.
January 29, 2022
Arai Rapide - Real Dream Blue
Excellent service and quick delivery as expected from SportsBikeShop. I have used them before, will continue to do so and recommend checking them out for best prices. Cannot fault helmet, looks great with the retro vibe, supreme Arai safety and quality finish. Fit is snug and comfortable. Great helmet, my 3rd Arai..
January 27, 2022
Arai rapids
Very pleased with my latest purchase, as a Arai wearer this is my sixth helmet purchase and this doesn't disappoint. Very comfortable to wear I initially thought it was a bit tight compared to my other one but once on it's very comfy.
January 5, 2022
Great service
Very happy with helmet, delivery was quick and tracking was spot on
August 27, 2021
Top lid
I think this is the best lid arai make I liked it that much I got two! Less noise than the other helmets arai make and the fit for my Xs head is perfect. Great lid well recommend
July 10, 2021
Comfortable retro looking helmet
Understated comfortable retro looking helmet. Ive always owned Arais and love the retro look of this one.
July 9, 2021
Classic Arai
58.5cms head, and the large fits perfect great build quality. light whistling noise, but earplugs sorts that. Great visibility. Wanted a helmet with a sun visor, but after a bad experience with an HJC helmet, I decided to concentrate on the helmet, and wear sunglasses, works perfect. (By the way, Sportsbikeshop sorted out my problem by giving me a full credit, cannae beat that!) Would buy another Arai.
May 2, 2021
Retro fab!
I am in love with this helmet. It looks stunning, feels super comfortable and just oozes quality. SBS staff at Leeds were amazing helping me find the perfect fit. Brilliant service as always.
January 19, 2021
Great Retro Option
First the bad - it's not very light and it's not the most innovative retro design. But it's superb in all other departments and looks fantastic on most bikes. It features in this top 10 cool helmets: https://begin-motorcycling.co.uk/cool-motorcycle-helmets/
December 12, 2020
Well styled and comfortable
The quality of the helmet is top notch, very comfortable, with no external vents it should be quiet. Visor is a pain to swap out though.
July 31, 2020
Great helmet
Great helmet. Usual Aria high quality and perfect, comfortable fit. It may be more expensive but, having head butted a car while wearing an Aria, I can confirm that they are worth every penny.
June 30, 2020
Retro love
Lovely retro style helmet. Colors look better than on the pictures. I'm delighted with my new Arai helmet
June 27, 2020
Arai rapide
I liked it because its simple and goes with retro motorcycles. I got xl and it fits my 60cm head perfectly. Really comfy to wear all day, venting is good and visibility also excellent. It's not noisy either. No integrated sun visor though you can buy a pro shade that clips over visor so might get that.
June 22, 2020
Faultless!
This helmet has actually 'wowed' me! It's so quiet that for the first time ever my comms only need to be on half volume! Great vents on the chin and forehead areas, and exhausts low at the back. Great visibility and a pinlock already set up. My next buy will be the ProtecTINT pinlock insert. The visor has a lock system so no air can get in (and for the first time ever my eyes don't water on a ride) and a little glove-friendly catch to release it. I'm wearing sunglasses with it, which actually I forgot I had on yesterday as the helmet is perfectly set up for glasses wearers. I'm trying to find any negatives with this helmet but seriously can't think of any! The shape is retro, the colours are cool, and the comfort is 10/10...I had it on for 8hrs around the Yorkshire Dales last week in the boiling weather then of course it chucked it down, still no complaints! The cheek pads have an emergency removal system if ever needed. Arrived the next day as usual, thanks so much SBS! Top marks to you. :-)
June 20, 2020
Arai Rapide
Excellent fit and quality as expected from an Arai helmet.
June 3, 2020
Exceeded my expectations
Took a chance with this but it's better than I expected. Noticeably lighter than my Arai Rebel it replaces, quieter as we'll probably due to the lack of top vents protruding out. Once I got used to the new visor mechanism it's great. Tight seal when locked and good airflow when in de mist setting. Usual Arai comfort with removable lining. I've only been using it on my 45 mile round trip to work but I don't see any reason it won't be good for long long trips.
June 1, 2020
delivery phenomenal
Ordered at or just before the cut off time, Sports bike shop still endeavoured to get it out that night and I received it in the morning. Almost too good if that's possible! Thank you for an incredible and well packaged service.
PLEASE NOTE: The views and opinions expressed in the above reviews are solely those of the author and are not necessarily representative of the views of SPORTSBIKESHOP LTD.