TCX Pro 2.1 Boots - White
Customer Product Reviews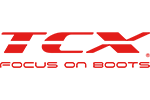 Our price
£219.99
£329.99
View Product Details
February 16, 2016
Comfy and warm
Super cool looking boot. Slip on like a glove and give excellent support. Straps adjust easy and do up well. Takes a bit of getting use to the bulk of the boot but they are so comfy and warm. On a whole, good value for price.
November 19, 2015
Comfy
Very comfortable solid boot.
April 1, 2015
Bombproof
Really solid, well made boot. I felt my ankles and shins were completely supported and protected. I got these for an off road skills weekend and after getting used to the lack of feel for the gear lever I was very happy to have them on. The only thing I would say is to make sure you have long MX socks or use under boot pads to make sure the firm rubber gator doesnt cause discomfort. If you tuck in your trousers then you'll be fine. I also went up a size from the norm.
August 25, 2014
Excelente product
Boots are awesome, used them yesterday and felt like heaven. The torsion control is superb, the inner booties are a great feature, couldn't be more happy.
October 15, 2013
Boot'tastic
Really I would give these boots 4.5/5 they are great and offer amazing value for money against some other brands. They are well put together and the inner booty makes wearing them really compfy. They look like they will last a long time and protect you well which is what you want. My only down which is why I would take half a star off them is they are very stiff this will probably get better over time but, for the moment I have had to change my gear shift lever to a higher position so I can get my toes under it.
June 27, 2013
They make me look fast
Very good price and prompt shipping. Very happy with the product and the service I was provided with. Thank you.
May 29, 2013
I absolutely love these boots
The boots are superb, comfortable and give a great feeling of safety whilst looking excellent. Unfortunately I wont be able to wear the boots as I can't 'feel' the gear lever. The height of the toe doesn't fit my bike(Sportsbikeshop you could say its my own fault for choosing the wrong boot), but I only discovered this after a dangerous 'first' 20 minute ride. I absolutely love these boots but can't wear them on my bike or return them.
April 29, 2013
High quality boots
High quality boots with good feel and protection. Waterproof and breathable at the same time.
September 21, 2012
Awesome boots
Really tough design and very snug. Hardly any articulation in the ankle, but still able to perform well on the bike. Extremely protective over all key areas.
July 18, 2012
Awesome boot
Very comfy, well made, superfast postage to Australia.
July 10, 2012
Very good product but ...
These books look awesome and are extremely comfortable however they are no good for everyday riding as the feel is poor. I would definitely recommend for off road riding
April 4, 2012
Awesome product but I would like better packaging
Best grip,awesome fitment,light and speedy.
PLEASE NOTE: The views and opinions expressed in the above reviews are solely those of the author and are not necessarily representative of the views of SPORTSBIKESHOP LTD.