Held Air N Dry Gore-Tex Glove - Black / Grey
Customer Product Reviews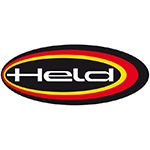 View Product Details
April 6, 2022
Held Air N Dry
first ride in these gloves last week in showery northern Scotland - so I can honestly confirm both glove compartments work fine. warm enough and definitely waterproof. only downside for such a premium product is the lack of touchscreen compatibility
February 15, 2022
Fantastic Gloves & Services from SBS
Wasn't sure about these gloves initially because the reviews seem to be mixed, some love them, some do not. Having now received them I can tell you that they are absolutely fantastic! Really great fit, especially since I was able to get a short finger option to fit my hands which are slightly wider than normal but with little stumpy fingers. SBS were fantastic, BIG thanks to the team in the Reading store who worked tirelessly to help me feel welcome and get the right product, at the right price. They went way over and above what i consider typical customer service these days, wonderful buying experience. Great gloves, amazing sales service from SBS, thank you!
January 27, 2022
New gloves
First time on Comfortable and easy to put under my jacket sleeves. No wet weather yet
January 21, 2022
First gloves that fit well
I've always struggled with gloves. I'm tall and slim with thin hands and long fingers, and have always ended up with massive gloves that still don't fit like they should. These are the only ones I've seen with an option for longer fingers- they fit like they should
October 27, 2021
Held Motorcycle Gloves
I have not had the opportunity to test these gloves yet, just a couple of short rides in the dry, but they are an excellent fit, well constructed and appealing in appearance.
October 19, 2021
Held Air N Dry - worth the wonga
Got these a couple of weeks ago and I am extremely happy with them so far. Comfortable in both chambers. Great choice of sizes including finger length, so a perfect fit has been found. Not been in sustained rain yet but hands have stayed dry during the few showers that I have been through in the last 1000 miles. Excellent service from Sportsbikeshop again.
October 11, 2021
Trusted Brand Gloves
My Held summer gloves have given many years service but were not really suitable for use in heavy showers. These Air N Dry gloves mean that I shouldn't suffer wet hands again. Comfortable and great quality. Would have preferred slightly longer cuffs but I guess they are designed for use inside your jacket sleeve in the rain.
October 10, 2021
Why didn't I find these before?
These are just brilliant gloves. I have hot hands so the cool section is brilliant, no more sweaty plans and the back of my hands don't get hot either. Good in the rain too, no issues at all. You won't be disappointed if you buy these.
September 8, 2021
So, good updated my old pair.
They are a good little glove and with the different compartments for seasonal riding make them that much better. This is my second pair as the others have given up after 3 years of all weather riding.
July 26, 2021
Great Quality
Lovely product… I tried on over 20 pairs of gloves in store before settling with these as a waterproof glove I can take touring to negate the two pairs I used to take. Comfy enough to wear in the warm weather, with a gore tex liner to keep the rain and chill out. Fastner is also of a great quality.
July 25, 2021
Brilliant all rounder
This is my second pair of Air n dry gloves, cant find a better all round practical glove anywhere on the market to beat these, not cheap but last and worth the money in my opinion
July 14, 2021
Great concept well executed
Bought online, but unsure if had right size so popped into Leeds shop to check. Amazingly helpful staff (as I found on previous visit there) let me try others and confirmed fit would improve with wear - which it has. Used both in dry and in torrential rain (from which my RST Adventure jacket has taken 2 days to dry completely) and stayed cool in former and warm and dry in the latter. Lot of money, but get them if you can afford them.
July 4, 2021
2 in 1
A lot of my friends were raving about this 2 in 1 type of glove. I needed gloves so went for these. The air part is your palm, which means the back of your hand has the other glove on it. When like that the kangaroo leather palm, obviously get wet in the rain, so your hand does too. If you go in the other part they are dry and warm, not sure yet if that's enough for winter. I wouldn't bother with this type of glove again as it's neither one thing or the other. Not really winter gloves and not really lightweight enough for summer. They're not cheap so there's enough money there for 2 pairs of gloves, lightweight for summer and warm gortex for the winter. Excellent quality gloves
June 30, 2021
Top Quality
These are expensive gloves. Happily the quality matches the price. Very innovative system of dry or breezy which works really well, doesn't cause any extra bulk. Fitting seems accurate but wrong sizing is easily rectified with Sportsbikeshop's excellent returns system.
June 20, 2021
Quality, dry and comfortable
Quality gloves, really happy with purchase. Rode in a few conditions and my hands stayed dry and warm, thoughts in the winter maybe not so warm. Comfortable gloves. And once again class service from sports bike shop
June 16, 2021
Fits Like a Glove
This is one quality item. I've owned 3 pairs of the opposition to this product the BMW 2 in 1 gloves and there is no comparison in feel, quality and attention to detail. All 3 of my previous gloves failed in the same location the stitching on the fingers. These gloves will not have this problem as all the stitching is internal. The sizing options on this product are vast. I cannot recommend sportsbikeshop enough for their speed of delivery and exchange facility at their Leeds shop. Everything happened as per their policies. I cant comment on the products waterproof abilities as of yet because its been dry. Well done. This product was bought as a birthday present by my daughter.
May 22, 2021
Quality
Fits me perfectly. I didn't ever realise I had short fingers! I have always managed but the finger length option is something I wish I had discovered years ago. Well worth a look
May 12, 2021
So far, so dry
Have ridden in the wet a few times now and hands have stayed completely dry. They are not as warm as some have said, definitely not a winter or cooler spring glove. They are much more comfortable in breezy mode but I'm sure that will change the more I wear them.
May 4, 2021
Great quality
Had these gloves on a test many years ago and were brilliant these do not disappoint,well made and comfortable, great if you don't need thick winter gloves and for when the evenings turn cold you've got the best of both
April 7, 2021
Great flexibility
Very impressed with these. I can wear them as waterproof gloves, with liners on cooler days, or as a cooler pair when appropriate. I do a fair bit of touring so really appreciate taking as few extra items as possible. Two pairs of gloves in one is very handy and surprisingly comfortable.
PLEASE NOTE: The views and opinions expressed in the above reviews are solely those of the author and are not necessarily representative of the views of SPORTSBIKESHOP LTD.