+44 (0)1205 360099








Departments
Arai Helmets
Arai motorcycle helmets, the ultimate in safety
If there's one brand you can rely on in the fast moving world of motorcycling, it's Arai. Since 1937, this family owned company has committed itself to one goal, making the very best helmet possible.

Arai have consistently provided the ultimate in motorcycle helmet safety, comfort and quality thanks to over 20 years of effort in MotoGP, World Superbike and every other conceivable form of motorcycle racing, at all levels. Every single piece of knowledge learned on the racetrack is put to good use in the development of product, helping to protect every one of Arai's customers on the road, the world over. There truly is no such thing as a cheap Arai helmet.

So while many things change, one truth will always remain. If you want the ultimate motorcycle crash helmet there is only one choice, Arai Helmets.
Departments


Arai RX-7 GP



Arai Quantum ST



Arai Rebel



Arai Chaser V


Arai Axces 2


Arai Astro Light


Arai Freeway 2

Arai X-Tend

Arai CT Ram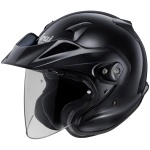 Arai CT-F


Arai Tour X4

Arai Spares & Accessories
Featured Products
---
Recent Product Reviews
---

- October 27, 2014
Great lid
Fab helmet, peripheral vision fantastic. Way better than my now defunct Multi-tec. And better even than my old Condor. Very light. Not as quiet as the Condor. The lining is taking some time to get used to, bearing in mind I've only worn 3 times as yet. The vents are absolutely spot on, better than any thing I've worn before. Aria make quality lids, definitely will return to this manufacturer of helmet. Sportsbike as always great!
Peter Evans - Ilford

- October 25, 2014
Fantastic product
Product works brilliantly. Wish I had one of these 10 years ago! Makes riding in changeable lighting a breeze. No more sun or reflective wet road glare causing problems as it auto adapts to the lighting conditions. Prompt delivery and use of Youtube for visor removal made it quick and easy to fit.
Anonymous - Leicester


- October 15, 2014
Lid-tastic
Firstly this beautiful helmet arrived in the most secure of packaging imaginable. Having owned Arai helmets before I expected this to fit similarly and I have not been disappointed. Lovely snug fit with improved vision and facial comfort. Quick release tags tucked neatly inside allow emergency services to remove padding thereby aiding access for rescue hands to support neck and remove helmet. I opted for the limited edition Dark Citizen and I'm blown away by the quality of the Matt paint finish. Pin lock visor provided and the clever Arai pro shield should arrive in a few weeks - this adds a tinted sun shade that can be tilted up or down and locked into place. All in all, I'm very happy with this purchase.
Stephen O'rourke - Leicester
PLEASE NOTE: The views and opinions expressed in the above reviews are solely those of the author and are not necessarily representative of the views of SPORTSBIKESHOP LTD.