+44 (0)1205 360099








Departments
Arai Helmets
Arai motorcycle helmets, the ultimate in safety
If there's one brand you can rely on in the fast moving world of motorcycling, it's Arai. Since 1937, this family owned company has committed itself to one goal, making the very best helmet possible.

Arai have consistently provided the ultimate in motorcycle helmet safety, comfort and quality thanks to over 20 years of effort in MotoGP, World Superbike and every other conceivable form of motorcycle racing, at all levels. Every single piece of knowledge learned on the racetrack is put to good use in the development of product, helping to protect every one of Arai's customers on the road, the world over. There truly is no such thing as a cheap Arai helmet.

So while many things change, one truth will always remain. If you want the ultimate motorcycle crash helmet there is only one choice, Arai Helmets.
Departments


Arai RX-7 GP



Arai Quantum ST



Arai Rebel



Arai Chaser V


Arai Axces 2


Arai Astro Light


Arai Freeway 2

Arai X-Tend

Arai CT Ram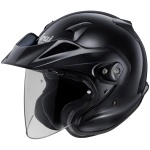 Arai CT-F


Arai Tour X4

Arai Spares & Accessories
Featured Products
---
Recent Product Reviews
---


- September 16, 2014
Why carry two visors on your ride?
This system is a great solution to changeable lighting conditions while out on the road. Just a simple flick up and down gives clear to tint visors. There is no extra wind noise even when the tint shade is up. When the shade is down there are clear areas that are unshaded that give excellent views of mirrors, gps and clocks, yet the shade still does its job over the rest of the visor. Pinlock is also included to keep the visor clear. Great product.
Clive - Grantham


- September 15, 2014
Arai Base Plate
Great service. Item was delivered quickly. I broke a base plate and resigned myself to having to spend a few hundred pounds on another helmet. I didn't realise base plates were available as a spare part. Well done Arai and well done Sportsbikeshop. The parts were great quality with no fitting problems at all.
Anonymous - St Martin


- September 1, 2014
Arai fan
This is my third Chaser V and there's a reason for that. I've had ten Arai's all in all, including Quantums and RX7s. The Chaser V has been the comfiest of the lot. The free Pro Shade was a bonus and saves me having to pack the extra visor for trips away.
Jimmy Peach - London
PLEASE NOTE: The views and opinions expressed in the above reviews are solely those of the author and are not necessarily representative of the views of SPORTSBIKESHOP LTD.