+44 (0)1205 360099








Departments
Arai Helmets
Arai motorcycle helmets, the ultimate in safety
If there's one brand you can rely on in the fast moving world of motorcycling, it's Arai. Since 1937, this family owned company has committed itself to one goal, making the very best helmet possible.

Arai have consistently provided the ultimate in motorcycle helmet safety, comfort and quality thanks to over 20 years of effort in MotoGP, World Superbike and every other conceivable form of motorcycle racing, at all levels. Every single piece of knowledge learned on the racetrack is put to good use in the development of product, helping to protect every one of Arai's customers on the road, the world over. There truly is no such thing as a cheap Arai helmet.

So while many things change, one truth will always remain. If you want the ultimate motorcycle crash helmet there is only one choice, Arai Helmets.
Departments


Arai RX-7 GP


Arai Quantum ST


Arai Rebel


Arai Quantum


Arai Chaser V


Arai Axces 2


Arai Astro Light


Arai Freeway 2

Arai X-Tend

Arai CT Ram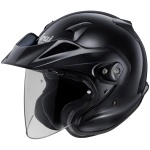 Arai CT-F


Arai Tour X4

Arai Spares & Accessories
Featured Products
---
Recent Product Reviews
---


- November 24, 2013
Typically comfortable Arai
This is my third or fourth Arai. Although other manufacturers make perfectly good helmets, Arai has always seemed a touch more comfortable to wear, especially for an all day trip. My last helmet was a Chaser and this version has better ventilation and possibly better sideways vision. The chin bar seems to be closer by a tad and might become uncomfortable in hot weather. The vent openers are a little more difficult to operate but I think this will be a matter of getting used to them. I had a similar problem with the last Arai and its a matter of getting used to the feel of the levers with gloves on. I can't agreed with the reviewer who complained about buffeting but I have changed motorcycles recently, so, there is no direct comparison with this and the last Chaser helmet. On the last bike, I didn't notice any appreciable difference between the Chaser and an RX7, which is why I brought the Chaser. The build quality seems to be typically Arai and there are no complaints so far and I don't expect there will be any. The Arai helmet I had before the last Chaser, I had for over 10 years. Yes, I know you should change them more regularly but I kept it because it was so comfortable, even after that long. I bought a new one because it literally fell to pieces because the plastic trim and glue were getting brittle. However, the shell was good and the insides seemed as comfortable as on the first day. This new Chaser is as comfortable as a pair of slippers, if you know what I mean. The delivery by Sportsbikeshop was quick and the notice they include with the helmet is clear; once the helmet is worn it cannot be exchanged, so, make sure it is right for you before you remove the labels. I, also, saved a couple of bob over the price of this helmet compared to other sites, so, I'm well pleased. The colour and pattern I chose is a little garish compared to the more conservative type I, usually, pick but I won't be looking at it when I'm riding, so, who cares. The Pinlock visor is excellent. I used to use Fog City, which is also a good system, if a little fiddly to fit. I have found the Pinlock visors can fog from the sides, which the Fog City visor don't do. However, I am talking about extreme weather, snow, hail and cold. In the normal torrential summer downpour I have found little difference and both systems are very good. On other helmets, I have suffered from drafts across eyes which, when I was younger, I didn't seem to notice. Arai helmets don't do drafts, unless you create them by opening one of the many vents. This is another reason I have kept with Arai. The friction hinge, on the visor, as opposed to the more normal ratchet hinge is another reason I have kept with Arai. It's so good that, on a hot day, I have ridden at motorway speeds with the visor slightly open and it hasn't moved from its position and there is no noticeable rattle. Good helmet, good service, good price and looking forward to better weather.
Paul Taylor-lowen - Hereford


- September 26, 2013
Spot on Helmet
I bought this helmet for my girlfriend, the usual Arai quality comes as standard and its a perfect fit, she is over the moon as am i too that its a perfectly fitting quality item. Just as a point very worth mentioning if it hadn't have fitted Sportsbikeshop were only too wiling to assist in exchanging it for the right size. Superb dealer and a real pleasure to shop from online. Many Thanks.
Paul Sweeney - Manchester


- September 23, 2013
Vents that work!
My first ride in this helmet was through a down pour. The pinlock ant-mist visor (free with the helmet) did the job perfectly. I bought this as my second Arai helmet and it's great! The vents have been looked at and are hugely improved. Airflow around the helmet is fantastic and through the summer it kept me cool. Wind noise is minimal so I can hear the beautiful sound of the Bonneville twin parallel.
Mark - Harbury
PLEASE NOTE: The views and opinions expressed in the above reviews are solely those of the author and are not necessarily representative of the views of SPORTSBIKESHOP LTD.