+44 (0)1205 360099








Departments
Arai Helmets
Arai motorcycle helmets, the ultimate in safety
If there's one brand you can rely on in the fast moving world of motorcycling, it's Arai. Since 1937, this family owned company has committed itself to one goal, making the very best helmet possible.

Arai have consistently provided the ultimate in motorcycle helmet safety, comfort and quality thanks to over 20 years of effort in MotoGP, World Superbike and every other conceivable form of motorcycle racing, at all levels. Every single piece of knowledge learned on the racetrack is put to good use in the development of product, helping to protect every one of Arai's customers on the road, the world over. There truly is no such thing as a cheap Arai helmet.

So while many things change, one truth will always remain. If you want the ultimate motorcycle crash helmet there is only one choice, Arai Helmets.
Departments


Arai RX-7 GP



Arai Quantum ST



Arai Rebel



Arai Chaser V


Arai Axces 2


Arai Astro Light


Arai Freeway 2

Arai X-Tend

Arai CT Ram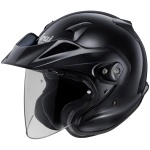 Arai CT-F


Arai Tour X4

Arai Spares & Accessories
Featured Products
---
Recent Product Reviews
---


- December 13, 2014
Because it's an Arai
Just about the only helmets I trust and for me the best fit so why change. I wanted a high vis helmet, this has that little bit extra being nicely contrasted by the black fixtures..points for style. Also comes with pinlock. Comfort is a very personal thing when it comes to helmets and this is the usual Arai snug fit with slightly more room round the ear when on compared to the Axes II. Vents are good, work well in summer and closed off keep the cold air off your head. Some people consider them unnecessarily expensive but they can often be bought discounted unless you must have the latest graphic. The Chaser V is a good standard Arai lid that inspires confidence when worn. Incidentally I speak from experience of a spill some 20 yrs ago whilst wearing an Arai where my head impacted hard with the kerb, I'm sure it saved me. That is why I trust Arai.
Paul Keeley - Chorley


- December 3, 2014
A must have
I have one of these in all my helmets. They are a must have for the British climate, especially in fog. I use the smoke and clear to good effect and have not had any issues with them thus far, although they do I'm told have a finite life span as it were which is not really a problem at this price and the ease of fitting. Have a spare lying around or even put one in tour luggage, you never know when a change of lens may come in handy on your travels.
Paul - Chorley


- November 28, 2014
This is new
I have lost track of how many times I have taken my helmet off without first taking my sunglasses off, not any more. I was not sure when I saw it but it works just as described. The Pro Shade can also be removed from the visor in seconds. Brilliant service as usual from the Sportsbikeshop.
Andy - Worsley.
PLEASE NOTE: The views and opinions expressed in the above reviews are solely those of the author and are not necessarily representative of the views of SPORTSBIKESHOP LTD.