+44 (0)1205 360099








Departments
Arai Helmets
Arai motorcycle helmets, the ultimate in safety
If there's one brand you can rely on in the fast moving world of motorcycling, it's Arai. Since 1937, this family owned company has committed itself to one goal, making the very best helmet possible.

Arai have consistently provided the ultimate in motorcycle helmet safety, comfort and quality thanks to over 20 years of effort in MotoGP, World Superbike and every other conceivable form of motorcycle racing, at all levels. Every single piece of knowledge learned on the racetrack is put to good use in the development of product, helping to protect every one of Arai's customers on the road, the world over. There truly is no such thing as a cheap Arai helmet.

So while many things change, one truth will always remain. If you want the ultimate motorcycle crash helmet there is only one choice, Arai Helmets.
Departments


Arai RX-7 GP



Arai Quantum ST Pro


Arai Quantum ST


Arai Rebel



Arai Chaser V Pro


Arai Chaser V


Arai Axces 2


Arai Astro Light


Arai Freeway 2

Arai X-Tend

Arai CT Ram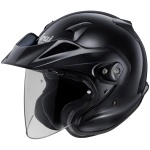 Arai CT-F


Arai Tour X4

Arai Spares & Accessories
Featured Products
---
Recent Product Reviews
---


- February 24, 2015
Replacement smoked side pods
I have always hated changing the visor on my Viper GT and eventually because I was so bad at it both of the original side pods started to show cracks in them. The new smoked ones are brilliant as I can see the mechanism inside and I'm super quick at changing them now. Awesome product, highly recommended.
Jonathan Griffith - Maidenhead


- February 17, 2015
Genuine is the best
Can be expensive compared to aftermarket alternatives, but I won't be caught out again by washing up liquid removing iridium mirror/tint effect on aftermarket visors. Lost confidence in 'cheap' when it happened to me and I've now got too many clear visors. Genuine is best, believe me, I know. Great service from Sportsbikeshop, thanks.
Gary Mcdonough - Maghull


- January 28, 2015
First new helmet for years
Wow what a difference a new helmet makes. I have been after a quality helmet for years but with plenty of other calls on my hard earned cash have not splashed out before. I admit I tried one on in my local dealer and loved it and then checked out the Sportsbikeshop prices. I went back to the dealer to try to haggle but they would not budge. Placed the order with SBS and two days later the new helmet arrived. Tried it on and it felt snug but not too tight and seems to fit just as it should fit. So comfortable and feels really secure. Plenty of vents to ensure no misting and just the right amount of ventilation/cooling can be adjusted on the move. Went for a long ride at the weekend and the noise from wind rush etc is so much better. All round vision is superior to my previous Shark helmet too. To say I am really pleased is a gross exaggeration.
Mark Harrison - Cullompton
PLEASE NOTE: The views and opinions expressed in the above reviews are solely those of the author and are not necessarily representative of the views of SPORTSBIKESHOP LTD.