+44 (0)1205 360099








Departments
Arai Helmets
Arai motorcycle helmets, the ultimate in safety
If there's one brand you can rely on in the fast moving world of motorcycling, it's Arai. Since 1937, this family owned company has committed itself to one goal, making the very best helmet possible.

Arai have consistently provided the ultimate in motorcycle helmet safety, comfort and quality thanks to over 20 years of effort in MotoGP, World Superbike and every other conceivable form of motorcycle racing, at all levels. Every single piece of knowledge learned on the racetrack is put to good use in the development of product, helping to protect every one of Arai's customers on the road, the world over. There truly is no such thing as a cheap Arai helmet.

So while many things change, one truth will always remain. If you want the ultimate motorcycle crash helmet there is only one choice, Arai Helmets.
Departments


Arai RX-7 GP



Arai Quantum ST



Arai Rebel



Arai Chaser V


Arai Axces 2


Arai Astro Light


Arai Freeway 2

Arai X-Tend

Arai CT Ram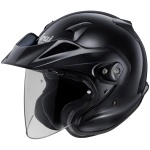 Arai CT-F


Arai Tour X4

Arai Spares & Accessories
Featured Products
---
Recent Product Reviews
---


- July 29, 2014
Superb quality, superb service
After sixteen years sterling service the old RX7 was consigned to moped only duties and I shelled out on the new one. Oh my god! It's sooo good I may divorce the missus and marry me new helmet! The fit, light weight and finish are just incomparable, well done Arai. May I also say top job from the Sportsbikeshop, most excellent service and a very competitive price. Cheers chaps, I'm off to hug me new Arai again!!
Lawrence homer - Wareham


- July 29, 2014
Easy change from other Arai's
This really is a great quality helmet. I've always had other Arai helmets so sizing and fit are easy to get used to. A little heavier than other helmets but feels like good quality. Changing the visor or removing the peak are a little fiddly so you don't want to do it too often but its not a fault, its a peaked helmet after all. Brilliant.
Craig - Pinner

- July 22, 2014
Like having a new helmet
A new visor (particularly if you add new side pieces) really does make a difference. Because the scratches and scrubs on your old visor get worse slowly, you don't realise how much it can affect your vision. Suddenly, a new visor of typical Arai quality makes everything clear.
Bernard Severn - Darlington
PLEASE NOTE: The views and opinions expressed in the above reviews are solely those of the author and are not necessarily representative of the views of SPORTSBIKESHOP LTD.