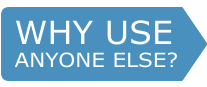 Departments
Sidi Boots
Developed by legends, Sidi motorcycle boots
For more than 40 years Sidi motorycle boots have been worn by some of the most awesome motorcycling legends the world has ever seen. Names like Giacomo Agostini, Joel Robert and Steve Baker, from a golden era of bikesport, have won domestic and world titles, all wearing Sidi boots. Couple past success with the current leading riders, heroes like Alex Barros, Colin Edwards and Stefan Everts, who all benefit from Sidi's class-leading bike boot technology, and you have a company which has a racing heritage second to none - and it's still a family-run business! As the family say themselves, Sidi is..."A brand proud of decades-long history, we have added a passion for style that only two-wheel riders have". This understanding of both the bike market, and the needs of today's motorcyclist is highly apparent in every single pair of Sidi motorcycle boots in production today.
Departments
Featured Products
Recent Product Reviews


- November 25, 2015
Fantastic boots
I was a little unsure of these as they are my very first pair of motorcycle boots. I was not disappointed! It did take a few tries to get the sizing right (I ended up going two sizes bigger than I usually take) but SBS was fantastic the whole way through with their no-questions-asked return policy. One thing about the sizing - if you have larger calves like me - the calf area is adjustable with a ratchet system, so you can custom fit these to your calf size! These boots feel solid and I love that you can replace parts when they wear down or if you crash - so I think these are a solid investment! A great pair of boots that look and feel great at a very reasonable price for all the additional features.
Stephanie

- London


- November 11, 2015
Brilliant quality
Super comfy boots with protection everywhere you want it and knitted out with Gore-Tex to cope with the English winter. Nice looking, snug, waterproof and warm. 5* quality product but do go a size up! I got a size 45 hoping I'd be fine and stretch them out. Fine when sitting down but too tight to walk in. As per the customer service team have made this enhance hassle free.
Will

- Crawley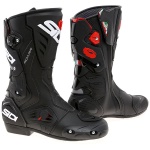 - October 23, 2015
I love these boots already
Having owned one pair of Sidi boots for 6 years and despite the abuse and I have to say, lack of care, they have only just broken a zip. That on top of paper thin soles from foolish foot dragging and a melted heel from an unfortunate incident with a friend's exhaust it was time to say goodbye to the most comfortable boots I've ever owned...and still waterproof! I didn't hesitate to go searching for Sidi boots again and these new bad boys are comfortable out of the box and have only taken a few rides in a couple of weeks to feel part of me. A bit stiff at first with a couple of less than perfect gear changes, they're now settled in. Having the extra height of the heels makes moving the bike about much easier! The new fastenings are great, easy to use with gloves on and the new ankle supports feel solid and reassuring. The vents are a definite improvement in functionality, less fiddly than the Vertigo. All in all I'm expecting years of happy usage again!
Dan Wright

- Tunbridge Wells
PLEASE NOTE: The views and opinions expressed in the above reviews are solely those of the author and are not necessarily representative of the views of SPORTSBIKESHOP LTD.