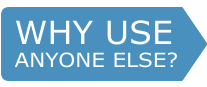 Departments
Sidi Boots
Developed by legends, Sidi motorcycle boots
For more than 40 years Sidi motorycle boots have been worn by some of the most awesome motorcycling legends the world has ever seen. Names like Giacomo Agostini, Joel Robert and Steve Baker, from a golden era of bikesport, have won domestic and world titles, all wearing Sidi boots. Couple past success with the current leading riders, heroes like Alex Barros, Colin Edwards and Stefan Everts, who all benefit from Sidi's class-leading bike boot technology, and you have a company which has a racing heritage second to none - and it's still a family-run business! As the family say themselves, Sidi is..."A brand proud of decades-long history, we have added a passion for style that only two-wheel riders have". This understanding of both the bike market, and the needs of today's motorcyclist is highly apparent in every single pair of Sidi motorcycle boots in production today.
Departments
Featured Products
Recent Product Reviews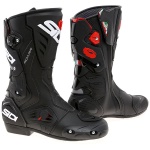 - August 9, 2015
Great looking boots
Not only do they look great, the build quality is excellent. Gonna take a while to run them in as they are a lot stiffer than my black rain Sidi's, but that is because they have more protection. Sizing was spot on, excellent service from Sportsbikeshop, overall very pleased with my purchase.
David Skinner

- Poole


- July 23, 2015
You got your new shoes on
Oooh, look at them, Italian class! Surprisingly I had to choose a size down from normal, did not expect that. Extremely light weight, but with support in all the right places. I was a bit dubious about the fastening system in case the lines break or that they wouldn't go right enough, but no need, positioned perfectly they just grip without over tensioning. Expensive, but you defo won't regret it, go that little bit extra for the ultimate not. The best thing for me...unlike other unnamed brands, they don't squeak when I walk!!!
Anonymous

- Glasgow


- July 17, 2015
Top boots
Purchased these boots to use for racing. Fit is exactly the same as all the other Sidi boots I've used, so sizing was not a problem. These are the vented versions and keep your feet really cool, especially with the toe vent open. Light weight, you can really feel that when wearing them. Beautiful quality. The fixing mechanism is a bit fiddly at first, but you do get used to it. Summer use only!! They will be absolutely no good in the rain!!!!! Lovely bit of kit.
Dave Brown

- Aylesbury
PLEASE NOTE: The views and opinions expressed in the above reviews are solely those of the author and are not necessarily representative of the views of SPORTSBIKESHOP LTD.