+44 (0)1205 360099








Departments Filters Applied Refine Your Results

Flip Up Helmets
Flip up motorcycle helmets
We now have over 4000 helmets in stock ready for next day delivery and our range of flip up helmets is second to none. When it comes to brands, we have every single name worth considering and a price point to suit every budget, just make sure you use our 360 degree helmet spins when you're choosing. We have 2 spins for every flip up helmet, 1 to show the helmet closed and one to show it open. We really have got helmets covered!
Shark Evoline Series 3 Moov Up - Matt Black / Anthracite / White Polycarbonate flip front helmet with inner sun visor
View

$411.44

Roof Desmo Pilot - White / Grey Aggressively styled dual homologated helmet
View
$531.83

Schuberth C3 Pro Dark Classic - Silver Renowned quiet helmet with built in antennae
View

$838.13
Recent Product Reviews
---


- March 3, 2015
Great value for money
This is my 2nd MT Flux helmet. Owned last for 2 years and was perfect. Very comfortable and functioned well. Liner removed and washed several times. Through daily use two of the vent levers fell off and liner split but I count as fair wear and tear in 2 years use. Bought this to replace last helmet following an "off" where the helmet performed well in a head strike of the road. Decided to buy hi-vis so next time I'll be seen and the colour is exactly what I wanted, very bright...cant miss it hopefully!
Lewis Kearney - Benfleet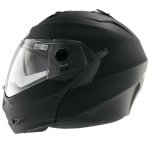 - March 2, 2015
Great mid-range helmet
I researched this helmet a lot prior to purchase. Not only has it got a 5* SHARP rating for safety but it's also a reasonable price. The helmet itself isn't heavy on your head and the build quality is superb. I would recommend this helmet over any other one on the market for a new rider. So much so, I'm considering buying a second one as a spare. Great helmet, great colour choices, great prices. The ventilation is also spot on when riding along the streets.
Nigel Slyth - Billericay


- February 28, 2015
Take your ear plugs
The good bits about this helmet are the colour and the ventilation. The bad bits are trying to open the vents and operate the internal visor with gloves on. The padding inside is very sparce making this a very noisy helmet when out on the road. The flip front is quite easy to open up and the chinstrap is very good but to be honest my previous helmet ( Caberg Justismo GT) was a far superior helmet....
Anonymous - Aberdeen
PLEASE NOTE: The views and opinions expressed in the above reviews are solely those of the author and are not necessarily representative of the views of SPORTSBIKESHOP LTD.