+44 (0)1205 360099








Departments Filters Applied

Flip Up Helmets
Flip up motorcycle helmets
We now have over 4000 helmets in stock ready for next day delivery and our range of flip up helmets is second to none. When it comes to brands, we have every single name worth considering and a price point to suit every budget, just make sure you use our 360 degree helmet spins when you're choosing. We have 2 spins for every flip up helmet, 1 to show the helmet closed and one to show it open. We really have got helmets covered!
Sorry, no products found.
Recent Product Reviews
---

- April 10, 2014
Great helmet
The MT FLUX Helmet has exceeded my expectations as it is light and very handy with its flip up and visor mechanisms. Very user friendly and a great buy for its price. The sound of wind does get through when traveling at higher speeds but it isn't loud at all. Great buy and Iwould suggest others to get the same.
Oliver Heaton - Derby


- April 2, 2014
Fantastic value for money
Very well made helmet. I have found this helmet very comfortable with very little wind noise at higher speeds. The flip up is very easy to release, even with thicker gloves on, and the built in sun visor is a nice extra. Very glad I bought this helmet, to be honest, I did not think the helmet was going to be as good as it is for the price! I would certainly recommend this to anyone.
Kev - Cardiff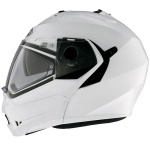 - March 27, 2014
Another Caberg winner
This is my third Caberg, the others being a full-face and an open-face. Both are excellent helmets and very comfortable. However, the Duke is the best of the lot. It fits me like a glove and I feel like I could wear it all day. The quality of construction is first class with the flip mechanism operating in a very positive manner, with no sloppiness to it at all. The internal sun visor drops down far enough to be very usable, unlike in the other two helmets in which it fell a bit short. Wind noise is no better or worse than the other helmets - however, I do wear earplugs and sit behind the screen of a Pan European. No problem fitting my Scala G9 headset. All-in-all, a top helmet, especially so given its price. Delivered next day from Sportsbikeshop. 5 stars all the way!
Neil - Billericay
PLEASE NOTE: The views and opinions expressed in the above reviews are solely those of the author and are not necessarily representative of the views of SPORTSBIKESHOP LTD.