+44 (0)1205 360099








Departments
Schuberth Helmets
Geman engineering at it's finest, Schuberth motorcycle helmets
Schuberth motorcycle helmets are, and always have been, developed and manufactured using a quality oriented approach. Since the late 1970's, Schuberth have specialised exclusively in the production of head protection technology, cementing their position today as THE motorcycle helmet specialist. As well as motorcycle helmets, Schuberth also design and manufacture helmets for the police, fire service, military and other areas of motorsport, most famously for use in Formula 1. The fact that Michael Schumacher has chosen to work with the brand for so long, speaks volumes about its pedigree and the company's commitment to the development of helmet technology. This commitment is made further apparent by the fact that Schuberth are the only bike helmet manufacturer in the world with their own acoustic and wind tunnels. Via their base in Magdeburg, Schuberth are proud to promote their "made in Germany" message and now export motorbike helmets to more than 50 different countries throughout the world.
Departments


Schuberth SR1


Schuberth S2


Schuberth C3 Pro


Schuberth C3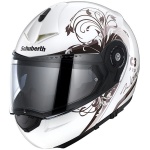 Schuberth C3 Pro Woman


Schuberth Spares & Accessories
Related Departments
Featured Products
---
Schuberth C3 Pro - Fluo Yellow Renowned quiet helmet with built in antennae
View

£599.99
Schuberth SR1 Stealth - Red German engineered multi composite race style helmet
View

£579.99
Recent Product Reviews
---


- April 28, 2014
Great helmet
When I first put it on my thoughts were "what have I bought". It was so tight and painful to remove. Now its loosened up its great albeit a bit tight on the forehead. The helmet is very quiet and appears very well made. The visor steams up if the front vent is not open. The buckle system is excellent. Not much more I can say, a great helmet.
Richy - Watford


- March 14, 2014
A very good helmet
This is the third Schuberth Helmet that I have owned. The previous two were Schubeth Concept helmets. I thought they were good but they do not come close to this one it is so quiet in comparison. There is a little bit more road noise but nowhere near as much wind noise and the ventilation is much better and it is a lot lighter than the Concept. The only thing I do not like is the chin strap buckle. I much preferred the seat belt type on the Concept, apart from that I cannot fault it.
Stephen Thorne - Bedford


- August 26, 2013
Expensive but quality
I moved up from a low end Duchini, the difference is striking. It's like putting your head into a Mercedes: soft neck curtain, plush interior and smells nice too. The action of the visor is very nice, solid and closes with a reassuring click. Aerodynamically my old helmet tended to pull upwards at speed, the Schuberth is a lot more stable. The quietness of this helmet is as promised, the wind roar is dulled, lower, like being on an aircraft. Overall, expensive, but if you want a premium quiet helmet then it does not dissapoint.
Anonymous - Fareham
PLEASE NOTE: The views and opinions expressed in the above reviews are solely those of the author and are not necessarily representative of the views of SPORTSBIKESHOP LTD.