+44 (0)1205 360099








Departments
Schuberth Helmets
Geman engineering at it's finest, Schuberth motorcycle helmets
Schuberth motorcycle helmets are, and always have been, developed and manufactured using a quality oriented approach. Since the late 1970's, Schuberth have specialised exclusively in the production of head protection technology, cementing their position today as THE motorcycle helmet specialist. As well as motorcycle helmets, Schuberth also design and manufacture helmets for the police, fire service, military and other areas of motorsport, most famously for use in Formula 1. The fact that Michael Schumacher has chosen to work with the brand for so long, speaks volumes about its pedigree and the company's commitment to the development of helmet technology. This commitment is made further apparent by the fact that Schuberth are the only bike helmet manufacturer in the world with their own acoustic and wind tunnels. Via their base in Magdeburg, Schuberth are proud to promote their "made in Germany" message and now export motorbike helmets to more than 50 different countries throughout the world.
Departments


Schuberth SR1


Schuberth S2


Schuberth C3 Pro



Schuberth C3 Pro & SRC Bluetooth


Schuberth C3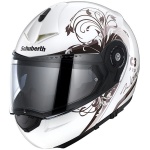 Schuberth C3 Pro Woman



Schuberth C3 Pro Woman & SRC


Schuberth Spares & Accessories
Related Departments
Featured Products
---
Recent Product Reviews
---


- January 12, 2015
Noticeably more comfortable
After having a C3 for the last three years, I was looking at the C3 Pro mainly because of the better colour schemes, and then I saw the Intensity scheme in Blue of offer, I had to buy it. Sure glad I did, it is noticeably more comfortable and even quieter than the original C3, the drop down visor seems much clearer. It it still simple to use easy to change the visor when needed. For my mixed of Sunday rides and European tours it is perfect.
Trevor Leigh - Fleet


- January 12, 2015
Cool skid lid
I purchased this helmet because I was looking for a lid that was quite. What I ended up with was something that far exceeded my expectations. Superb quality and finish. All wrapped up in a sexy red skin and at a price that suit's my pocket. What more could you ask for.
Andrew Rennie - Melton Mowbray

- November 14, 2014
Quality at a price
This helmet just oozes quality from the flawless finish to the comfort and softness of the interior the visor closes with a reassuring click and everything about the helmet is reassuringly good. In us it's quiet and comfortable even first use was a joy. My only minor gripe is the internal sun visor could ideally extend a little further. But and there's always a but its expensive but you get what you pay for and an expensive head is worth an expensive helmet.
Michael Frith - Stamford
PLEASE NOTE: The views and opinions expressed in the above reviews are solely those of the author and are not necessarily representative of the views of SPORTSBIKESHOP LTD.