+44 (0)1205 360099








Departments Filters Applied Refine Your Results

Flip Up Helmets
Flip up motorcycle helmets
We now have over 4000 helmets in stock ready for next day delivery and our range of flip up helmets is second to none. When it comes to brands, we have every single name worth considering and a price point to suit every budget, just make sure you use our 360 degree helmet spins when you're choosing. We have 2 spins for every flip up helmet, 1 to show the helmet closed and one to show it open. We really have got helmets covered!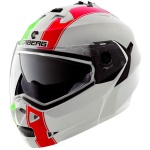 Caberg Duke Legend - Italia Pinlock fitted flip up helmet with twin visor system
View

$289.48
Recent Product Reviews
---


- October 23, 2014
Decent helmet
Much like the other reviewers, a few problems with mike & earpieces falling out. Tried the Bluetooth with Sat Nav but no luck as yet getting it to work. Biggest problem is the Pinlock insert which is right in line with your eyeline. very off putting. Will probably take it out & rely on anti fog polish. Good fit & comfortable like the drop down sun visor. Not as good as my Shoei but that cost 3 times more. All in all a decent helmet for the price.
Roger Fellows - Newport


- October 22, 2014
Big improvement compared to Openline
I bought this as a replacement for an Openline. The opening/closing/locking mechanism for this flip-up helmet is easy to operate and has a very positive action. Wind noise is good considering it's a flip-up. Looks good too! Only downside is that it isn't compatible with Pinlock visor inserts.
Martin Greenwood - Chelmsford

- October 22, 2014
Reliable
The helmet its self is amazingly light and very easy to use. I've had very few issues with it but it can be a bit tight for an XL (that's just me having a big head though). Overall I've used it in all sorts of weather from dry to heavy raining and its been perfect. Not the quietest helmet on the market but for the price its pretty good. I would recommend this to everyone especially if you have glasses as it doesn't damage them while you put the helmet on.
Jordan Brant-hall - Leicester
PLEASE NOTE: The views and opinions expressed in the above reviews are solely those of the author and are not necessarily representative of the views of SPORTSBIKESHOP LTD.