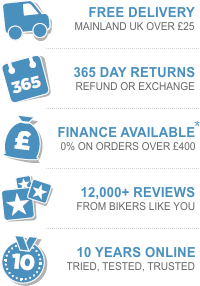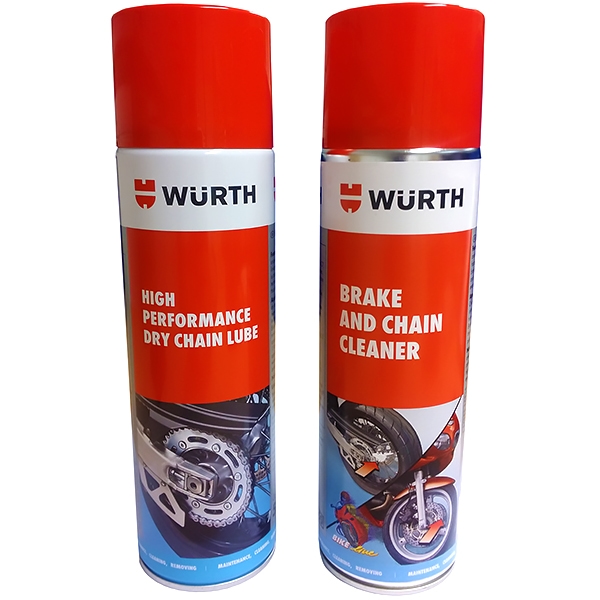 Wurth Twin Pack
Customer Product Reviews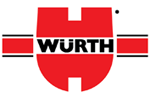 View Product Details

- February 9, 2016
Awesome
What can I say, cleans incredibly well and lubes well too. Does what it says on the tin but definitely worth the money.
Ryan

- Cranleigh

- February 2, 2016
5 stars
Was sceptical at first but not going back now. Only thing better is an unblocked Scotoiler.
Mike woody

- north wales

- January 22, 2016
Wurth is worth it
I have used this product for the last few years and it's the best!
Hans Koenig

- Stoke St. Michael

- January 18, 2016
Yet to put it to the test
Good bargain, but yet to see if it does what it says on the tin. Waiting for a bit warmer weather. Cheers.
Anonymous

- Newton-le-willows

- January 17, 2016
Excellent
This product is excellent. Works perfect and service at Sportsbikeshop is second to none.
Mohammed Nawaz

- London

- January 12, 2016
Brilliant
The cleaner made my chain look new and the lube works a treat. There is no fling from the lube and is almost dry to the touch, though you can tell there is a coating. Definitely recommended.
Jason

- Leicester

- December 28, 2015
Out standing products
I have used all types of chain lube and chain cleaners in a number of years. The Wurth chain lube is a very good lube and it dos not fling all over your back wheel and does not run off when you apply it to the chain and keeps your chain nice. A lube not like others and the chain runs nice and quiet. The chain cleaner I had second thoughts about this but not to worry it does a fantastic job. As soon as you start to apply the chain cleaner you can see the chain getting clean and does a very good job. Wish I had moved over to Wurth sooner, I would recommend the two products to anybody. I will be sticking with Wurth 100%.
Michael

- Northwich, Cheshire

- December 24, 2015
Great stuff
Used about half the can to clean the chain, it looked like new, then lubed it. This lube really does cover the link rollers and then is 'dryish' to the touch and really doesn't fly off, highly recommend it!
Martin Harte

- Ireland

- December 8, 2015
Brilliant stuff
Used the Wurth chain lube for years, no fling and keeps your chain lubed up. The chain cleaner is as good as any others I've used.
Stu Farky

- Barnetby Le Wold

- November 20, 2015
Solid products
I don't have too much experience in other products of this kind, but I've found these to work well. Would buy again.
Dan

- London

- November 12, 2015
Good stuff
I always use this stuff. Lube with minimal fling and both easy to use. Really quick delivery and service from Sportsbikeshop as always.
Simon Russell

- Aylesbury

- November 2, 2015
Amazing
Does what is said on the can. Easy and clean to use. Will buy again for sure.
Tom

- Bodmin

- November 1, 2015
Fab
Does exactly what is said on the tin. Cleans and lubes. If done regularly, I like to do mine once a month, the less stuff you will use. Leave your chain for a while and you will easy go through a tin of cleaner in one go. I normally get 2.5 chain cleans out of the cleaner and the lube probably 4-5 uses.
Anonymous

- Windsor

- October 20, 2015
Very good
Made cleaning a dirty chain easy.
Gary Foster

- South Woodham Ferrers

- October 6, 2015
Very good, very easy
Great product, easy to use, good value for money.
Anonymous

- London

- October 4, 2015
Excellent
The cleaner blasted all the gunk off the chain with ease. One can will do one very dirty chain and might do two slightly cleaner ones. The lube & wax will do several coats.
Nicholas Johnson

- Tonbridge

- September 28, 2015
Very good product
I used to use Muc-off but this is a better product.
Anonymous

- Sandbach

- September 28, 2015
Excellent product, highly recommended
Bought this product because I read the other reviews and they were all very positively be. Excellent product, highly recommended for essential maintenance, great service from Sportsbikeshop as always
Angus Wilson

- Warwick

- September 26, 2015
Job done, no mess
Great pack at a great price. Next to no mess.
Richard Buckle

- Dursley

- September 22, 2015
Excellent, does the job
The chain lube is really good. It does not fling at all. I am not sure how often I should use it though! I have not used the cleaner yet but I am sure it is good also!
Nehal Patel

- Harrow
PLEASE NOTE: The views and opinions expressed in the above reviews are solely those of the author and are not necessarily representative of the views of SPORTSBIKESHOP LTD.