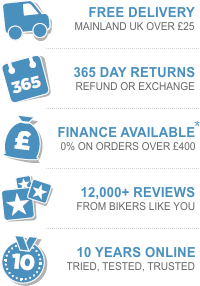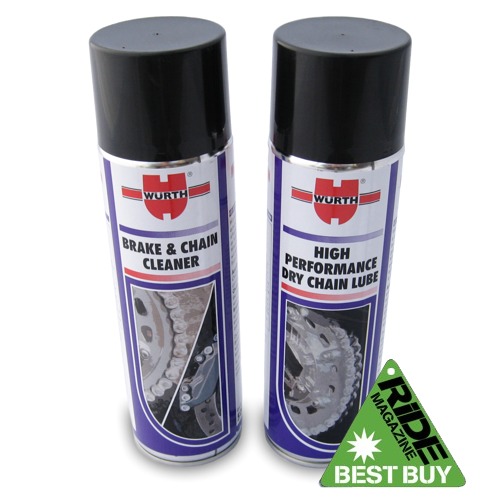 Wurth Twin Pack
Customer Product Reviews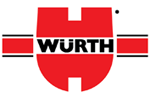 View Product Details

- August 25, 2015
Cleanest chain lube ever
An excellent chain cleaner and even better clear lube. The cleaner doesn't last long if you are generous though. Difficult to tell when to reapply the lube as you can't tell when its been washed off.
Michael B

- Coventry

- August 23, 2015
Great pack
I find this lube is so clean to use and no much from the road clings to it like lubes I've previously used. I will be buying this again.
Callum Main

- Bristol

- August 21, 2015
Good stuff good price
Good value and good quality products. Will buy again.
Alan Nunn

- Halstead

- August 19, 2015
A very good combo
The cleaning spray was very effective and the lube does the job. Chain runs smooth without any grease splattering.
Brett Cowie

- London

- August 17, 2015
What more could you want
As a first time chain cleaner(!) I'm impressed. The cleaner is very effective as is the lube, and no residue sprayed everywhere either. Great price too.
Carl

- Hull

- August 12, 2015
Does exactly what it says
Lube is very effective. No throw off, no sticky white residue, chain keeps looking clean after you've used the cleaner. The cleaner is great on the Discs also.
David

- Egremont

- August 7, 2015
Great price, great product
Best I have found!! Great for de-crapping your chain and then lube it up without the flinging of the lube around the swing arm and tail tidy and reg plate! If you haven't tried it you should and at this price you'd be a fool!:)
Mick

- Liverpool

- August 3, 2015
Great product combo, super price
The Lube is as good I was led to believe - no fling so far. The chain cleaner does its job. Great price combo.
Tim

- Windsor

- July 31, 2015
The wet dream of cleaner and lubricant combo
Does everything you need it to do.
Chris Cavalier

- London

- July 29, 2015
Great as usual
My go to product when I need to stock up on chain cleaner and lube. The cleaner in particular you can see working and the grime just falls off. Had no issues with the lube. Great customer service as usual.
Joey Pereira

- Liverpool

- July 14, 2015
Good product, good price
No fling observed yet. Went on nicely. Not sure how well it would fair in wetter weather though.
Alexander Martin

- Sheffield

- July 6, 2015
Wurth Chain Lube and Cleaner
Outstanding results. Cleaner is by far the best I have used and it even see to remove tar and other ground in or solidified grease etc as well as chain. Make sure you have chain brush as well for best results. Chain lube fast, easy to apply, coats evenly, very little after splash.
Gary Kurt Lister

- Waltham

- July 4, 2015
Excellent
Excellent product and great service as always from S B S
Steve

- Poole

- July 4, 2015
Great purchase
All product, delivery and packaging was excellent, thanks.
Anonymous

- Bradford

- June 30, 2015
Great value
I've been using this chain lube and cleaner combo for a number of months now, initially purchased because of the numerous positive reviews.
Mr Allan

- Aberdeen

- June 30, 2015
I can see why it was recommended
Very good cleaner and was surprisingly effective. The lube seems to be good but I haven't ridden since applying it so do not have a personal experience with its 'anti fling' properties!
Joseph Bacon

- Haywards Heath

- June 26, 2015
Very impressed
Having fitted a new chain to my bike I wanted to start it's life off in the right way. After reading hundreds of reviews about the Wurth range I decided to take the plunge and am so far very impressed. The brake and chain cleaner seems good (although it wasn't really tested on a brand new chain). The lube however seems great and very easy to apply; the small in-built nozzle is very helpful. No fling what-so-ever and that was even with a very liberal application before the chains first outing. The only bad point (if you can look at it that way) is its difficult to see where you've applied it as its so clear; just make sure you mark the chain or look out for the joining link.
Stephen Boylan

- Uxbridge

- June 24, 2015
Decent stuff
Lube works well and the cleaner cleans.
Leo

- London

- June 6, 2015
Excellent
Best lube and cleaner on the market. Keeps chain in good order and virtually no fling off. Service from Sportsbikeshop first class as usual.
David Reid

- Lochgelly

- May 28, 2015
Excellent
Chain cleaner is excellent and lube is also good - no mess. And service from SBS faultless as always.
Anonymous

- York
PLEASE NOTE: The views and opinions expressed in the above reviews are solely those of the author and are not necessarily representative of the views of SPORTSBIKESHOP LTD.