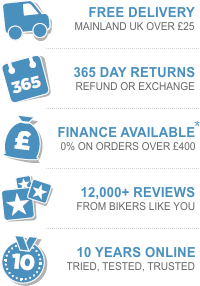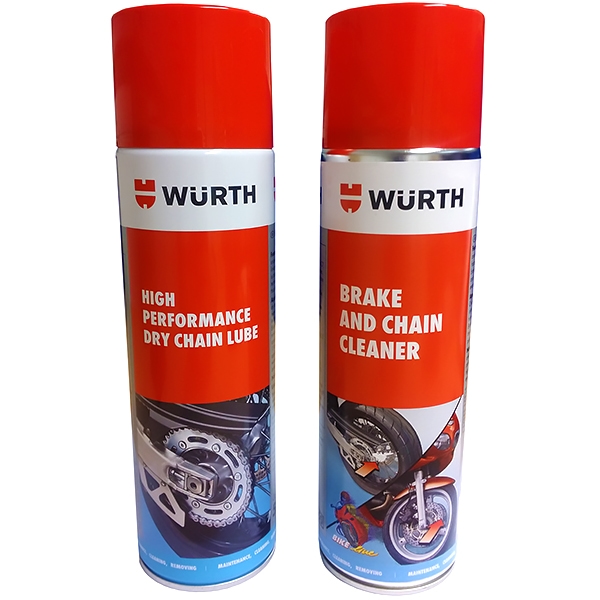 Wurth Twin Pack
Customer Product Reviews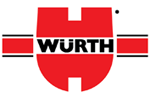 View Product Details

- November 20, 2015
Solid products
I don't have too much experience in other products of this kind, but I've found these to work well. Would buy again.
Dan

- London

- November 12, 2015
Good stuff
I always use this stuff. Lube with minimal fling and both easy to use. Really quick delivery and service from Sportsbikeshop as always.
Simon Russell

- Aylesbury

- November 2, 2015
Amazing
Does what is said on the can. Easy and clean to use. Will buy again for sure.
Tom

- Bodmin

- November 1, 2015
Fab
Does exactly what is said on the tin. Cleans and lubes. If done regularly, I like to do mine once a month, the less stuff you will use. Leave your chain for a while and you will easy go through a tin of cleaner in one go. I normally get 2.5 chain cleans out of the cleaner and the lube probably 4-5 uses.
Anonymous

- Windsor

- October 20, 2015
Very good
Made cleaning a dirty chain easy.
Gary Foster

- South Woodham Ferrers

- October 6, 2015
Very good, very easy
Great product, easy to use, good value for money.
Anonymous

- London

- October 4, 2015
Excellent
The cleaner blasted all the gunk off the chain with ease. One can will do one very dirty chain and might do two slightly cleaner ones. The lube & wax will do several coats.
Nicholas Johnson

- Tonbridge

- September 28, 2015
Very good product
I used to use Muc-off but this is a better product.
Anonymous

- Sandbach

- September 28, 2015
Excellent product, highly recommended
Bought this product because I read the other reviews and they were all very positively be. Excellent product, highly recommended for essential maintenance, great service from Sportsbikeshop as always
Angus Wilson

- Warwick

- September 26, 2015
Job done, no mess
Great pack at a great price. Next to no mess.
Richard Buckle

- Dursley

- September 22, 2015
Excellent, does the job
The chain lube is really good. It does not fling at all. I am not sure how often I should use it though! I have not used the cleaner yet but I am sure it is good also!
Nehal Patel

- Harrow

- September 15, 2015
Excellent pack at a fantastic price
An excellent pack at a fantastic price. The chain cleaner works really well and has my chain looking clean and healthy! The lube is spot on and I've not seen any trace of it on my rear wheel. Really pleased with the pack.
Mark Collins

- Leicester

- September 5, 2015
Good stuff
Chains don't have to be black and messy, in fact a shiny clean chain is the sign of a well cared for bike! Do your bike a favour and treat it with this!
Ian Clarke

- Wallasey

- September 3, 2015
Excellent product
The cleaner does a fantastic job of getting all the old muck off, but doesn't last overly long. I use one can per clean. The lube is great and doesn't fling off over the wheels or swing arm.
Vaughn Winn

- Gravesend

- September 2, 2015
A little goes a long way
Excellent stuff and mess free providing you don't go mad with it.
Jon

- Chester

- August 25, 2015
Cleanest chain lube ever
An excellent chain cleaner and even better clear lube. The cleaner doesn't last long if you are generous though. Difficult to tell when to reapply the lube as you can't tell when its been washed off.
Michael B

- Coventry

- August 23, 2015
Great pack
I find this lube is so clean to use and no much from the road clings to it like lubes I've previously used. I will be buying this again.
Callum Main

- Bristol

- August 21, 2015
Good stuff good price
Good value and good quality products. Will buy again.
Alan Nunn

- Halstead

- August 19, 2015
A very good combo
The cleaning spray was very effective and the lube does the job. Chain runs smooth without any grease splattering.
Brett Cowie

- London

- August 17, 2015
What more could you want
As a first time chain cleaner(!) I'm impressed. The cleaner is very effective as is the lube, and no residue sprayed everywhere either. Great price too.
Carl

- Hull
PLEASE NOTE: The views and opinions expressed in the above reviews are solely those of the author and are not necessarily representative of the views of SPORTSBIKESHOP LTD.