+44 (0)1205 360099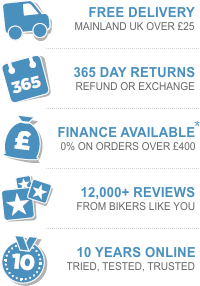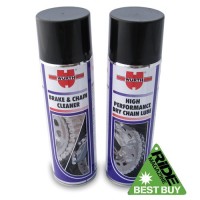 Wurth Twin Pack
Customer Product Reviews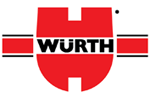 Our price £13.98 £14.98
View Product Details

- December 3, 2013
Light work
Bought these based on the reviews. Got an extra can of cleaner as the chain on new 2nd hand bike looked particularly grubby and nearly emptied that too. I don't reckon the chain has been this clean since it was new. Glad i covered the garage floor!! Worked great in conjunction with chain brush purchased the same time. Lube i reckon will outlast several of the cleaners.
Terry - Felixstowe

- November 22, 2013
Great product
Buy this pair time and time again. Works well and a good price too!
James Ford-Bannister - Isleworth

- November 17, 2013
Good value
Good saving when you buy these together. The cleaner is very good, even started using it for other jobs :)
Rodney Hodkinson - Towcester

- October 30, 2013
Good product
As a first time buyer I bought them after reading the reviews. I can say you can't go wrong with them!
Anonymous - Leatherhead

- October 25, 2013
Best Value
Very Handy.
Vikram Hunjan - Orpington

- October 6, 2013
Do the trick
Bought after reading all the good reviews and Ride Best Buy award. Not disappointed.
Thomas Grayland - UK

- October 3, 2013
Brilliant value
You can't go wrong with these, plus doesn't make a mess of the back of your bike.
Ian Chapple - Warrington

- September 30, 2013
Best Value
It's a good product, does the job and it's the best value of all of them. No brainer really!
Anonymous - Birchington

- September 24, 2013
Does what it says on the tin!
Really can't go wrong with these 2 products. They work perfectly and don't leave the mess that some others do. A must-have product for any bike with a chain.
Anonymous - Ipswich

- September 23, 2013
Brilliant product brilliant price
I have used a few products on my chains and will maintain them often. Because i do this, i do go through some products often. I have not seen any other product react as well as these do. Especially together. The chain cleaner literally runs off the grime and the lubricant sticks the way it does and it stays on there for a VERY long time. The price is amazing. a twin pack especially for that cost. And its cheaper on this site than other major sites! all too good. I buy nothing else now and buy it from no one else.
Mathew Vincenti - Stevenage

- September 5, 2013
It's wurth the price
I have used other products, this is the best!! Honest guv!!
Darren Fordham - Horley

- August 27, 2013
Wurth its weight in gold
I have been using this product for a year or so now so it comes as no surprise that I have ordered some more. No fling and it does what it says on the tin 17,000 miles so far and the chain isn't stretched and looks like new.
Roger Hallatt - Rotherham

- August 8, 2013
Splendid product
Zero-fling resulting in a clean back wheel for longer. Plus, the added bonus of a chain cleaner too. What's not to like?
Paulus - Nuneaton

- July 23, 2013
Perfect
No more needs too be said. Top stuff.
Anonymous - Swindon

- July 21, 2013
Wurth the money
The best chain lube I've ever used in over 30 years of riding.
Christine Jennings - Pontefract

- July 8, 2013
Great product
The spray is great. Does not attract dust and grime. Keeps chain running smooth.
Anonymous - Wakefield

- July 1, 2013
Well "Wurth" a look
As already expressed on these reviews. Top quality stuff that leaves little mess. No "fling-off" from the lube and the cleaner goes on well and leaves chain & pads looking sparkling. You'll probably get two runs out of the cleaner if you use it sparingly!
Dave Lee - Blackpool

- June 12, 2013
Great value, top brand
The lube is great, goes on dry so doesn't attract debris and grime unlike the previous lube I used to use. So less chain wear and a lot easier to clean. Recently used brake cleaner to clean calipers and brake pad pins needless to say came out sparkling with a bit of elbow grease. Always buy the combo works out cheaper. Top stuff.
Anonymous - Norbury

- May 21, 2013
Very good
The cleaner is very good and the wax is so much better than the Muc-Off lube I was using before. It doesn't leave a mess either.
Anonymous - Sheffield

- May 16, 2013
Best quality brand
Both the cleaner and the lube are the best. Use a brush or good cloth with the cleaner otherwise you'll use the whole can in one go.
Linda - Manchester
PLEASE NOTE: The views and opinions expressed in the above reviews are solely those of the author and are not necessarily representative of the views of SPORTSBIKESHOP LTD.