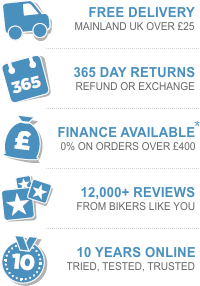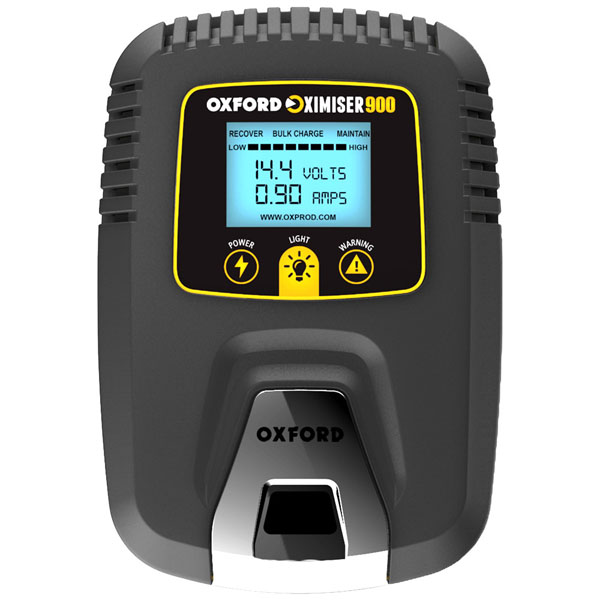 Oxford Oximiser 900
Customer Product Reviews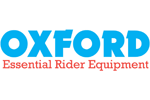 View Product Details

- January 30, 2016
Quality
Good quality and does what it says on the box.
David Fryer

- Peterborough

- March 10, 2015
Does what it says on the tin
I have had mine for a while now and it is ideal for my needs. When I go start up my bike I am 100% confident it will start thanks to my charger, even after the long winter months.
Patricia Blacklaws

- South Queensferry

- February 12, 2015
I'm trickled pink with my charger
Great trickle charger. Probably the best on the market. Only grumble is they should supply a longer lead. I've got 2 of these and also had to purchase 2 x extensions.
Darin Lawrie

- Cuminestown

- February 2, 2015
Does the job
Charged up the battery within a couple of hours. Starts first time now. Only minor niggle is that you really need the extension lead as the one supplied is far too short. Have now got that and everything works perfectly.
Kevin Crawford

- Glasgow

- January 3, 2015
There is life
My Ducati battery died (no jokes please, I've heard them all many times) but the Oxidiser brought it back to life very quickly and I'm back on the road again. I'd read other comments about the unit being "plasticky" and a bit cheap to the touch but I disagree. It is and does what it says on the tin. Nowt much more to say on the matter. As ever, great service from Sportsbikeshop.co.uk. Easy to find what you want on the website, speedy delivery and a simple returns option if needed.
Mark Coyle

- London

- December 30, 2014
Awesome
Why I didn't buy this when I bought my bike I'll never know but I'll never be without this again. Good value on here too, well done boys.
Neil Rogerson

- Porth

- December 28, 2014
Great charger
Really fast delivery. Nice and compact, plugged straight in, really easy to use.
David Smith

- Kingswinford

- December 17, 2014
Highly recomended
Very easy to use, does what it has to, automatically and fast. Came recommended and not disappointed.
Bill Lismore

- Welling

- December 9, 2014
Full charge ahead
1st let me say the delivery was excellent, ordered one day received next day FOC. This was bought as a present because I already owned one and it works perfectly charging and maintaining the battery on my Hovercraft which can stand idle for weeks between trips on the river Mersey.
Colin Johnson

- Wirral

- November 24, 2014
Great bit of kit
Very easy to use it took all of 2 minutes to set it up and it will automatically do the rest. The build quality is OK. I would highly recommended the Oxford Oximiser 900.
James Mcghee

- Ely

- November 21, 2014
Easy to use and effective
Does what it has to, automatically and fast. Components could have better quality but I had no problems so far.
Harry

- London

- October 23, 2014
Fantastic product
This is a very simple device that I believe all Motorcyclists should have. I simply disconnected my battery and brought it inside (would have needed extensions if I did it outside, but the weather's been terrible!). It charged the battery quicker than I thought. It's an overnight job. It then optomises the battery to get the best out of it, and what a difference it's made! Sportsbikeshop delivered it brilliantly quickly as always
Keith Smith

- Huddersfield

- May 26, 2014
So easy to use
Does job perfect. So easy to use & knowing when weather's good your ready to go.
Andrew Aylesbury

- Frome

- January 24, 2014
Great product
Simple and easy to use. Does exactly what is required with no frills. A definite recommend. Good price too!
Gavin Mann

- Stanmore

- July 3, 2013
Was good for one use
I may have been unlucky with this one but it died after one use! When it did work sure it performed as expected. The display was nice too. However I have replaced it with an Optimate 4, which seems to be a far superior charger. The Oximisers' flimsy case and light weight doesn't fill you with confidence, whereas the Optimate is reassuringly heavy and has a sturdy case. Like I said though the Oximiser was fine when it worked but I would question its long-term reliability.
James

- Hampshire

- May 13, 2013
Plug it in and forget about it
Come home from a ride, plug your bike in and be safe in the knowledge that when you come back to it after however long, your battery will be charged and healthy. Awesome bit of kit! No fancy settings to fiddle with, it does it all for you.
Ethan Davies

- Mold

- January 31, 2013
Good kit - buy one
Would recommend this as best choice out of those available for value and functions. Easy to use and gives instant info on battery condition. If you're gonna buy once get this one. Good quality item and should last you several years.
Anonymous

- Durham

- October 20, 2012
Really good. Simple to use and reliable.
Bought my Oximiser a few weeks ago. Really good bit of kit, very simple to fit to the bike and to use. Could not ask for more. Highly recommended.
John Ridge

- Royal Tunbridge Wells

- October 12, 2012
Great bit of kit
A must have for any biker.
lenny

- Saxmundham

- July 3, 2012
Well priced, good product
Thought it was a bit cheap looking when I first picked it up but it as done exactly what it says. Boosted my battery up to full power then keeps it topped up, while my alarm is in use.
William Davies

- Wigan
PLEASE NOTE: The views and opinions expressed in the above reviews are solely those of the author and are not necessarily representative of the views of SPORTSBIKESHOP LTD.