Verified Customer Reviews for Bell Bullitt Carbon
Love this lid!
13 June 2023 by Anonymous
This helmet is absoutely fantastic. Fits perfectly, is extremely light and has exceptional airflow to stay cool.

It looks brilliant and I have not noticed the noise (that other reviews mentioned) being a problem; at least not for me.
Saucy little number
03 January 2023 by Jason B
OK if you are buying the Bullitt you have to accept it's a fairly noisy summer lid. That said, it's probably the coolest retro helmet available, and this RSD model manages to also give it a sporty slant making it a great choice for 80s/90s sports bikes.
As with all Bullitts the interior is lovely and plush and the visor so easy to operate on the move. Plus is comes with a tinted visor a cool bag. I love it.
Style: RSD Mulholland
Superb
01 October 2021 by Martin D
I recently had to replace my Bell Bullitt Carbon under warranty. The team couldn't be more helpful. The helmet is amazing light and allows for more pariferal vision than my open face helmets. Super quality and extremely comfortable. Thank you
A quality retro Helmet
13 June 2021 by Horward R
The Bullitt carbon is a beautiful looking retro helmet. The first thing that struck me was the build quality. The fit and finish are really really impressive. I chose the Transend helmet as the style and colour scheme went perfectly with my bike.
I had heard that the fit can be a little uncomfortable. I normally wear an Arai helmet and when I tried the Bullitt on it was a very comfortable fit indeed. Sizing was correct as I am normally XL.
The interior of the helmet is suede leather giving it a very luxurious feel. Being carbon fibre it really is as light as a feather. Where the Bullitt comes into its own is the vision you have. The vision slot is so wide it's like wearing an open face helmet. I cannot see the sides of the helmet at all when I looks sideways. Some reviews have said the chin bar feels very close to your jaw but I don't feel that at all.
The double D ring chin strap is great and the helmet comes with two visors - clear and tinted. Changing them is easy. Two screws that can be undone with a 10p piece.
The only thing some people may struggle with is wind noise when riding. I knew this was a thing from reading reviews. It's noisy but not excessive and it's not a problem for me.
It is an expensive helmet but when the sun catches the carbon fibre weave it looks awesome. I was considering the non canon model as well but when you compare them this is definitely worth the extra dosh. A truly fantastic helmet.
Style: Transend Candy Red / Gold
Best helmet I have had
17 April 2021 by Kristian W
Great looking and very comfortable. Was so pleased when I found that it also came with a tinted visor.
Very Satisfied
02 December 2020 by Douglas W
This helmet is everything you want. Comfy, light and looks great. Only reason why not 5 stars was I required a thicker set of cheek pads to make it fit right and the fact that a large in an open face bell (59-60) is not the same as a large in the bullitt (58-59) and I had to make a swap for an XL (60-61)
Bell Bullet
11 August 2020 by Stuart W
I was a bit concerned about purchasing this helmet as I'd tried a 500 on before and it just didn't suit the shape of my head.
Firstly the bag the helmet comes in quality and a really nice touch. On pulling the helmet from the bag it looks stunning and is extremely light. The finish is first class and the colour is awesome.
I found it very comfortable to wear and the field of vision is akin to That of an open face helmet.
My only negative is that compared to my other helmets it's a bit noisy but apart from that it's first class.
Style: Transend Candy Red / Gold
Best of the best
04 August 2020 by Fay D
Having had Arai and Shoei for years I've eyed up the Bullitt for some time.
Light and comfortable, made to a high quality. The short fit allows for easy head movement and maximum visibility. The face it looks amazing with the modern classic colour and style tops it ahead of all others.

Style: Transend Candy Red / Gold
Brilliant
31 July 2020 by Mandy A
The fit is excellent, it gives a really good view to left and right, it's much wider than my previous helmet. Very light weight. Would prefer a quick release chin strap.
Excellent helmet.
Great bit of kit.
09 June 2020 by James
This helmet is jaw droopingly beautiful. High end spec throughout and the leather used internally is exquisite. Couldn't recommend highly enough - people say its loud but if you're on a modded 250/cafe race/ cruiser - then you'll want to hear the engine.Great aesthetic and you will get the overall image with this lid.
Work of Art
05 May 2020 by Bogdan
Best helmet I have.
21 March 2020 by Ricky B
Best helmet I have very light very comfortable my shape head not practical for every occasion. But looks fricking cool
Bell Bullitt Carbon RSD Check It Helmet- Awesome !
10 January 2020 by Carl F
Received the helmet very quickly from Sportsbikeshop. On opening was astounded at this work of art from Bell. Truly beautiful helmet that you could just stare at for hours! Also comes with a dark visor which is a bonus
Was a little tight when first worn but is starting to break in nicely now. Would advise earplugs because it is not a quiet helmet. All in all very happy with the purchase. Thanks Sportsbikeshop
An awesome looking helmet
05 June 2018 by Neil B
This helmet is a real head turner and one for your British motorcycle rider. Comfortable fitting and with two visors for bright day and night riding included. To top it off there is a retro bag to keep the helmet safe. This is my first full face helmet and I love it.

Note. Make sure you get the right size as I have found Bell are a little smaller on sizing than other brands.
Style: Carbon Spitfire Blue / Red
Good but not perfect
25 May 2018 by Isaac M
Overall I like it but I have a couple issues...

The visor has a tenancy to collect condensation to the point that it is pretty much unusable without some kind of mask or scarf.

At high speeds the air hitting the helmet can cause a pretty loud whistling, which is annoying.
Style: Roland Sands Design Range Carbon / Matt Green
Perfect for my Cafe racer bike
21 May 2017 by Alexandru
Easy to put on, very light and really nice feeling , the size chart is good, I have 59cm and the size L is perfect, it's a quite windy inside after 80km/h, I'm very satisfied.
Style: Carbon Spitfire Blue / Red
The helmet I have been looking for
03 August 2016 by Anonymous
Light, quality, and good looks.
Really love this helmet. It's like a open face helmet but with the chin protection. Well ventilated and cool in the summer heat. Bubble shield gives that extra retro style to the helmet. Worth of every penny.
Style: Roland Sands Design Bagger
Description
Bell Bullitt Carbon - Matt Black
Composite carbon construction
3 shell and EPS sizes for a personalised fit
Visors available for a personalised look
Brushed aluminium Visor pivot discs with Rubber O-rings
Contoured cheek pads
Front chin vents with metal mesh intake and exhaust vents
Integrated speaker pockets
Leather D-ring pull tab
Multi-density EPS Liner
Padded chin strap with D-ring closure
Removable and washable anti-bacterial micro suede interior
Five year warranty
Inspired by the very first Bell Star helmet, the Bullitt is a modern take on the original. Featuring an exceptional fit and ultra-high quality details, the Bullitt is the perfect helmet for riders looking for a vintage look with full-face protection.
Product Specification
Variants
Visors
Manufacturer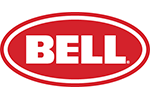 About
Bell
Bell helmets exist to inspire and enable the next generation of boundary breakers. It is built from auto racing, motorcycle and bicycle culture. Bell don't just make helmets; they make possibilities. Born in a garage, fuelled by grease and will and guided by pure intent to encourage the world to live, ride, drive and thrive. Hand-in-hand with the world's best drivers and riders, Bell helmets continue to enable the world's best to be their best... as it always has. Bell-Established 1954. Proven ever since.
Questions and Answers
Questions and Answers
Do Bell Bullitt helmets have speaker pockets?

March 14, 2019

Although the helmets do not have pockets as such, they do have cut outs which facilitate earphone positioning.

You won't get it cheaper.
Our Price Match Promise.