Verified Customer Reviews for RST Tractech Evo R CE Textile Jacket
Fab jacket
18 May 2021 by Anonymous
The jacket is amazing and really heavy, great quality but comes up a size smaller
But easily returned and requested the next size up
Style: Black / Blue
Great Jacket - SIZE UP!
12 May 2021 by Isaac S
Brilliant jacket with good protection and waterproof so far (although not taken out in anything too bad yet). Definitely get 1 size larger than you would normally get though and save yourself having to send one back and wait for another!
Style: Black / Blue
Perfect fit
12 May 2021 by Andrew
Excellent jacket, perfect fit, orange colour looks great on my KTM.
Best jacket ever
21 April 2021 by Craig B
It's so armour jacket and very protection as well I love the jacket and would buy more
Style: Black / Blue
Sporty
25 March 2021 by Wesley B
Ordered this jacket first one was too small new one sent out quickly. Great jacket real sporty but comfortable look. Only needed a t shirt underneath to keep warm. Definitely recommend
Style: Black / Blue
Rst Tractech evo r
04 March 2021 by Kartick
Had to replace mine as it got damaged when i had a high side in the rain on my MV Agusta Rivalé. Amazing jacket. Could do with the zips having better coverings so water doesnt seap in when its chucking it down. Also the neck part could do with being better, find rain coming down through the neck part also. Other than that. The jackets amazing. Did many and many of miles in the poor weather conditions in this jacket. Amazing but could see improvements. Not sure if RST are making any newer ones for 2021/22.
Style: Black / Black
Rst tractech
28 February 2021 by Michael F
Very good quality and nice tight fit and warm it's very wind proof all round comfortable to wear
Style: Black / Blue
Great textile sport jacket
15 February 2021 by Pyne999
Excellent quality, as usual with RST. jacket looks and feels really good. I went up a size as it is a small fit, mainly for the length. Very happy
Style: Black / Black
Great jacket
06 January 2021 by Brian H
Great jacket well made quality item
Looking forward to wearing it
Style: Black / White
GOOD WET WEATHER OPTION
23 October 2020 by Ed H
Clincher for me - Level 2 armour.
Mine arrived without a back protector, but an e-mail to SBS and it was quickly sorted out! Great service!

Jacket is well thought out, and nicely put together - I particularly like the double zip design.
The cuffs tabs another nice touch.
If this were AA or AAA rated, would certainly be a five star rating ... but to be fair, A is pretty common in Textile kit, and A is certainly better than no rating at all. Not tested in rain yet, but given the reviews of other RST kit, confident it will do the job.

As noted in another review - it does have zipped vents for warm weather.

Recommended.

SIZE - with back-protector, which is approx. 1 inch thick, I'm 44 in. chest - plumbed for the 46, and found that spot on.
Style: Black / Flo Yellow
Really Smart Jacket......
01 October 2020 by Anonymous
Really nice jacket, well made and seems to be great quality!! It has lost One Star because I found the sizing a bit out, needing to go 1 to 2 sizes bigger than you actually are, so when you do this, you end up with the arms slightly longer than you need. Though luckily I managed to get one just about spot on in the end. Definitely recommend this jacket with lots of pockets etc
Excellent Jacket
22 September 2020 by Jimmy N
Excellent jacket, would highly recommend for beginner riders starting out, as you pay for quality. Very comfortable when sitting on bike, keeps you warm and ventilated while offering you that good protection. Overall the best jacket i've bought in a long time. True to size but do go up a size if you want more layers (I just wear a t shirt underneath and that's fine for me.)
Style: Black / Flo Yellow
Brilliant Jacket
11 September 2020 by Luke W
Ordered this originally in a 46 after being told to go a size or two up (I'm normally a 40/42 chest)

Came in the post and it was skintight, could only just about zip it up with a vest on, short cut on the torso too therefore I returned it and ordered size 50 instead.

Perfect length on arms, a bit of room for me to wear clothes under and for future inevitable weight gain.

Jacket is comfortable, feels very well made, been out riding in the rain a few times and i was completely dry underneath (even the jacket itself on the outside didn't really feel wet either). Looks absolutely amazing, race hump and all the armour gives you that extra bit of confidence when riding.

All I need now are the matching jeans!
Style: Black / Flo Yellow
Quality
14 August 2020 by Anonymous
This jacket screams quality, material, zips, protective parts all awesome and fits as it should.
Style: Black / Flo Yellow
Great
01 August 2020 by Stuart R
I am a medium normally had to go for a large which fitted better!
My aim was to fit my heated vest underneath the jacket
So I could be warm on them March & October rides .

I like the arm straps with Velcro that you control the drag ! Which on some jackets can be annoying.
Quality of the jacket feels and looks very good quality. It also has zips in places for circulation of air for the hotter days .
All in all very happy and satisfied with the product . And as always I never have to worry about buying from SPORTSBIKESHOP they think like bikers !! And has always been helpful with any problems sending stuff back to them or faulty stuff !!
Style: Black / Black
Rst tractech evo
23 July 2020 by Anonymous
Great product, would always recommend RST.
Style: Black / Flo Yellow
Very Nice Jacket
17 June 2020 by Anonymous
Lovely Jacket for the money, zipped up nice to my RST Leather Jeans, sadly as I think one other reviewer mentioned, I did find where each side of the collar met , under your chin, a little rough, but apart from that, cracking jcaket!!
Lovely textile Jacket
16 June 2020 by Brett
Lovely jacket, was after a replacement textile jacket for over a year, browsed about & knew the second I saw this, it was just what I was looking for. Good protection, great looks, comfortable fit & very well priced. I paid more for my rst textile blade jacket, which, I was very happy with, that did everything well (but it got retired following a RTA) but this is definitely a little better, better armour and a little more aggressively styled. Sizing is perfect (coming from other rst textiles - I find a Large does equate to approx a 44, the arm length seems fine as I'm quite short & you can adjust the proximity of the fit with the arm bands which were also featured on the blsde textile jacket).
Very happy overall, a dash of yellow should help that little bit more towards being seen by other road users too.
Excellent product at an excellent price.
Style: Black / Flo Yellow
Description
RST Tractech Evo R CE Textile Jacket - Black / Flo Red
Maxtex and ballistic textile construction
Waterproof, breathable Sinaqua internal lining
CE level 2 shoulders and elbow protection
Back protector insert CE Level 2 included
Full jacket to jeans connection zip
Strong max zips used throughout
Aerodynamic hump for stability at speed
Size Guide

| | S | M | L | XL | 2XL | 3XL | 4XL | 5XL |
| --- | --- | --- | --- | --- | --- | --- | --- | --- |
| UK CHEST | 40 | 42 | 44 | 46 | 48 | 50 | 52 | 54 |
| EURO SIZE | 50 | 52 | 54 | 56 | 58 | 60 | 62 | 64 |
Product Specification
Manufacturer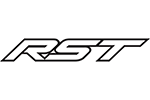 About
RST
It's no wonder that the RST motorcycle clothing range is now one of the most popular ranges of bike kit in the UK. Their continued investment in racing, with a particular focus on BSB, has meant a constant development of product, which has translated directly to their road range. With the help of some of the biggest names in the BSB paddock, such as Tommy Hill, John Kirkham and Stuart Easton, RST have pushed the boundaries of what can be delivered through a brand that remains amazingly good value for money.
It also helps that the Derbyshire based design team are passionate about what they do; rigorously testing all RST clothing themselves. The team insist on riding all year round, despite the British weather, in order to put the RST textile range through its paces, and the fact that the team are keen track day enthusiasts, provides helpful real world testing of the RST leather range too. Their continued passion for design and innovation is highly apparent in this year's range and when you add to the mix the constant stream of positive feedback from our customers, it's easy to see why we have always covered the entire range of RST motorcycle clothing, and will continue to do so.

You won't get it cheaper.
Our Price Match Promise.