Verified Customer Reviews for Alpinestars GP Pro R3 Gloves
GP Pro Gloves
02 November 2023 by Chris J
Must be on my 6th or 7th pair of these. Excellent gloves and always amazing service from Sportsbikeshop.
Great gloves
16 September 2023 by Bartosz G
Had gp pro before and they lasted around 5 years of summer use.
The newer version is great. Leather around palm area is so soft you can feel the texture of domino grip. Well happy with my new gloves l

Fit like a glove
14 September 2023 by Anonymous
Another 100 miles and they will be just right
Good gloves
25 May 2022 by Anonymous
Quality is good on these gloves
Iike the extra protection around the wrist, doesn't impact on comfort
Style: Black / Black
Great quality gloves
17 February 2022 by Derek F
I ordered these on black Friday and they arrived in February as promised. Sportsbikeshop kept me up to date with progress and were excellent to deal with as always.

I bought these to replace my 12 year old Alpinestars GP Pro gloves which I've worn most summer seasons since I got them. The old ones are still solid with no holes or loose stitching, but they are definitely past their best. Those gloves were very uncomfortable when new and took several months to break in but the new GP Pro R3 gloves feel comfortable and compliant straight away. They will need broken in, but they feel much more comfortable straight away.

There is good protection everywhere and the CE Level 2 rating gives confidence that they'll stand up to a a crash; though obviously I hope that I never test them out in that way. There are more vents than on my old GP Pro gloves so I'm sure they'll feel good when summer gets here.

My old GP Pro gloves were a size L and these are also a size L. As they're a summer glove I've not used them on the bike yet but I can't wait to do so. If they last half as long as my old gloves I'll be a happy man.
Excellent quality summer gloves
04 January 2022 by Hans B
A very nice pair of gloves, well designed with protection at all the right places, a tight fight even the 3XL but wearing them has loosened them up a bit. Tbe best pair of summergloves I ever had
Amazing
11 February 2021 by Kenny E
Amazing gloves for everyday use and track, probably not for winter obviously. Great protection and ventilation. Definitely recommend. Doesn't have touchscreen ability for obvious reasons.
Style: Black / Fluo Red
Great gloves
14 January 2021 by Darron W
They fit true to size and need a little breaking in. I am an XL in most gloves and I'm an XL in these.
Lots of protection with great movement.

Alpinestars A+++
12 January 2021 by Alyn B
Excellent protection and quality. The fluo Red is brighter in person.
Another fantastic product from Alpinestars
Style: Black / Fluo Red
High quality bargain
15 December 2020 by Per
Just received my new gloves. Feels like a high quality product with good protection in the right places for a very attractive price
GP Pro R3 glove
19 July 2020 by Neil B
Really struggle with gloves. Wide hands short fingers.

The GP Pro solved this problem for me. Went for a medium and was a snug fit. Love the wide cuff which is great for slipping over the top of my leathers without any fuss
Odd sizing?
04 July 2020 by Gareth B
A always buy a large A* but for some reason the finger lengths on the pair I received were to long.
Great looking A*'s, with usual build quality and felt comfy out of the packet.
I tried them on back to back with my old pair of GP pros and they had the same 1st finger/palm fit but the thumb and other fingers had to much length for me to be able to use them.
I think a medium would have been to small for me so I had to return and keep a set of Five gloves I had ordered at the same time.

Great fast service from SBS.
Good quality glove.
19 May 2020 by Carlos V
The gloves have a great build quality, are comfy, ventilation is ok as well as feel, seem to have solid protection features.
Cons: Strapping system looks simple but will take longer than expected to fit. Feel from the fingers and palm of the hand could be better. I'm a size M and although general fit is ok, some finger section are a tad long. The entry area of the glove should be a 1/4 of an inch widder to facilitate getting the sleeves of a jacket or suit under it.
Nice gloves
10 May 2020 by Anonymous
Nice gloves at a decent price. A few minutes in hot water and they fit very nicely.
Top quality
07 May 2020 by Anonymous
Excellent quality, protection and feel, fingers a little long for my hands but other than that quite snug.
Style: Black / Fluo Red
Exactly as described
05 May 2020 by Aaron W
Brilliant product, excellent quality and great price
Poor
25 March 2020 by Mark M
When they got delivered they were marks on them and mucky like they where x demo gloves, after wearing the gloves three times the left hand glove Velcro has started to come away. Shocking for price
Fits like a glove - Alpinestars GP Pro R3 Gloves
20 February 2020 by Gavin
I had the GP Pro R2 prior to these. They were brand new and in all honesty i hated them for so long. They took forever to break-in but once they did break-in they were really comfy.
The new R3 didn't have any issues, super comfortable, nice feel with the controls and plenty of feedback. The R2 didn't have the same feel. R3 is also fits perfectly as per the Alpinestars size chart. It really does seem Alpinestars has stepped up their game this year.
Style: Black / Fluo Yellow
Description
Alpinestars GP Pro R3 Gloves - Black / White / Bright Red
Mix of cow, goat and kangaroo leather construction
Pure racing glove design
Hard knuckle protection
Knuckle panel perforated gusset for better ventilation
Side reinforcement with hard palm slider
TPU finger protection with soft padding on fingertips
Ergonomic stretch insert on palm
Double closure system with cuff Dynamic Friction Shield (DFS) protection
Accordions in leather on fingers, thumb and backhand for fit and comfort
Thumb and palm reinforcement for superior grip
Finger bridge
CE certified (CAT II Level 2)
Gloves measured by palm circumference

Size Guide

| | S | M | L | XL | 2XL | 3XL |
| --- | --- | --- | --- | --- | --- | --- |
| PALM | 17.8 - 20.3cm | 20.3 - 21.6cm | 21.6 - 22.9cm | 22.9 - 24.1cm | 24.1- 25.4cm | 25.4 - 27.9cm |
Product Specification
Variants
Manufacturer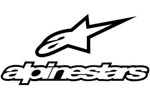 About
Alpinestars
Alpinestars, a truly world class brand of motorcycle apparel. Founded in the early 1960s by Sante Mazzarolo, Alpinestars has grown to be a world leading manufacturer of professional racing products such as leather jackets, jeans, boots and 1 piece suits. Whilst their leathers are worn by some of the biggest names in bike racing, they also specialise in high performance textile jackets, jeans and gloves. From F1 to Karting, the World Rally Championship to NASCAR, Alpinestars work with the very best drivers and riders to bring design innovations to all aspects of professional motor-sport.

You won't get it cheaper.
Our Price Match Promise.