Verified Customer Reviews for Nexx X.G10 Clubhouse SV
Outstanding quality
02 July 2020 by Jason B
Even though I had high expectations of this premium lid and had no experience of the supplier, I took a punt on a Nexx lid and it really surprised me how good this really is. I wanted a helmet that offered all the benefits of an open face, with the wind protection of a full face (I hate goggles, just can't get on with them). This helmet delivers that brilliantly with a huge field of vision and a visor that covers your entire face.
The most surprising thing is that it's also quiet (quieter than many of my other full face lids), and being carbon it's light, and the padding is super luxurious brown suede. The small chrome details and metallic lines also ooze quality.

I'm not such a fan of D ring fasteners, but I've now got used to them.

The internal sun visor is also spot on, so easy to operate with gloves, even whilst riding, and the separate tinted visor I got from SBS makes this look like a super cool retro helmet. A tad pricey but you get what you pay for.
Style: Carbon SV Black
Coolest helmet ever!
18 December 2019 by Hendré M
Such a comfortable helmet and I got a extra bubble visor for it witch makes it look so cool! Have been struggling to find a helmet where you can add different kinds of visors on it and this one is perfect! Thanks to the great service from the Sportsbikeshop team!
Style: Matt Titanium
Description
Nexx X.G10 Clubhouse SV - Matt Black
Multiaxial fibreglass construction with special aramid fibres and carbon reinforcement
Internal sun visor
X-Mart Dry technology
Fully removable and washable, anti-sweat and anti-allergic interior
Clever cooling system with a fast drying rate
Double D-ring closure retention strap
The X.G10 features X-Matrix technology, a process that combines multiaxial fibreglass, 3D organic fibres, special aramid fibres and carbon reinforcement. The result is a super strong and lightweight shell, 35% stronger for extension and bending resistance than normal fibreglass. The X.G10 comes in 3 shell sizes to combine more compact dimensions with outstanding fit and comfort. The masterly designed interior is both stylish and simplistic and the pinnacle of the X.G10 comfort. The X-Mart Dry technology brings a soft touch and a clever cooling system featuring a drying rate, twice as fast as normal cotton and gives extra insulation on colder days. All the interior pieces are fully removable and washable, anti-sweat and anti-allergic.
Product Specification
Visors
Manufacturer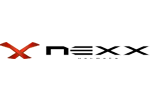 About
Nexx
Nexx is a young Portuguese company, proud to have achieved in just a few years a prominent position in a sector dominated by strong groups and companies. Since its inception in 2001, the company has maintained the same policy of work and product development; creativity and design, together in the creation of different products. Look to the future! - This is the philosophy of Nexx helmets. The brand continues to bring new ideas and solutions to the passion of motorcyclists. The collections are developed with the aim of making each riding moment pleasant, synonymous with freedom. Different models are designed for different needs. For this, Nexx research in all kinds of conditions, all to be able to provide the pleasure of safe riding at all times.

You won't get it cheaper.
Our Price Match Promise.