Verified Customer Reviews for Nexx X.G100 Racer
Great helmet
22 August 2023 by David M
Fantastic looking helmet which is finished really well inside and out. Bought an additional dark visor which makes it look quite aggressive. Contrary to some reviews I found the sizing spot on. Usual excellent service from Sportsbikeshop
Style: Finish Line Gold / Black
Nice helmet, too small
19 April 2023 by Colin C
Nice helmet , plush lined nice n lightweight , ordered a large , got it over my head but too tight across the forehead a 59-60 is normally a good snug fit with Shoei and HJC
I have re ordered an xl as. I liked the style and finish
Style: Finish Line Black / White
Retro style, modern spec
21 October 2021 by Craig
Been looking for a helmet that fits and the Nexx does the trick. With a 4* Sharp rating with good retro style looks too. Feels like it's been put together well and is very comfortable with a wide visor that gives a good FOV. The chin strap could do with being a little wider, but apart from that it's great!

Thanks to SBS for the advice given, as I was having real issues getting a helmet to fit. Will certainly use again and recommend them 100%
Premium
13 September 2021 by Stuart
A premium helmet without a premium price.
Better than glamster
14 February 2021 by Davor O
Excellent Helmet specially design and quality and best of all it comes with Raleri Anti fog which I found works better then pinlock on my glamster which is more expensive.
Style: Motordrome Blue
Really small helmet
21 November 2020 by J B
Leaving 2 stars because the helmet has an interesting design. I usually wear XL and after doing some research reading reviews decided to order an 2XL. The fact is, the sizing in this is completely off. The 2XL won't even go passed my forehead. Had no choice but return it.
Good helmet (but too small)
23 July 2020 by Anonymous
Very nice high quality helmet, very quiet. But it's too small, I have 61cm head and usually I use XL helmets. Ordered XL and XXL and both are too small, I nearly ended up asking someone to help me take it off. Was rly disappointed, because I really liked it. Would give it 5 stars if not the sizing issue. I recommend it if you can find a size that fits you.
Retro and Modern Combined
14 July 2020 by Jason B
Purchased this to match my bikes BMW Motorrad colours. As with most Nexx lids it has a lovely plush interior. For a premium lid, it's a no frills helmet. Double D retention, one vent (chin) and an 'adequate' visor system. However it does the basics very well and looks awesome with a tinted visor.
Only small gripe is that it doesn't appear to have a cavity for speakers. But you could probably still fit them under the material as there is a slit.
You have to be really careful when undoing the soft visor aluminium retaining nuts. It's like it's made of cheddar and super easy to nurl the screw thread, which will affect the aesthetics of the helmet. Best to use a plastic screwdriver.
But, it's a very quiet lid and feels like a high quality solid helmet. And just looks stunning.
Style: Black / Blue / White
Stylish
04 June 2020 by George B
Brought two of these NEXX helmets now and couldn't be more impressed. The fit is perfect and looks smart when riding my classic bikes. Could do with a couple more air vents for the summer time as I found the visor to steam up once coming to a stand still. But overall worth every penny
Superbly comfortable
17 May 2020 by Matt L
I love the look of this helmet and am very impressed with the comfort compared to my Bell Moto III. It's very light and with the dark visor fitted with the non-pinlock insert visibility is spot on. Visor replacement needs a screwdriver but is still very easy.
Great value retro helmet
17 January 2020 by Anonymous
Excellent field of vision, very comfortable to wear and looks great too. This lightweight helmet fits snugly without uncomfortable pressure points and internal ventilation is effective and easy to control while on the move. Great product.
Style: Motordrome Titanium / Yellow
Cool (as in hip), comfortable, satisfied
02 July 2019 by Javier
The shell feels solid, secure and of a high quality, yet is light in weight. The inner lining and padding feel (and are) luxurious and are extremely comfortable. The chin strap is also very comfortable. After a while you forget you have the helmet on however it gives you a real sense of security the way it hugs your entire head but doesn't feel claustrophobic or tight.

I tried loads of different helmets but none fitted as well as this one other than the Biltwell Gringo S. Though the Nexx felt a lot more secure for me.

The visor that comes as standard looks and feels secure and again of a very high quality and hasn't fogged up yet. Though the helmet does come with an antifog film, should you choose to use it.

Overall the quality and feel of this helmet is of a very high standard and is very comfortable. This is my first helmet and I am extremely happy with it.
Like my helmet
30 April 2019 by Anonymous
Very nice fit..... as per the fitting guide. Seems well made. Well padded inside. Love the look and colour scheme. Very clear visor.
Style: White / Green
Functional retro cool
28 September 2018 by Ciaran W
I bought this to replace a Bell Bullitt and I am really happy with this helmet. Where the Bullitt is aesthetically pleasing it let's itself down in performance. The Nexx on the other hand is a good looking helmet that does the job very well. The Bell would leak in anything other than a mild drizzle. The wind noise above 30mph was like being caught in a sensory deprivation experiment. The Nexx has kept out the rain totally and made my daily Highland commute a much more comfortable experience. On another point it came very securely packaged.
Style: Yellow / Black
Great feeling & great looking
25 July 2018 by Anonymous
A very nice high-quality lid for the money; it not only feels comfortable but it certainly looks the part too! The padding is easy to take out and they even pack some extra pads to help it fit to the shape of your face if it doesn't feel perfect already. I'd like to make it clear to everyone that the visor it comes with is clear rather than tinted like in the photos, but never the less the visor is easy to use, change and is anti-scratch too which is always a plus. The only thing I had with this is that it doesn't fit in the bag it came with - or at least it doesn't close completely, this wasn't an issue for me as I had a spare one that did fit, although I could just be trying to pack it wrong. Never the less, the bag it came with is high-quality if you can figure it out. Overall this is a great lid, I have no trouble with it and I love it!
Style: Red
Description
Nexx X.G100 Racer - Finish Line Cream / Red
Multiaxial fibreglass construction with special aramid fibres and carbon reinforcement
Unbreakable anti-scratch wide field of view visor
X-Mart Dry technology
Fully removable and washable, anti-sweat and anti-allergic interior
On/Off switch to control the helmets internal ventilation
Chin wind stopper to reduce wind noise and draughts
The X.G100 Racer features a very light outer-shell made in X-Matrix technology, a process that combines multiaxial fibreglass, 3D organic fibres, special aramid fibres and carbon reinforcement. It comes in two shell sizes for outstanding comfort and fit. With a wide field of vision, the X.G100 Racer's full visor, made of unbreakable PC Lexan, optical class 1 and anti-scratch coating. The masterly designed interior is both stylish and simplistic and the pinnacle of the X.G100 comfort. The X-Mart dry technology brings a soft touch and a clever cooling system featuring a drying rate, twice as fast as normal cotton and gives extra insulation on colder days. All the interior pieces are fully removable and washable, anti-sweat and anti-allergic.
Product Specification
Variants
Visors
Manufacturer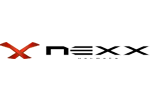 About
Nexx
Nexx is a young Portuguese company, proud to have achieved in just a few years a prominent position in a sector dominated by strong groups and companies. Since its inception in 2001, the company has maintained the same policy of work and product development; creativity and design, together in the creation of different products. Look to the future! - This is the philosophy of Nexx helmets. The brand continues to bring new ideas and solutions to the passion of motorcyclists. The collections are developed with the aim of making each riding moment pleasant, synonymous with freedom. Different models are designed for different needs. For this, Nexx research in all kinds of conditions, all to be able to provide the pleasure of safe riding at all times.

You won't get it cheaper.
Our Price Match Promise.