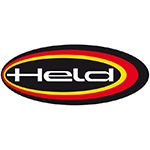 Held Sambia Glove - Black
Verified Customer Reviews for Held Sambia Glove
Comfortable summer glove, but watch the fit
04 September 2023 by SimonR
These are comfortable with a lot of protection for this style glove compare to other similar ones. Airflow is good and they should last well - if they last as well as my Klim Marrakesh gloves just worn out (4yrs heavy use )and no longer made, that'll be good.

As mentioned elsewhere, Held gloves come up quite small, so buy a size larger than normal I'd suggest.

Only 4 stars? There is a seam less than well placed on the inside of the thumb, against the thumb ball joint on one's hand when gripping the bars. This can become uncomfortable I find, but an occasional change of your grip on the bars will prevent it getting too much. Ideally this seam should have been placed to the side of that point really. Its the case on some other Held gloves too. 5 stars otherwise. Fast service and a good price from SBS as usual.
Excellent glove
23 June 2023 by Anonymous
Fits well and looks great. Good hand mobility. Safe and reasonably well ventilated
Fits like a glove.
07 March 2023 by Karl B
I find Held to be a good fit compared to other makes. I tried the Knox Orsa but the thumb web doesn't go deep enough. Not used these on the bike yet, but if they are like my other Held gloves they'll be comfortable and hard wearing.
Protective, comfortable lightweight glove.
27 June 2021 by S. H
Comfortable snug fit with excellent "feel" for bike controls. Good level of protection on palm and back of hand. Worn in rainy conditions and gloves still offered decent weather protection and warmth despite being lightweight construction. Great combination of protection without bulk. Would definitely buy again.
Good gloves
24 January 2021 by Andrew H
Although I returned mine because they were too small, (non bigger in stock) they seemed like a quality item. Not quite as supple as I expected but I'm sure they would break in to be a favourite pair of gloves. Great service from sportsbikeshop as always.
Great summer glove
14 July 2020 by Anonymous
very comfortable vented glove. Normally wear M´s either in AStar Knox or RST but only the L fitted me right. Don´t care for the closure system but that´s just neat picking.
Great service from SportsBikeShop
Great Gloves
20 January 2020 by Stephen K
As we all know HELD produce excellent gloves, comfortable and well made.These are perfect for summer, good air flow, light and easy to get on and off, the only very minor niggle I have is that the velcro tab keeps reattaching itself as I try to remove the glove, I am hoping that as the gloves age this will stop, overall really happy with these
Comfortable and great fitting glove
31 July 2019 by Anonymous
Really well made and comfortable gloves straight out of the bag. Vents in the fingers channel welcome air into the gloves on hot days. They are obviously high quality and substantial where they need to be, very happy with these. Excellent service from Sportsbikeshop as usual, rapid delivery and good price.
Excellent all round short cuff Summer glove
25 May 2016 by Russ
Another great Held glove with perfect fit and comfort. Lovely kangaroo suede palm is very comfortable and grippy while offering almost perfect tactile feel while still maintaining good protective qualities. A lot of other gloves like this are too MX focused so offer no proper protection if you decide to chuck your ride down the tarmac. One other highlight is how easy and quick these gloves are to get on and off. I have many gloves and they are all a little time consuming to get on and off because I prefer my gloves a little tight. But the Sambia gloves are so easy. Great stuff. I intend to use these gloves all year round on my KTM 690 Enduro R.
Held summer gloves
30 March 2014 by Maurice A
As I am already the user of a pair of Held summer gloves. I had no hesitation in purchasing another pair after 3 years of use in British summer weather (wet!). Not a lot wrong with my old gloves, but thought it might be nice to get a nice new shiny pair to go with my nice new shiny bike.
These gloves are a perfect fit for me & are as light & supple as my old gloves.
Look to offer reasonable protection without being big & cumbersome, allowing good feel to the bars.
Colours also match my Held 4-Touring jacket in black/grey.
As usual, efficient & prompt service from Sportsbikeshop.
Bring on the Summer !!!!
Style: Grey / Black
Outstanding summer glove
16 September 2013 by Leslie K
This ventilated summer glove is well made using very good quality materials. It fits like a glove, whereas many do not seem to. Offering a high degree of comfort and style the only aspect I could call attention to is protection. All major impact areas are reinforced and the main knuckle protectors are superb, unfortunately the protection on the fingers themselves is minimal.

I am very pleased with the gloves and wouldn't hesitate to recommend them to others.
Style: Grey / Black
Description
Held Sambia Glove - Black
Kangaroo leather palm
Certified under norm EN 13594:2015
Spandex construction with leather detailed back
Colourfast & sweat-proof treatment
Velcro adjustment at cuffs
Air vents on fingers
Perforated finger side walls
Hard plastic knuckle protection
Superfabric reinforcement on edge of hand
2 year warranty
Gloves measured by palm circumference (excluding thumb)

Size Guide

| | S | M | L | XL | 2XL | 3XL |
| --- | --- | --- | --- | --- | --- | --- |
| PALM | 19cm | 21.5cm | 24cm | 27cm | 29.5cm | 32cm |
| HELD SIZE | 7 | 8 | 9 | 10 | 11 | 12 |
Product Specification
Variants
Manufacturer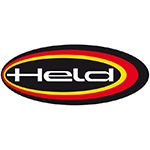 About
Held
Despite being one of the most respected manufacturers in the motorcycle clothing and accessories sector, Held remains a family business made up of passionate bikers, still with its headquarters in the same picturesque Alpine town of Burgberg. Famed for their gloves, the Held collection is one of the most comprehensive on the market with a full range of leather and textile jackets, jeans, gloves, boots and armour. As a brand, Held continue to work with the various technology partners such as Gore Tex and D3O to enable them to produce some of the safest and most technically advanced product on the market. We're constantly updating the site to incorporate the latest models from the ever expanding Held motorbike range and if you find it cheaper, all of our Held clothing is covered by our price match promise!

You won't get it cheaper.
Our Price Match Promise.