EBC Semi-Sintered Touring V Brake Pads - FA088V
Customer Product Reviews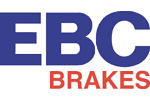 View Product Details
September 12, 2019
Lacking Bite for Middleweight Shaftie
Quality is EBC usual high quality, good finish on pad backing not too thick, fits calipers well. They do work absolutely fine and if you are worried about wearing brake discs choose these v-pads over the HH (fully sintered). But my personal preference is that I could do with more bite from the double disc, double pot brakes for the lever pressure required to haul up 230kg of Yamaha xv750 and 17st rider. (using braided hoses).
August 12, 2015
Jury is still out
The brake pads look fine, but are a different shape to the old ones. I'm still not totally convinced they are a direct replacement. Fitted they are working, I think they are harder than the originals so they haven't bedded in yet. But are working fine. Difference may just be these are Touring pads. I Would like to mark higher because the quality is good, but until they bed in I'm not convinced I have the same brake power as before.
PLEASE NOTE: The views and opinions expressed in the above reviews are solely those of the author and are not necessarily representative of the views of SPORTSBIKESHOP LTD.