EBC Semi-Sintered Touring V Brake Pads - FA174V
Customer Product Reviews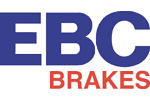 Our price
£14.69

Ex Tax
£16.92
View Product Details
August 29, 2019
Great product, good price and service is excellent
Rear pads for my old Suzuki. Always like to get decent quality pads without breaking the bank and EBC stuff is trusted and I use their pads a lot. Good quality product works great in dry and wet conditions, the fit is always spot on as well. SBS pricing and delivery is second to none so you can buy in confidence.
September 4, 2017
Worth it if you use your back brake a lot
After looking around, these seemed like the best option. I, as I was taught to, use my rear brake to slow and come to a stop, under control, more so than the front i.e. most circumstances, the pads wore down pretty fast. 2.500 miles and gone. That was not my issue and I can't judge the longevity yet. My issue was the EBC resin/organic pads were heating up at times and fading if I was a little harsh on them, typically when going downhill. So I wanted something that would last, not over heat and still have the initial bite. While not perfect, enter semi sintered pads. The initial bite is sharper than that of a sintered pad but remains less than that of a resin pad. After bedding it in, which did not take too long on a used disk, I gave it some abuse dragged the brake and tried to make it fade. My rear disk started to blue and the pads kept biting with very little discernable fade. The interesting thing is I've gained modulation. Being a mechanic in a previous life, my job was to scrutinise everything I had worked on. If I wasn't happy with it being mine it wasn't going out. Basically, a happy medium, for its intended use. EBC got this one bang on. However, in no way do I or would I ever advocate this pad as a substitute for a racing pad. Don't scrimp on tyres and brakes! Buy the best you can afford!
PLEASE NOTE: The views and opinions expressed in the above reviews are solely those of the author and are not necessarily representative of the views of SPORTSBIKESHOP LTD.