Bell 3 Snap 510 Peak
Customer Product Reviews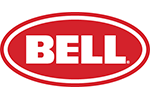 View Product Details
June 23, 2022
Bell 510 peak
Bought for my bell 500 it's not quite the same shade of white
August 9, 2021
bell peak
seems sturdy have not been out yet i have fixed it to my avg lid needed a bit of alteration but got it to fit ok should help block out the sun sbs delivery as usual quick so far very pleased
April 2, 2021
Good, but with reservations
This was bought to fit my recently purchased Bell 500.(Size 'large'). The radius of the peak is tighter than the helmet and has to be pulled open to fit. In fact I've modified mine even more by trimming the ends as they would dig into the helmet but also I wanted a visor to fit the helmet and wear the peak. That requires a wrap around visor with double studding to take the peak on top. Bob Heath visors make one and it's great. But you need to increase the slot length on the peak - a simple task!
May 29, 2020
Perfect partner
Attached to the Bell Open face helmet they are a perfect retro match.
November 21, 2018
Peak 510
As described competitive price. Overall very pleased.
PLEASE NOTE: The views and opinions expressed in the above reviews are solely those of the author and are not necessarily representative of the views of SPORTSBIKESHOP LTD.