Falco Patrol Boots - Brown
Customer Product Reviews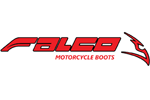 View Product Details
July 29, 2022
Perfect.
Bought these as an upgrade for summer riding. Can't fault them - comfortable straight out of the box and great on and off the bike. Another great informed purchase from SBS - you guys make it so easy for us to part with our money :-).
July 13, 2022
Instantly comfortable
Bought these as a casual lightweight alternative to normal boots. They are perfect to size and immediately comfortable. Look pretty good with my riding jeans. The gear shift detail on the top of the boot is just that a detail there is no reinforcement obvious in that area however I am just back from a 320 mile ride out around the Scottish highlands and didn't notice any undue pressure or discomfort from the gear lever. Great value summer boot and usual quietly efficient service from sportsbikeshop.
June 30, 2022
Comfy casual Falco summer boots
These boots fitted perfectly out of the box to size 42. Very comfortable from the off and more subtle look than other summer ankle boots. Come with D30 armour as well. Could wear them when not on the bike too! Flexible fitting so no breaking in, Winner. Tried them in store with SBS very helpful, thanks guys great job. Cheers
June 9, 2022
Just the Job
Wanted some short boots that I could wear on or off the bike and these are just the job! Comfy out of the box and size spot on.
June 8, 2022
Great Boots
A great, comfortable pair of boots that are certainly lighter than they look in the pictures. I was concerned that the gearshift panel on the left boot might not be up to much as it's just a differently textured part of the upper as opposed to a reinforced panel; but it's doing just fine. True to my normal size these were a good buy.
June 5, 2022
Excellent product.
Bought for summer wearing jeans, very comfortable and stylish and so far excellent quality. Sizes are accurate, not used in rain so can't comment on waterproofing. Only niggle is they are quite short. Usual superb service
March 9, 2022
Comfy and great
Love these. Light enough to be worn all day. I wanted a pair of boots that weren't too rigid and looked casual so I could wear them all day. I use these every day now whether I'm riding or not, they're great.
December 23, 2021
Falco Boots
These are great all round boot ideal for on and off bike. Only problem rubs my left heal some stretching needed
November 6, 2021
Falco Patrol boots
Great boots well made comfortable and look good. I bought my regular size that fitted fine.
October 3, 2021
All year round Bike boots
Excellent purchase well constructed yet still very comfortable to wear all day. Very light to wear yet remains firm enough for gear/ brake action
August 5, 2021
Great quality boots
Extremely comfortable and well made boots. Solid from the safety aspect but supple enough that they can be worn all day.
July 23, 2021
Great summer boots
Accurate sizing as usual with bike boots go one size up ,a very comfortable foot bed from the get go. Nice boots on and off the bike.
July 6, 2021
Falco boots
Quality comfortable boots, I had a slightly bigger size and they fit perfectly, Very lightweight and they look nice, I have changed the laces tho for brown ones.
May 21, 2021
Proper boots
Wanted some boots I could wear with riding jeans and use all day when I go into the office. These Falco boots are just the job. Very comfy from the off, look pretty neat with jeans yet feel like they have decent protection. Very happy with these boots.
May 11, 2021
Fantastic service and great boots
Unfortunately had to return the 1st pair, ordered a 9.5 but they were quite narrow fitting. Free return and replacement pair came within a couple of days, Great prices and a fantastic service, thank you.
March 13, 2021
So comfy
These boots are so comfortable from the off very good quality and very well made I'm a size 44 euro size went for the 45 which is about half a size bigger just perfect not big and bulky lovely weight to them all in all very happy
October 19, 2020
Falco patrol boots
My husband is over the moon with these they are very comfortable better than expected he has told his brother and both sons who are looking into getting some
September 14, 2020
Falco Patrol Boots
Excellent boot from the off, comfortable and look great. Feel decent for motorbike protection as well. Sportsbike service is definitely quality bar none - easy and efficient.
July 1, 2020
Very lightweight and comfortable boots.
I've bought these as an urban boot for riding around town. They fit perfectly (I'm a size 10) feel very tough, yet light and comfortable. Great for wearing on or off the bike in my opinion.
May 26, 2020
Nice boots
Very comfortable great fit and delivery spot on, I changed the laces to dark brown so they didn't look as industrial
PLEASE NOTE: The views and opinions expressed in the above reviews are solely those of the author and are not necessarily representative of the views of SPORTSBIKESHOP LTD.