MT Targo - Solid Matt Black
Customer Product Reviews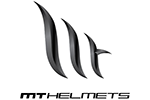 View Product Details
November 19, 2021
Decent helmet at a very good price
Fit (for my wife) was good and correct to the size - snug but not uncomfortable, with no pressure points. Finish seems good quality and the matt red is really nice and distinctive without being OTT.
November 4, 2021
Not as good as expected
With comparing to Arai Axces 3, Shark Indy, and an old IXS HX580 Archon, the MT is the poorest. Visor: The visor thickness is average but not too wide. It doesn't give you a good side view at all and also I see the whole pinlock around which is quite distracting. Protection: The wind protection of the visor is also poor, at higher speeds the wind hissing into. The two top-side ventilators aren't closeable, so the wind comes through all the time, making the helmet cold (it could be good in summer but how about the rain?) and noisy. Noise: This is the noisiest helmet in all of 4. The wind also comes from the side, there is nothing to protect the ear. The chin guard is a good point but the side curve of the helmet and the lack of protection gives the wind free access. Exterior: Design, shape, visibility, colour and the fast strap are all good points but nothing else. The interior is cheap. Simple soft cloth. No fleece or cosy plush. I haven't tried to remove them yet. Size: I normally wear XS but to listen to other reviewers I ordered S which seemed to be as XS. It needs time for the pads to shrink but it won't be too long I suppose due to the quality. Weather: I haven't tested it in wet condition but I don't have high expectations. I bet it would be leaking as my Arai and Shark are also leaking on continuous downpours (Scotland usually faces :-D). Where to wear: I am confident to wear this helmet in the town, in summer, in dry weather and at low speed. Definitely would not recommend it for touring or wearing it on the motorway. Especially if you hate the noise. I will keep it and use it with a balaclava because I am working close to where I live so I can save the better helmets for weekends and fun.
September 18, 2021
MT TARGO
Good helmet, nice fit with good air vents, great for the price
August 30, 2021
Great design and comfortable fit
Bought for my son as a replacement and he loves it. Fun bright design and perfect fit. My son wears glasses and they fit with no issues. Only downside is this is a pinlock visor but doesn't come with an insert for it.
July 9, 2021
Good helmet
Very good helmet
July 5, 2021
Good quality and value
A smart looking helmet. Has an easy fastening and is a very comfortable fit. Good value for the price.
July 1, 2021
Very happy
For the price of this helmet it is very good. ECE and DOT tested colours are great and fits perfect will deffo go with this brand again
June 5, 2021
Excellent product
Sportsbikeshop is fast and reliable. The prices are affordable and they have a large variety of products. Initially, I made the first order and the helmet did not fit me because I was not sure what size I was wearing and I returned it for free without any problems. I ordered another size that was perfect with free next day delivery. Thank you!
April 27, 2021
Great Buy
The fit and measurements are spot on. this helmet fitted perfectly and now after a few months use has bedded in nicely. the visor mechanism is very stable and you can set a very small gap and it doesn't move. i was a bit worried buying a helmet with out trying it on or checking the features but this has been a positive experience
April 26, 2021
Headcellent
What a little gem, no need to pay loads of money, and it's approved. Get ahead of the road
April 26, 2021
Love it
Helmet is nice and light, protects everything, easy to take on and off the design is amazing
April 23, 2021
Great buy
Very good value and excellent feel and finish helmet - bought for our kids for occasions pillion riding
April 13, 2021
First Time Helemet
Great price for a well made helmet. Nice and snug.
April 13, 2021
Padding from heaven
I cannot begin to describe how soft and perfect the interior padding is. It's like laying your head in a cloud. The helmet itself is relatively lightweight but feels super sturdy and protective. The visor mechanism is really smooth and has a great lock in system. Couldnt have picked a better helmet to be honest.
March 24, 2021
Great helmet
Great quality helmet. I'm a size medium and fits really well, easy to get on and off. I also wear glasses and this is the first helmet where they are easy to get on and do not hurt my ears.
February 25, 2021
A very good helmet at a great price
My previous helmet was also an MT so I know the brand and sizing. I always check the safety reviews of any helmet I intend to purchase and the Targo has a 3-star Sharp rating which is good enough for me. The Targo does not contain features that I do not want such as a drop down tinted visor or a Pinlock anti-fog strip. This keeps the cost and weight down too. The visor is Pinlock compatible for those who wish to retrofit this system however. For me the Targo fits well and feels plush, helmets always give slightly so a slightly tight initial fit is preferred - exactly the same rule can be applied to steel toe cap work boots! On the road the Targos lightweight construction is a positive as is the overall excellent field of vision and lack of excess noise. The metal ratchet is a nice quality feature and easy to use. A very good helmet at a great price!
February 25, 2021
Good helmet
Good helmet and fits great. I guess with budget comes compromise. This one is, even with all the vents open and riding at speed the screen fogs up with every breathe
February 13, 2021
Amazing
For the price it is an exellent helmet, lightweight but feels strong, fits very well, the padding is nice and soft, even has more than enough room for a bluetooth headset. I am very impressed
December 7, 2020
Good Solid Helmet
For the price, this is a great helmet. Not many Pinlock ready helmets for this price. Looks good as well
November 29, 2020
Good helmet
For the price I can't fault it Bought it for my daughter to use on my bike so far no complaints
PLEASE NOTE: The views and opinions expressed in the above reviews are solely those of the author and are not necessarily representative of the views of SPORTSBIKESHOP LTD.