Renthal R4 SRS 525 Pitch Drive Chain
Customer Product Reviews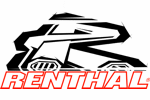 View Product Details
October 1, 2019
Fab chain
This chain is the business I've got one on my fireblade and bought another one for my cbr 600 , blinged up my old bike , great looking chain and fab service again from sbs
January 23, 2017
Strong and reliable
Great chain. Strong and reliable. Just make sure you have the tool to fit this as it needs a quad stake riveting tool costing £80.
June 30, 2016
Great quality, watch out for fitting
The chain looks to be very nice quality and I don't doubt will suit the bike. However, I do think that it would be helpful if the description included that the master link is a quad stake type and therefore needs a special tool to fit. We found this out at 7pm on a Sunday night, resulting in an immobilised bike because we didn't have the tool required to fit this kind of link. We then had to buy one, which cost almost as much as the chain again ...... Please make buyers aware so that they can make an informed choice!
September 18, 2014
Excellent.
Chain has been on a few weeks now, very smooth and responsive. Was diving between this and the Tsubaki Alpha. Fancied a change after having D.l.D VXGB's. Definitely an upgrade. Other reviews are spot on.
June 26, 2014
Durable
A flawless product, that suits the delivery of power from the motorcycle and copes with the stresses of fast gear changes excellently. It has improved the smoothness of the clutch also.
October 10, 2013
Amazing renthal superbike chain
I knew that this new chain would improve the performance of my bike but OMG it's improved power and delivery in a smooth manner. You can certainly tell that it has a high tensile strength making it strong and highly responsive - Wow! If you are considering an upgrade you won't be disappointed! Buy one now and enjoy your 'new' bike!!!
April 17, 2013
Time will tell
Looks like this chain is of very high quality, but time and mileage will reveal all :-)
March 18, 2013
Goldie looking chain
Great looking chain with patented seals. Haven't put enough miles on it to give you the best advice. But the name and reputation speak for it self.
PLEASE NOTE: The views and opinions expressed in the above reviews are solely those of the author and are not necessarily representative of the views of SPORTSBIKESHOP LTD.