Over 250,000 Products

£14m+ stock holding

Click & Collect

From a shop near you

Store network

8 Stores across the UK

365 Day Returns

No-Fuss Refunds

15+ Years Online

Tried, tested, trusted

Free Returns*

Mainland ex H'lands (over £25)
LS2 Gloves
LS2 motorcycle gloves offer great style and use only the highest quality materials
A collection of motorcycle gloves from the helmet brand LS2. Focusing mainly on waterproof sports touring gear, LS2 have created a very versatile selection of tastefully style gloves, perfect for any style of riding.
Explore related categories…
Verified Customer Reviews for LS2 Gloves
Ls2 air raptor glves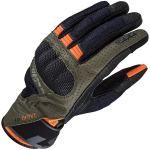 LS2 Air Raptor Gloves - Green / Blue / Hi Viz Orange
10 November 2023 by Matthew L
Bought a medium size as I measured my hand it said medium size. They are a tight fit, we're the knuckles are when clenching a fist hopefully they will lossen over time.
Building quality seems really good but only time will tell if they last.
Ls2 gloves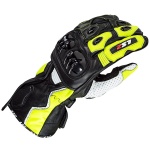 LS2 Swift Leather Gloves - Black / Neon Yellow
12 September 2023 by Mike M
I bought these after my RST faithful gloves split after many years of use and the LS2's were mentioned in Ride magazine. Tight fit and hoping they wear in, well made. Only niggles are the Velcro strap keeps coming out of the loop , just as I've put the other glove on so I have to take it off to feed it back through. Need to stick it on when I take them off so it doesn't happen.
Great Summer Gloves
LS2 Dart 2 Gloves - Black
06 September 2023 by Andrew R
Very thin and tactile. Feel well made and my old pair have lasted well.
Great product and service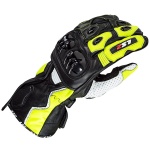 LS2 Swift Leather Gloves - Black / Neon Yellow
07 August 2023 by Fantic M
I bought these gloves on the basis of the safety rating (level 2 KP) and also that they were cheaper than most other maker's level 1 KP gloves. I ordered a small size and they are cosy at first (especially on the little finger) but have got much more comfortable after a couple of rides. After all, they are not going to get any smaller over time. The velcro strap fastenings seems heavy duty and the wrist strap can be pulled tight without the ring turning round. So far I'm really pleased with the gloves. Coming back to the safety rating of level 2 KP, I only found this out from an American website as SBS do not mention this at all. It would be good if the CE safety ratings were displayed for all items (please) and not just for larger items like jackets etc. Overall 5 stars for the gloves and the great service from SBS.
Great fit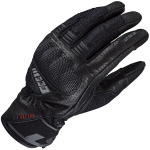 LS2 Air Raptor Gloves - Black
03 August 2023 by Geoffrey F
Comfortable tailored fit for my large hands