Over 250,000 Products

£14m+ stock holding

250+ Top Brands

UK's largest range

150,000+ Reviews

from bikers like you

Next-day Delivery

Available 7 Days a Week

Store network

8 Stores across the UK

Free Returns*

Mainland ex H'lands (over £25)
Spidi Gloves
A premium selection of leather, textile and waterproof gloves by Spidi
Spidi motorcycle gloves, as with the entire clothing range, are renowned the world over for their unique style and unprecedented levels of protection. With the company still based in Vicenza, Italy, Spidi glove design remains entirely in house as it has been since day one. The brands commitment to fusing fashionable design with advanced safety solutions is such that they've created a name for it, Spidi Safety Lab, applying it to everything they produce. Through their work with top level motorcycle racing and via intensive study of physical damage to riders involved in accidents, Spidi gloves and clothing are continually being developed through a unique insight that allows the brand to stay one step ahead. Spidi motorbike gloves are often copied, rarely bettered, and as with every pair of bike gloves we sell, our price match promise is applicable to ensure our customers get the very best deal possible.

Explore related categories…
Verified Customer Reviews for Spidi Gloves
Very Light weight summer only glove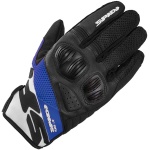 Spidi Flash-R Evo CE Gloves - Blue
08 June 2022 by Mark N
I was searching for replacements for my old Richa Schoeller summer glove, which were just the right balance between lightweight fabric, leather and hard plastic, providing palm and knuckle protection in a couple of 'offs'. These Spidi's were the closest I could find. Stylish, lightweight, super comfortable,and very cool to wear on the few hot days weve had....
However they are little more than a slightly beefed up motocross glove, very thin fabric on the back of the hand, and so relatively expensive for what they are.
For spotrsbike riders, they're nice, but by comparison with what I was trying to replace, I couldn't recommend.
Best pair of gloves I have worn.
Spidi Carbo 7 Gloves - Black
08 October 2021 by Anonymous
These gloves are an excellent fit and the soft leather gives an excellent feel when operating handlebar switches.
Overall these are the best pair of gloves I have bought and would highly recommend them.
Decent
Spidi Flash-R Evo CE Gloves - Red
15 April 2020 by Marco G
Good gloves, nice fit, looks cool and does the job. Not recommended for cold weather.