Free next day to store

Online choice delivered in-store

15+ Years Online

Tried, tested, trusted

150,000+ Reviews

from bikers like you

Pay Later

With PayPal or Klarna

Click & Collect

From a shop near you

Next-day Delivery

Available 7 Days a Week
Open Face Helmets
Open face motorcycle helmets
With the UK's biggest selection of open face helmets, including choices to suit every budget, you've found the ideal place to choose your new lid. We stock every top brand, including the likes of Arai, Shoei, Shark, AGV, Schuberth, HJC, MT - all with free delivery, free returns and up to 365 days to change your mind. Our huge range and unrivalled customer experience means there's no better place to find your perfect open face helmet.

Explore related categories…
Verified Customer Reviews for Open Face Helmets
Fair weather helmet
Premier Rocker - ON 19 BM Black / Gun
26 November 2023 by Anonymous
Brilliant lid done a couple of hundred miles, good visibility with my glasses comfort is fair hoping it will get a bit better with use.
Modern classic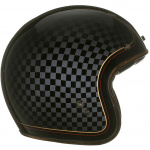 Bell Custom 500 - RSD Check It
17 November 2023 by Steve
Love the chequer pattern and colour scheme. Quality and finish feels good for a budget lid. Never going to be as comfortable as an Arai or a Shoei for example, though probably just needs some breaking in, but comfortable enough and a good spring/summer helmet. As I wear photochromatic-type spectacles I didn't want a helmet with a drop-down tinted visor, so this does the trick. May look for some retro or ski-type goggles so could use this year round if necessary.
Spada rock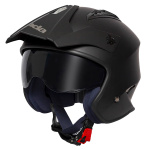 Spada Rock 06 - Black
15 November 2023 by Andrew S
Serious value for money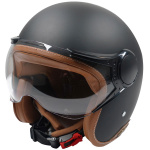 Axor Retro Jet - Matt Black / Brown
14 November 2023 by Alasdair R
I have to admit to a bit of price snobbery nearly stopped me buying this really excellent helmet.
The mice got my old helmet and I thought this would do for now, truly pleasantly surprised by fit, comfort and looks really cool, especially on my Black Honda Rebel, 5 stars Axor
Spada Storm
Spada Storm - Matt Black / Grey / Silver
12 November 2023 by Damian I
Exactly as description, light weight, comfortable, comes with helmet bag, obviously not tested it thankfully, but I'm sure it meets the standards, overall a great helmet, first class service from sportsbikeshop as always