365 Day Returns

No-Fuss Refunds

Click & Collect

From a shop near you

Next-day Delivery

Available 7 Days a Week

250+ Top Brands

UK's largest range

15+ Years Online

Tried, tested, trusted

Free next day to store

Online choice delivered in-store
Dainese 1 Piece Leather Suits
Motorcycle race suits offering the ultimate in biker protection by Dainese
In 1972 Mr Lino Dainese made some leather motocross trousers, starting a biking brand that has since brought style and innovation to motorcyclists the world over. Working with some of the most evocative names in motorcycle racing, Dainese led the way in the development of leather stretch panels, knee sliders and race suits- cut to suit the rider in a real world riding position. The 80's brought back protectors (with Barry Sheene), composite armour, and more aerodynamic suits; whilst the 90's brought gloves with knuckle armour and the first biking airbag system. Dainese remains at the forefront of motorcycle clothing technology and continues to be the brand of choice for the biggest names in bike racing, all the way up to the greatest rider of all time, Valentino Rossi. Today, Dainese is one of the most recognisable, coolest, and most aspirational motorcycle brands on the planet. With a well deserved reputation for safety that has crossed over into nearly every extreme sport there is, the name Dainese is synonymous with style, protection, comfort and durability.
Explore related categories…
Verified Customer Reviews for Dainese 1 Piece Leather Suits
Awesome suit, would recommend.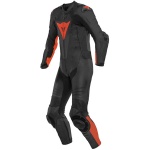 Dainese Laguna Seca 5 Perforated One Piece Leather Suit - Black / Fluo Red
01 July 2023 by Anthony M
This is my first suit in preparation for some track days. I was weighing up between the Tosa or the Laguna Seca 5, and as usual Sportsbike shop had no problem with me
reserving 4 suits to try on, as I was unsure of the size I would need. I am 6'1, and around 85kg. I ended up
going with the 44 and it feels perfect.. I must admit I was going back and forth with the 46, but went for the closer fit option after being advised by one of the helpful shop
assistants that the leather would give about 10%. I hadn't had a one piece suit before and it really does feel like it gives more flexibility on the bike. I went with the Laguna Seca 5 over the Tosa as it just felt like it would give more protection (although in truth, I'm not sure I'll be getting my
elbow down just yet!). This colour suited me to
match my bike - the black shoulder and elbow protection did it for me. Would definitely recommend this suit - not the cheapest, but I think Dainese make some quality products and this is one of them.
Quality one piece suit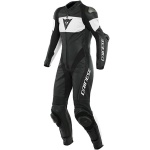 Dainese Ladies Imatra Perforated One Piece Leather Suit - Black / White
27 May 2023 by Rachel C
Very comfortable ladies suit, with the gel inside the lining. Found this suit a little longer in the arms and legs as I am around 5ft 9" as have previously struggled with length in female clothing.
Superb transaction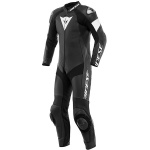 Dainese Tosa Perforated 1 Piece Leather Suit - Black / Black / White
06 July 2022 by Brian B
Great product, fits perfectly, ordered a 44 but was too big, returned for a size 42, I'm 5,3". Dainese leathers were made to a high quality as always, these feel so comfortable straight away. return process was easy, before you know it I had a 42 at my door within 2 days of the return, again another cracking involvement with Sportsbikeshop, used them for years and will continue for years to come.