Verified Customer Reviews for Held Phantom II Leather Glove
Excellent glove
04 June 2021 by Chris
Excellent gloves with so much feel, the kangaroo leather is well recommended.

If I had to nit pick I'd like to see the pinky stitch, scaphoid slider and a bit less (not that its an issue) protection on the wrist bone, or maybe making it two separate pieces.
Amazing
08 May 2021 by Steve S
Have worn Alpinestars for the last 10 years but wanted to try something different. Pluses - These are better made, better designed, higher quality materials than my old GP Pro's, more comfortable, less scratchy on my tank. Minuses - the wrist protection is firmer so difficult to move fingers up and over levers when sat up and relaxed, okay when down on the tank. Liked them so much I bought a second pair
Great quality glove
31 December 2020 by Anonymous
These feel really nice from the first time you try them on, no messy seams and made from really nice materials. A bit expensive but you can see where the money's gone. Hoping these last a while.
Great gloves
12 August 2020 by Nicholas P
I tried 5 pairs of gloves. These were the most comfortable. Very well made and provide very good protection. Choice of +/-1 finger size independent to palm size is a nice feature too.
Fantastic service
09 July 2019 by Adam B
I now have two pairs of held gloves now and a jacket, all top quality and all from SBS at great prices!
Great gloves
12 August 2018 by Laurie
I now have Held gloves for my winter and summer gear. The quality is unmatched in the market IMO. Highly recommended.
Really comfy
11 March 2016 by Paul S
Really comfortable. They look a quality bit of kit, lets see how they last.
Brilliant
15 September 2015 by Simon F
Expensive but worth every penny. These gloves just look quality when you first see them. So well made and great feeling when using them. Took just one trip out to 'mould' them to my hand shape. I'm expecting these to last me a long time, so it justifies spending that little bit more. Well worth considering these, they are simply beautiful.
She loves them
16 July 2014 by Grahame R
I bought these gloves for my wife, immediately after receiving a pair for myself. She absolutely loves the fit, feel and quality of this held product. Worth every penny.
Tactile gloves
13 July 2014 by Grahame R
The Held Phantom II gloves are the best that I have ever worn; so good I bought a pair for my wife. Excellent fit and construction with no loss of feeling. We broke ours in on a 1000 mile trip round Scotland and have no complaints whatsoever.
Great glove
10 June 2014 by James
Everything has been thought about, I love the water wiper, very useful with the British weather :)
Good glove
28 May 2014 by Chris
Option to select different finger lengths is a real bonus. The glove is well made and although a bit stiff when you first try them on, they soften up after a few rides. Very comfortable glove for a product with high-end protection.
Good product
24 March 2014 by Richard N
I bought these based on several reviews saying Held were the best gloves you can buy. The Mediums were a bit short in the fingers so I bought a Long to try. They were too long, especially the left index finger and the thumbs. The armour on the cuff has a hard insert which may cause a bit of discomfort when twisting the hand to full throttle as it can dig in a bit. The wrist straps are very good and secure and they do feel like a good safe glove. On the search I think these said they had scapoid protection but they don't. They do have a bit of stingray hide over the rear of the hand opposite the thumb. Have yet to actually do a rack ride in these...
Expensive but great fit & quality
28 October 2013 by Nick E
Bought these for my wife and it is always difficult to find proper race gloves that fit her. Initially bought size S as per size chart but they were too loose. Exchanged for XS and the fit is perfect. Glove looks well made but I would expect it to be for this price. Overall very happy with the glove and the service from Sportsbikeshop.
Real quality
14 August 2013 by Tim S
I bought these recently and I am really impresses by the quality. They are really top drawer gloves.
They are quite flexible even though they are not fully broken in yet.
They look like they will last for a long time and provide good crash protection, which I hope I may never need to test.
Press Reviews for Held Phantom II Leather Glove - Black
Description
Held Phantom II Leather Glove - Black
Highly abrasion resistant kangaroo leather
Certified under norm EN 13594:2015
Colourfast and sweatproof
Special step seam enhances feeling
Tunnel strap
Titanium covered knuckle protector
Superfabric to ball of thumb and fingers
Upper hand completely lined with aramid fibre
Short and long finger options available
Pre-formed, crease-free palm
Built-in visor wipe
Perforated finger side walls
GFK protectors on edge of hand
Highly abrasion resistant stingray leather
Suprotect shock absorbing foam on back of hand and ball of thumb
2 year warranty
ADVICEShort finger length indicates one size smaller (i.e. medium glove with the finger length of a size small). Long finger length indicates one size larger (i.e. medium glove with the finger length of a size large).
Gloves measured by palm circumference (excluding thumb)

Size Guide

| | S | M | L | XL | 2XL | 3XL |
| --- | --- | --- | --- | --- | --- | --- |
| PALM | 19cm | 21.5cm | 24cm | 27cm | 29.5cm | 32cm |
| HELD SIZE | 7 | 8 | 9 | 10 | 11 | 12 |
Product Videos

Held Phantom II gloves review
Product Specification
Variants
Manufacturer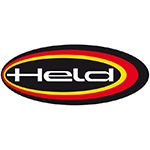 About
Held
Despite being one of the most respected manufacturers in the motorcycle clothing and accessories sector, Held remains a family business made up of passionate bikers, still with its headquarters in the same picturesque Alpine town of Burgberg. Famed for their gloves, the Held collection is one of the most comprehensive on the market with a full range of leather and textile jackets, jeans, gloves, boots and armour. As a brand, Held continue to work with the various technology partners such as Gore Tex and D3O to enable them to produce some of the safest and most technically advanced product on the market. We're constantly updating the site to incorporate the latest models from the ever expanding Held motorbike range and if you find it cheaper, all of our Held clothing is covered by our price match promise!

You won't get it cheaper.
Our Price Match Promise.