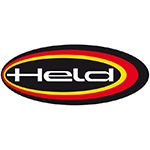 Held Ladies Rainblock Waterproof Jeans - Black / Fluorescent
Customer Reviews
for Held Ladies Rainblock Waterproof Jeans - Black / Fluorescent
July 22, 2017
Waterproof and lightweight
Bought these ready for a weekend away involving some long motorway stretches, and very glad I did as it rained for about half the journey, and these trousers kept my legs dry. I went one size up (10) and they fit nicely over my bike trousers and boots. The leg zips go up to the knees, so you can whip these trousers on or off over your gear easily. The adjustable Velcro at the ankles means you can tighten them around your shoes. Waist is high which is great to make sure your gear overlaps. I was mainly surprised by how lightweight the trousers feel, they're not intrusive, heavy or overly bulky, I didn't feel any different riding the bike while wearing them, and as a preference for me it feels good to have some high vis too.
Read more

You won't get it cheaper.
Our Price Match Promise.