Resurgence Ladies Warrior Jeans - Blue / Black
Lite Pekev lined motorcycle jeans with a 5.21 second recorded abrasion resistance
View full details
Verified Customer Reviews for Resurgence Ladies Warrior Jeans
Normal looking jeans!
18 August 2020 by Jane R
Great jeans! Quite fitted which is what I wanted.I found I had to buy thin D30 knee armour as any thicker models made it difficult to bend my legs enough to sit on the bike. True to size but quite long, but having said that they still allowed for perfect placement of the above mentioned armour. No probs with these jeans at all. Stretchy, comfy and very cool!
Gr8 jeans really like them
02 May 2019 by Anonymous
Really good jeans, nice colour and thin not bulky, I'm 5'10 so good leg length.
Almost...
29 August 2017 by Anonymous
I did really like these, when I tried them on they felt really comfy with good stretch and a high waist. They are very long and I wasn't a big fan of the turn-ups but could have lived with them. The problem for me was when I put in some knee armour (super-slim stuff) and sat on the bike the jeans dug into the back of my knee. I would say if you ride in the feet forward position they'd be great, comfy and no flapping about - but if you ride in the knee bent position and want to add some knee armour they might not be for you.
Simply the best
04 July 2016 by Terry E
Fantastic quality, correct sizing.
The wife loves them and I am now her hero for making her safe and looking normal when she gets on the back. You would not know they are motorcycle jeans, fantastic. Great service from Sportsbikeshop as usual.
Press Reviews for Resurgence Ladies Warrior Jeans - Blue / Black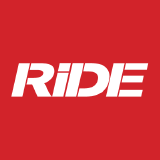 RIDE August 2016 Issue
Description
Resurgence Ladies Warrior Jeans - Blue / Black
Promodal denim construction
60% lined with Pekev
Adjustable pockets for optional knee and hip armour
Lightweight - 900 grams
Anti-bacterial
The Resurgence ladies Warrior jeans use a Lite version of Pekev with a 5.21 second recorded abrasion resistance and a CE Level 1 pass score. These jeans use technical denim called Promodal also built into the denim fabric is a softening agent to make the jean very soft and comfortable against the skin, along with climate management to ensure it is cool to wear in the warmer months and anti-bacterial so it does not have to be washed so frequently. The Resurgence Warrior jeans are very light in weight, weighing just 900 grams.

Size Guide
8
10
12
14
16
18
20
22
UK WAIST (inches)
28
30
32
34
36
38
40
42
EURO SIZE
36
38
40
42
44
46
48
50


SHRT INSIDE LEG (inch)
30
30
30
30
30
30
30
30
REG INSIDE LEG (inch)
32
32
32
32
32
32
32
32
LONG INSIDE LEG (inch)
34
34
34
34
34
34
34
34
Features
Product Specification
Related Items
Manufacturer
About
Resurgence
Launched in Canada at the beginning of 2013, Resurgence Gear entered the market with the innovative protective lining material PEKEV for motorcycle jeans, of which was the end result of around ten years material and design research. The team at Resurgence Gear became masters at their craft when they were developing motorcycle jeans for different brands; however, during this period of growth they soon became dissatisfied with the absence of style and substandard levels of protection that those brands were offering. As a result of this Resurgence Gear found themselves on a mission of designing motorcycle clothing that gave the highest level of protection that was both comfortable and stylish to wear.

You won't get it cheaper.
Our Price Match Promise.