Verified Customer Reviews for Icon Airflite
Amazing helmet
07 November 2023 by Samuel W
One of the best helmets I've ever owned. I replaced a rubbish schuberth c5 with this helmet, and it's honestly one of the best, the vision and clear visor is amazing never fogs up even in winter. It's a little chilly under the chin area. A very quiet helmet also. Much better than a 500 pound schuberth which is terrible
Absolutely brilliant
25 June 2023 by Andrew C
Best helmet I've ever had by far, after 25 years riding, no helmet I've had comes close!!
Great helmet
16 June 2023 by Stephen B
Great helmet good ventilation and great service from sportsbikeshop as usual
The best I've had (and that's quite a lot)
10 June 2023 by Andrew P
Incredible graphics, excellent quality and value for money. I've had loads of helmets over the years and this one is right up there with the best of them. Agree it was tight from new and nearly ripped my ears off but now no problem. I'm a large and large is correct. The answer from utube was to inflate a size 3 football inside to compress the cheek pads. It works! Go on get one, you won't regret it. And of course sportsbikeshop again was totally professional, well done guys.
Well made. Specific head shape
29 May 2023 by Rob
Build quality is good, no fogging or wind noise compared to other brand I've owned.
It's let down is it has a really thing design, defin for very oval heads, so much so I had to sell it as I could not get it comfortable. I think it needs stating as it very pronounced.
TIGHT FIT
02 May 2023 by Michael O
Bought this lid from Sportsbikeshop online and thank goodness I read the reviews about the fit. I have owned meny helmets over the years and always take size M but on this occasion I ordered L and even that is a very close fit so I would not have been able to get the Medium one on . . . or even worse, get it back off. Please be aware that this is a very tight fitting helmet and order the next size up from your regular fitting. Wind noise is considerable and the inner drop-down sun-visor steams up instantly so will need to be treated with anti-mist solution. Thing is the whole lid looks awesome - a very aggressive Antman look. I ordered the Nocturnal version with black snakeskin and the gold visor. Worth the extra wind noise in my opinion, just wear earplugs.
Style: Nocturnal
Icon airflite
13 March 2023 by Andrew M
Best helmet I've ever bought, love the stylish and contour of this helmet, feels like I'm flying an F15.
Would buy again for sure
5 stars
Omnicrux. Awesome !
17 January 2023 by Chris T
Fits perfectly, used the size guide and all is great.
Really comfy helmet, even with my glasses on, the chin curtain is great and really keeps the wind out, also keeps it nice and warm on those cold mornings. Came with two visors, a clear and a smoked one. The design and finish on the helmet are pristine, even the helmet bag is great quality.
Unique looks, buy bigger
31 October 2022 by Matt B
Don't be like me, take the advise of other reviewers saying to get a size up. I'm usually a M but I found out I'm a L in icon as I feared it was stuck on my head till the end of days. After great returns service by SBS I had the correct size. It's still tight to get on and off but once on feels very secure and visibility is fantastic. Style and glow in the dark features are a nice touch. Can't wait to customise with the available accessories!
Style: Synthwave Purple
SUPERB VISION AIRFLITE
09 October 2022 by Dave O
looks are impressive especially with dark visor fitted , vision out superb, noise reduction in motion very good, light helmet well padded, went for a large where i bounce from medium to large and found it ok tightish to put on but a squeeze to get off -sticking with this size as will loosen up with use -probably go for a size up when ordering -to sum up -extremely happy with this helmet .
Style: Stealth Black
Looks cool
19 August 2022 by Dean M
This helmet looks great, awesome in fact. The interior is quality The venting is good except the top vents are restricted when the drop down is in up position. Overall its a smart quality helmet, but this lid is small so wear in store for at least 15 minutes before deciding
Style: Stealth Black
Airflite- cool looking helmet
14 August 2022 by Dom W
Not only is it an awesome looking helmet, (I get lots of stares with this) it's also great on the motorway and at fast speeds. I like the big visor and the drop down sun shades.
I like how futuristic it looks and it has a Halo vibe.
Buy one size bigger and you'll love it
13 August 2022 by Chris J
Obviously this lid looks amazing. I bought it with the purple visor and purple spoiler and it's the best looking thing on the road. As others say it's a bit louder in the lower frequencies than other lids I have.
Bit of a squeeze you get on but once it's on its the most comfortable lid I own.
I'm an xl in other lids and wear 2xl in this one.
Other lids I own are hjc i70, hjc cs-15, shark evo
Style: Synthwave Purple
Icon Airflite
27 July 2022 by Dean W
A stylish comfortable helmet.Best to get one size bigger.Nice quality for the money .Only negative is it could have had the option for riders with glasses.They can be worn but a recess would have been better .
Icon airflite mips
30 June 2022 by Shane K
This helmet is absolutely fantastic and it also looks amazing
Style: Stealth Black
Great looking and comfortable.
04 May 2022 by Allan T
Awesome helmet, great design the colours in person are so much better than the pictures and the visor design really turns people's heads.

Really good fit, snug but doesn't squeeze.
Icon
02 March 2022 by Gringo
Very tight to get over the head but once it's on extremely comfortable

Looks the part especially in the sunshine with optional extra gold visor

Endorsed by bikers & gobby kids alike everywhere I go
Belter.
27 February 2022 by Michael M
Looks terrific. Snug fit yet comfy. A little tricky to put on and take off but there's a trick to it. The chin is so well designed it looks like an open face helmet from the riders view.
Happy with my purchase.
Style: Crosslink Hi Vis
When I purchased my Icon Airflite I had just finished watching Battlestar Galactica. As soon as I put it on my head a...
Description
Icon Airflite - Inky Blue
Injection moulded polycarbonate shell construction for strength
Intermediate oval shape, slightly shorter length with wider sides
Removable HydraDry moisture wicking liner
Four intake vents
Large MX inspired chin vent
Two exhaust ports coupled with deep channels for optimum airflow
Sculpted neckline to avoid jacket or suit interference
Large quick-change fog-free visor
Internal drop down sun visor
Removable mesh chin curtain
D-Ring chin strap retention system
Earplug stash pockets
Meets ECE 22-05 helmet safety standards
The Icon Airflite features aggressive styling with a unique visor, suited for any type of rider. With its large airflow perfect for that long commute or a weekend on the track.
Product Specification
Variants
Visors
Spares
Manufacturer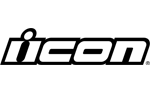 About
Icon
In 2002, Icon burst onto the scene and set out to revolutionize the motorcycle apparel industry. Icon's creators recognised a hole in the race-focused industry - the lack of protective apparel and helmets for the new 'street' biased rider. Icon's products were immediately embraced by this aggressive new generation.
Questions and Answers
Questions and Answers
Are they supplied with other visor variants + or purchased extra?

May 5, 2019

The Airflite is supplied with a clear visor as standard. Dark or coloured visors will need to be purchased separately.

You won't get it cheaper.
Our Price Match Promise.