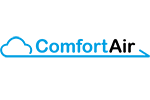 ComfortAir Seat Cushion - Adventure / Sport
Designed for sport, naked sport, light-weight adventure motorcycles sub 1000cc and dual sport
View full details
Customer Reviews for ComfortAir Seat Cushion - Adventure / Sport
Description
ComfortAir Seat Cushion - Adventure / Sport
Eliminate numbness and painful pressure points
Improves your riding comfort
Reduces moisture and body heat build-up
Handcrafted with quality materials
Dimensions: 30.5 cm (long) x 30 cm (wide)
The ComfortAir Adventure/Sport seat cushion features a narrow front to match the seat profile of most sub-900cc adventure motorcycles, large and small sport motorcycles, and dual-sport motorcycles. A tapered-down front minimises unwanted pressure between the legs, and a heavy-duty, adjustable, stretchy strap system ensures a secure fit onto the existing motorcycle seat. The ComfortAir seat cushion is an easy-to-install motorcycle seat air floatation cushion that provides the rider with unsurpassed comfort during long rides. ComfortAir uses medically proven air floatation technology to distribute your weight and pressure over the entire motorcycle seat, reducing the "hot spots" that cause heat and pain. The air floatation cells also work as mini shock absorbers, reducing vibration and the resultant sensation of numb-bum. Once you've tried it, you won't ride without it!

Fitting Instructions
Use the table below to determine the seat cushion that could best suit your style of motorcycle.
| | Adv/Sport | Tourer | Cruiser | Pillion |
| --- | --- | --- | --- | --- |
Please note, this table is a good recommendation of which seat cushion design works best for which style of motorcycle, but it is only a guide. Due to the huge number of motorcycle models on the market and the ongoing production of new models, ComfortAir cannot be totally certain that a specific design of seat cushion would be better than another for your motorcycle.
Related Items
Manufacturer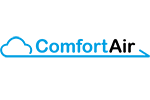 About
ComfortAir
ComfortAir seat cushions are seat cushions that have been scientifically designed to evenly spread and dissipate the build up of pressure points resulting from sitting statically on a seat for a length of time. Originally developed to help provide comfort for people who are wheelchair bound, the strategically shaped and positioned network of interconnected air cells instantly shifts pressure from one area of the seat to another less pressurised area. This resulting in a cushion of air, comfortably supporting the entire contact area between bottom and the seat. The shape and position of the seat is different depending on the style of motorcycle you ride. A sports bike's riding position results in more pressure applied to the front area of the seat, while a cruiser's feet-forward riding position often exerts more pressure towards the rear of the seat. Hence the design of the four different ComfortAir seat cushions - each for a different style of motorcycle.
See all ComfortAir products…
Questions and Answers
Questions and Answers
No questions or answers have been posted for this product…

You won't get it cheaper.
Our Price Match Promise.