Verified Customer Reviews for X-Lite N-Com B902 X Series Bluetooth Intercom Kit
Comms
13 July 2023 by Paul J
The comms set was relatively easy to fit. The store was too busy to fit the kit for me which was disappointing but I managed ok. The comfort and sound from the product is good however the range was literally 5 meters. I had to buy another intercom set mid trip in Europe as myself and colleague could not have a conversation. Very disappointed in the kit. It may be faulty and I will be returning it to sportbikeshop when I return from my trip.
Good but limited
20 June 2022 by Derek D
I recently purchased the X-Lite N-Com B902 to be able to communicate with my friends on a Bike trip into Europe.
Whilst it was easy to fit to my X-Lite helmet (Which is outstanding) it was very poor at connecting to my friends Cardo Scala intercoms.
Description
X-Lite N-Com B902 X Series Bluetooth Intercom Kit - Single
Compatibility via Bluetooth with intercom systems of other brands
Bike to bike intercom system (up to 4 simultaneously)
3-way telephone call between rider, passenger and caller
Fully compatible with iPhone and Android devices
Bluetooth 4.1 for enhanced low latency and reliability
Music sharing via Bluetooth with a second helmet
Headset, Handsfree, A2DP, AVRCP Bluetooth profiles
Optimised omnidirectional Bluetooth antenna
Full duplex intercom (HD quality audio)
High-quality audio hi-fi grade stereo
Noise-dampening microphone ideal for wind isolation
Integrated voice-command prompts for easier controls
Dynamic noise reduction during intercom connection
Automatic management of system ON/OFF through accelerometer
Aux input for cable connection to Mp3 players (cable not included)
Mini USB connection cable for PC management included
Perfectly integrated in the helmet
Easy and fast installation by the user
Ergonomic keypad built into the helmet
Easy to use even while wearing motorcycle gloves
Can be transferred from one Nolan N-Com helmet to another (compatibles helmets)
Lithium battery, rechargeable and removable
Fast system charging when used with USB power adapter
Automatic switching off of the N-Com amplifiers
Battery low indication with acoustic and visual signal
Talk time: 15 hours
B902 weight: 110 grams
USB charger: 100/240V - 50/60 Hz
Manufacturer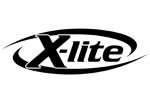 About
X-Lite
X-lite came into being in 1998. A new brand for a second company and also a real challenge, since the Nolan Group pushed the boundaries of its own experience and know how, and moved into the composite materials sector. In the new special plant for the exclusive production of composite fibre helmets, the most advanced industrial technology goes hand in hand with craftsman's care and skills, which are typically associated with the processing of composite materials.

You won't get it cheaper.
Our Price Match Promise.