Verified Customer Reviews for Scorpion Exo-1400 Evo Carbon Air
Very snug and light
21 November 2023 by Joe R
This Scorpion helmet is a delight. It is very light and very snug helmet, but feels quite sturdy and safe. The spare dark visor for summer is a very nice addition and pinlock comes with it too. The drop down sin visor and main viser are both easy to operate. Internal drop visor does not come down completely, but it drops low enough and frankly I actually like that. I live in London, so being in traffic or slow moving traffic everywhere, the main viser can be opened just a little to let air in, preventing from fogging up is a great bonus too. I have not taken advantage of the inflatable cheeks, but as time will go on I am sure I will get to that - also a very nice feature. Took it to a motorway, compared to my old Sena Outrush R helmet, this was a very quiet ride too!
I have also installed cardo unit on it, having a cirular already pre-cut places there was a very nice find too.
All in all, you are getting top quality, very light helmet. I chose the black carbon look as it looks awesome, but these helmets come in all sorts of awesome designs. Cant fault it!
Love this helmet very comfy
20 November 2023 by Mark S
This helmet fits great and looks great too.
I have just fitted an intercom system where it has cut outs for the ear piece which fit in and kind of clip in so no need to stick them in. Only fault if you can really call it a fault is the sun visor could do with being a little lower.
Great service by sportbikeshop as per usual..
Gorgeous helmet, light and feature packed
19 November 2023 by Stephen
I agonised over the choice between the Scorpion Exo-1400 Evo Carbon Air and an end of the line Shoei GT Air 2. Ultimately it was the looks of this helmet that swayed me. The deep red carbon fibre is beautiful. The AGV K6S lacked a sun visor so wasn't really lighter. The fit is slightly tight on the forehead despite measuring exactly for the L, but the XL shares its shell size with the XXL and I expect it will give a bit over the coming months. This is by far the most aerodynamic and 'quietest' helmet I have owned.


Sportsbikeshop matched the price of thier competitors, and have always had excellent customer service. They recently replaced a 4 year old kriega US-10 for me under warranty.
Smart Hemet
17 November 2023 by Rosie
It was a toss up with this and the red both really nice colours, helmets super comfy and and not too bad on the wind noise. It is lighter than my other scorpion helmet and the blue mirrored visor looks great
Great light weight lid at affordable price.
21 September 2023 by Tomasz
I was looking for a helmet that would be light weight due to my neck pains.
SCORPION ticks all the boxes. It weights 1350g, great build quality, also very quiet comparing to my adventure helmet. It comes with pinlock which is a must for my daily commute. Extra dark visor is a bonus, must be my first helmet that came with spare visor.

The only thing I'm not sure about is its looks, especially scorpion logo on forehead. But that's not a biggy,
At this price I couldn't afford not to buy it.

Superb
17 September 2023 by Alexandros T
Best helmet I've ever had. Initially got a GT Air 2 but swapped due to awkward fit/weird shaped head! This helment is quiet, fits nicely, is very light and looks really decent. The air fit system is a stroke of genius and really helps to get a nice snug fit. The field of vision is also ace. overall, it's a beaut. Service at SBS good as per normal.
Great helmet for the price
05 August 2023 by David L
Bought this to replace my Shoei XR1100 and I'm not disappointed at all. Feels very light in use, really good ventilation and wide/tall visor. I wear ear plugs so can't comment as to how noisy but it's not any noisier than my old Shoei. Yes, if I had to be super critical I'd say the internal sun visor should be lower, but since I use the free tinted visor anyway I'm not that concerned. Overall, really happy with my purchase, and at £280 it was about £150 cheaper than replacing my Shoei like for like.
Super
31 July 2023 by Anonymous
Top class helmet, comfort, lightweight, great value for money..
Excellent service
16 July 2023 by Martin
Second helmet bought online from Sportsbikeshop and again excellent service as always. The helmet is amazing, true to size and the airfit system work brilliant to adjust the fit. It is a very light helmet, bit noisy when the chin vent is open but still manageable.
Description
Scorpion Exo-1400 Evo Carbon Air - Solid Red
Ultra TCT carbon composite shell construction
Includes a clear and dark smoke visor in the box
Adjustable Airfit cheek pads for an optimal fit
Recessed Max Vision Pinlock insert and visor
SpeedView internal drop-down sun visor
Removable hypoallergenic internal lining
Adjustable front and rear air vents
Aerodynamic rear spoiler for stability at speed
Breath-deflector for enhanced fog-free performance
Chin-cover helps reduce noise inside the helmet
Titanium Double-D ring chin strap retention
3 outer shell sizes for enhanced size to fit
ECE 22.06 certified for use on the roads
Product Specification
Variants
Manufacturer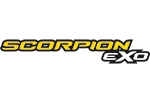 About
Scorpion
Scorpion Exo is a relatively new addition to the plethora of motorcycle helmet brands available in Europe but they have most certainly hit the ground running. From their European base in Strasbourg, France, Scorpion have developed some of the most technical elements found on motorcycle helmets today, that have since become commonplace on the feature lists of the biggest brand names. A form of Scorpion's own Airfit pump system can now be found on models of both Shark and HJC helmets but it was Scorpion Exo who pioneered the technology, along with other innovations such as their Kwikwick liner system. The Scorpion helmet range, whilst focusing on technological advancements, also focuses on the more core expectations of today's biking fraternity, style, quality and fit. To that end, they've hired some of the most famous names in motorcycle helmet design and are able to control their entire production process, by manufacturing all elements of the helmet themselves, in their own production facilities. Scorpion say that their philosophy behind every single helmet they produce can be summarized in five words: protection, aesthetics, dynamism, comfort and innovation. We say, that over the next few years, Scorpion helmets will continue to grow in popularity throughout Europe and will undoubtedly take their place alongside the other major brands of motorcycle helmet.

You won't get it cheaper.
Our Price Match Promise.