Richa Ladies Toulon 2 Leather Jacket - Brown
Customer Product Reviews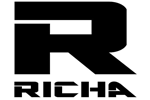 View Product Details
July 9, 2022
Glad I bought it
I've had this jacket in my basket for over a year, as it's a lot of money and let's be honest, I don't need it. I've got loads of bike gear. BUT . I'm so glad I bought it!! Sports bike shop were amazing, making the whole process very easy and overall it was a pleasurable trip to the Leeds store. The jacket itself is stunning. Beautiful soft leather, a lovely shade of super dark brown which looks almost black. The jacket is comfortable and very easy to wear. I'm an average size 10 ;top and bottoms) and tried on the 10, 12 and 14. I wear a held chest and back protector on the road and I chose the size 12. It's nice and snug and the armour doesn't move around. I did upgrade the elbow pads for level 2 armour which makes it a little tighter but still very comfortable. If you're not wearing additional armour and like a fitted look then go for the size 10. If you like it loose go for the 14 and the size 12 will allow layers underneath. It's warm and cool all at the same time, looks smart on and off the bike. Quality is fantastic and Overall well worth the money. It had quickly become my favourite.
April 19, 2022
Comfortable and warm
Very comfortable, warm, and looks nice enough to wear off the bike too if you remove the protection. Cleans easily. Plenty of pocket space. Good fit true to size, I can still get a jumper underneath too. Comes in nice at the waist so is flattering. Ticks all the boxes.
April 10, 2021
Beautiful jacket!
Really beautiful jacket. I'm very impressed with the armour. You can tell by the weight of the jacket alone that it's great quality and it looks fab both on and off the bike. I'm a dress size 10 and went a size up after reading the Richa size guides. I'm pleased I did as I think arm/shoulder movement might have been restricted in my normal size.
July 15, 2020
Quality
Purchased this for my wife, we wanted a protective jacket with a snug but forgiving fit. Exactly what this quality jacket provides, safety and comfort for our rides out.
July 10, 2020
Leather jacket
Bought my wife the jacket and she absolutely loves it. She uses it for riding but it's also casual enough to wear with jeans out when you take the amor out.
June 23, 2020
So Good
A smart looking, practical jacket. Great styling and top-notch build quality. Love the urban styling. Has all the necessary built-in protection. So, excellent value for money.
May 30, 2020
Awesome
Comfortable correct size, flattering fit, good comms and prompt delivery
PLEASE NOTE: The views and opinions expressed in the above reviews are solely those of the author and are not necessarily representative of the views of SPORTSBIKESHOP LTD.