Hiflo filtro Performance Oil Filter - HF-303
Customer Product Reviews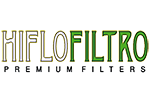 View Product Details
July 12, 2022
Does the job
Fits and does the job cant say any more really
June 30, 2022
Does the job
Not as easy to fit as the HF303RC as it doesn't have the bolt on the end. But works all the same. Great service by SBS.
March 16, 2022
Filters like a filter thing
Absolutely spot on, quick delivery.
February 15, 2022
Honda vfr
Good filter fitted well no issues
November 27, 2021
Very well presented ideal replacement
Very good filter nicely protected grease on rubber seal , and ideal information to oil seal before fitting printed on the filter . this is a very good reminder to reduce oil seal leaks
November 15, 2021
Quality Filter
Great filters, never had a problem when using them.
November 1, 2021
Filters
A simple thing but always good value
October 5, 2021
Hi-flo always a safe bet
As always with hi-flo a great product at a super price. Used hi-flo filters for many bikes now, always excellent value.
September 18, 2021
Prompt service.
Excellent quality, good value and prompt delivery service. In all my years in the motor trade I can't remember seeing the rubber sealing ring ready lubricated. Just a small thing but attention to detail is everything.
April 29, 2021
Quality and Value
Quality Oil Filter, always used HiFlo and never had any issues. Value is excellent!
April 3, 2021
Very good filter
Very good filter used on every oil change with no fuss, will buy again when needed
March 30, 2021
Excellent service
Excellent service. People very helpful. There were no problems while shopping and very fast delivery. I am very satisfied
March 14, 2021
It Filters Oil
Good filter for the price, fitted my 2008 Z1000. Bit of fresh oil on the o-ring and screw it on. Job Done.
November 16, 2020
Good filter
It fitted as good as any other filter and good price.
October 6, 2020
Great product
Great product and great quality
September 23, 2020
It fits, it works
Product came on time and fits the spot. Even if you can twist it by hand I recommend you look into also buying a specialized wrench so you don't burn your arms or hurt yourself.
July 28, 2020
OMG it's an Oil Filter
What can I say, there are oil filters and oil filters, then there are Hi-Flo filters. It actually filters oil, who knew. Easy screw on action, fits my bike, would you believe it and has not fallen off yet., a definite plus point. Coupled this with a tasty new sump washer and a drop of semi-synthetic oil for the ultimate oil change experience. Go on, buy one, you know you want to!
June 4, 2020
Great filter. Well priced.
Comes with some lube on the. O-ring but I've put some oil on it as well just case. Great product!
June 1, 2020
Well Filtered
Quality product sensibly priced and delivered on time!
May 19, 2020
Good quality filter
Quality filter bought based on previous reviews. Arrived in good time as usual.
PLEASE NOTE: The views and opinions expressed in the above reviews are solely those of the author and are not necessarily representative of the views of SPORTSBIKESHOP LTD.