EBC Double H Brake Pads - FA261HH
Customer Product Reviews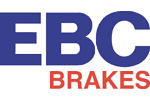 View Product Details
April 12, 2022
Great pads AND a cash prize!
I've been submitting reviews for years, but have never won the £100. I gave up doing it as a result, which I shouldn't have really as Sportsbikeshop's service has always been second to none. This latest purchase was no exception. The brake pads were a great price and quickly delivered. Now all I have to do is sit back and wait to receive my winnings! Possibly... Thanks SBS!!
March 21, 2022
Brake pads
Replaced old pads with these good fit and good service from sportbikeshop
September 20, 2021
As Always - Excellent
Previous set of these pads were damaged by an attempted theft and it never crossed my mind to buy any others. Stopping power in cold or hot, wet or dry is top notch (for road use) and I have never had any fade. They do not wear quickly so are really brilliant value for money. I won't use any others now.
April 3, 2021
Spot on
Always a great product does what it is meant to
March 31, 2021
Brake pads
Product arrived early then expected which was a bonus. great service I will be ordering again
March 29, 2021
EBC Brake Pads - FA261HH
They are EBC HH compound whats not to like, finally got around to replacing the front Brembo pads on my Honda X11, no more annoying squeaking front brakes at low speed roll on.
December 2, 2020
EBC pads 3 sets
Swiftly sent at the cheapest place on the net, boxed safely, what's more to like. Sportsbikeshop continue to be the best place for my motorcycle consumables 5*
November 14, 2020
The only one
Great quality, best price.
October 8, 2020
EBC brake pads Honda X11
Great quality pads, easy to order, Great price and super fast delivery
October 1, 2020
EBC Brake pads for 03 VFR 800 Vtech.
Quality, can't go wrong with EBC...
September 13, 2020
Top quality, correct fitting easily chosen
Top quality component, easily chosen, best price and super quick delivery
August 14, 2020
Excellent pads, well made
A perfect fit in the calipers, no slop on any dimension, including the locating pins but free moving all the same. Still running them in but seem to have very good friction characteristics, nice progressive increase in retardation rate as lever pressure increases, up to a real suspension dive when I had o do an emergency grab on the lever. Not expensive for trustworthy pads, and certainly not expensive for what so far have proved to be excellent pads. They do not have wear indicator grooves in, but as these grooves are worse than useless, not a problem My bike got an "advisory" on it's MOT for worn pads. They weren't, just the grooves were full of brake dust etc, but changed them anyway for these ones. Very happy I did.
July 6, 2020
Fantastic sense of safety and superior braking
The EBC FA261HH brake pads enable perfect braking. A superb sense of security. I have a feeling that the motorcycle stops in a moment, without any squeaking, whining and scraping. Fantastic product for every recommendation. Compared to the new TRW pads I had, which I removed due to squeaking, this is a drastic improvement.
July 1, 2020
EBC double H Brake Pads
Returning customer, another fast easy purchase thank you. Brake pads are great, they've made a huge improvement to the feel of the bike.
June 28, 2020
Value for Money
Excellent value for money Excellent quality Excellent delivery
June 22, 2020
Good quality, good price
I can't really review these when they've only been on the bike for a couple of weeks, but they stop the bike when I ask them to, and they are a great price. Cant really ask for more than that.
June 9, 2020
VFR800 Front Brake Pads
Quality branded product @ a great price, easy to purchase nline & arrived quickly & well packed. First class service
May 27, 2020
Great price/performance brake pads
Fit perfect my CBR1100XX, took some time to wear up. Work perfect in all conditions.
May 4, 2020
Brake pads
Quality product at a great price. Excellent delivery.
April 16, 2020
Excellent quality for the price
Excellent quality for the price
PLEASE NOTE: The views and opinions expressed in the above reviews are solely those of the author and are not necessarily representative of the views of SPORTSBIKESHOP LTD.